Today we offer you a guide to the best Football Manager 2020 tactics for each level, therefore suitable for both experts and beginners
Just starting today, one of the best managerial football simulators is available, that is F. If you are looking for a guide with the best tactics and advice strategic, designed for each level, of Football Manager 2020 you are in the right place! In today's guide we will introduce you to several tactics, with the hope of giving you tips and help to "make them yours" and adapt them to your style of play. You are ready? Let's begin!
A life as a manager
Below, we list a series of tactics that we consider winning on Football Manager 2020, followed by some advice on their most optimal use. For more general information, we recommend that you consult our guide to tips and tricks on the most famous managerial football title in the world.
Tactic # 1: game on the wings - Football Manager 2020: best tactics
This tactic relies on the strengths of just a couple of players on the pitch. The "game on the wings" is optimal if you have wings skilled at providing opportunities for crosses to teammates and if in your team there are players who are able to effectively receive the cross, regardless of their position on the field. Clearly this tactic requires a solid understanding of the skills of your players on the team. Specifically, you will need players with good stats in acceleration, agility, cross, dribbling, stamina and technique. Plus, playing on the wings consistently guarantees good goals to watch in replays! Do not use this tactic in Football Manager 2020 if: you do not have the possibility to play in the penalty area or if you do not have good players skilled at crosses.
Training: 4-4-2 / 4-2-4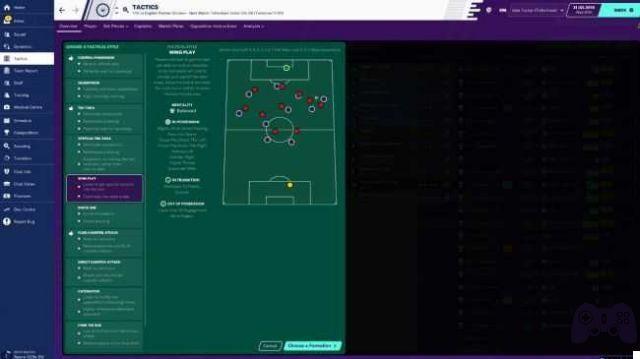 Tactic # 2: Tiki Taka - Football Manager 2020: Best Tactics
This is an excellent solution for a large number of teams and formations, also used by Barcelona for example. This tactic incorporates a series of short but quick passes, which will quickly advance your team. It is also a rather difficult tactic to stop, which is why it is so effective. In order to make it efficient, however, it will be necessary to have players skilled in passing and with good statistics of agility, decision, stamina and technique. We especially recommend it if your team struggles to play in the air, as with this tactic the game moves mainly on the ground.
Don't use this tactic in Football Manager 2020 if: you are employing new players on the pitch. Tiki Taka tactic requires a good knowledge of the basics and good team cohesion. If these things are lacking, using Tiki Taka will be difficult. If you are already used to this tactic but still want to use new players, the only solution is to train them together with the rest of the team.
Training: 4-1-4-1/4-2-3-1/5-2-2-1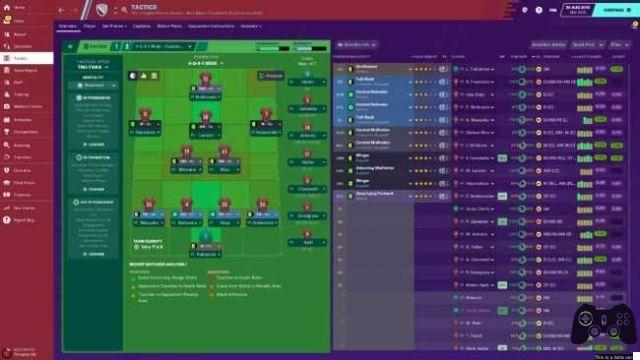 Tactic # 3: Tiki Taka Vertically - Football Manager 2020: Best Tactics
Basically it is based on a slightly more direct approach to tiki taka tactic, playing the ball back and forth on enemy lines. This alternative requires players with similar attributes to tiki taka tactics, but also with good pace and acceleration to allow for this continuous back and forth play. Don't use this tactic in Football Manager 2020 se: you can't use the tiki taka tactic, because the vertical tiki taka is even more complicated to manage.
Training: 4-4-2/4-1-4-1/5-2-1-2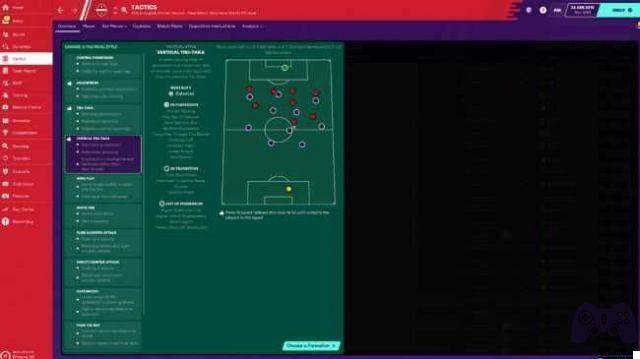 Tactic # 4: Re-aggression (or gegenpressing) - Football Manager 2020: best tactics
This tactic is based on going back whenever you have the opportunity, gaining control of the ball through a very aggressive game. To make this tactic work best, make sure your team has good stats ahead of fitness and stamina, as players will continue to wander the pitch looking for the perfect time to act. Basically it is a game for those who resist the most, obviously aiming to quickly tire the opponent and take advantage of it.
This therefore entails a ruthless attitude towards tired opponents, but also beware of your tired players! If you can get this tactic to work well it becomes really exhausting for your opponents to keep up with you. It may not work in the first few minutes of the game, but if you manage to play it well your team will soon gain control of the ball.
Don't use this tactic in Football Manager 2020 if: you have players that are too weak or slow, even if there is only one in the team roster. The opposing team can break this pattern as soon as they spot one of your players who can't keep up. The weak points will probably be outclassed by long shots, which would force players to accelerate and shoot in a moment of extreme fatigue and little yield, conceding too many goals.
Training: 4-1-4-1/4-2-3-1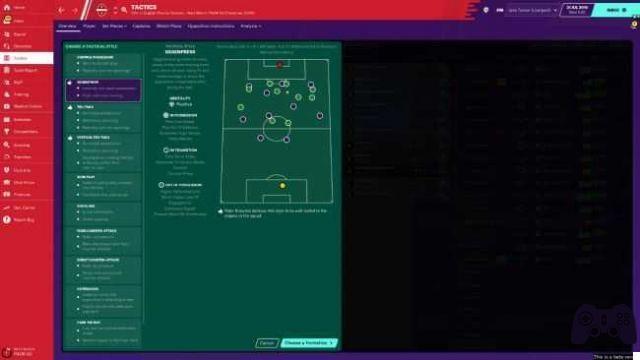 Tactic # 5: Ball Possession Control - Football Manager 2020: Best Tactics
This tactic is based on the concept "Attack is the best defense". Not because it uses the attackers in a different way than usual, but because it is based on controlling the ball without giving the opposing team the slightest chance of being able to steal it. It's not one of those tactics that work right out of the box, it's a slow-release strategy, suitable for players with good ball control, midfielders and forwards with a nice mix of skills. An example of skills to look out for can be stamina and teamwork.
Don't use this tactic in Football Manager 2020 though: every player must be able to carry on the game and tactics especially in critical situations, so watch out for the passages. A slightly more methodical approach to the game is recommended.
Training: 4-2-3-1/4-2-3-1/5-2-2-1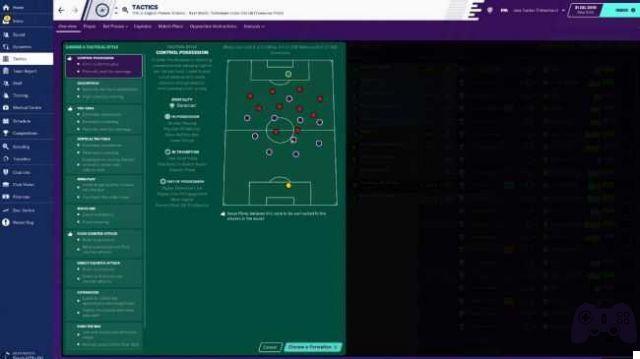 Tactic # 6: Fluid Counter Attack - Football Manager 2020: Best Tactics
Practically the opposite of tactic # 5! This tactic is based on creating situations that are likely to make the enemy let his guard down and then attack right at that moment. Suitable for fast teams, such as Tottenham in 4-4-1-1, and for players with good stats in acceleration, pace, decision and composure. Don't use this tactic in Football Manager 2020 though: Players are dragged out of their positions in the attack phase and if your players don't have enough stamina to counterattack and push opponents back, creating gaps that the other team could take advantage of.
Training: 4-4-1-1/4-4-2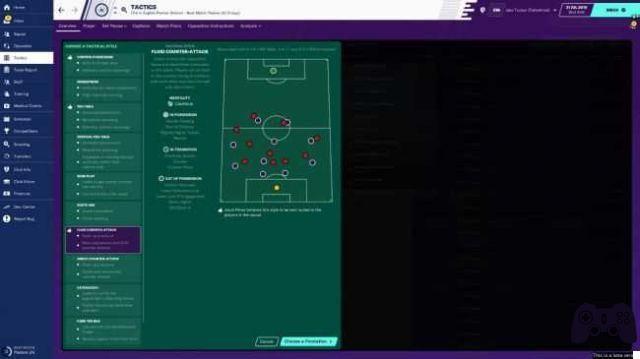 Happy football everyone!
The guide to the best tactics in Football Manager 2020 ends here! I hope I have been helpful or inspired to find your winning strategy. We remind you that Football Manager 2020 is now available on PC and Google Stadia! To find out what we think, we recommend our review. Don't forget to keep following us on Holygamerz so as not to miss all the updates from the videogame world and beyond!