The Castillo family is crazy enough to talk about themselves in the third person, but how do you play without a subjective view in Far Cry 6?
No wonder you want to know how to play with a third person view in Far Cry 6. After all, Ubisoft's shooter as serious and political in history as it is absurd in delusional gadgets and loyal amigos also represented an eagerly awaited first for the series' history. The "flab", in each chapter, consists in the management of survival and shootings in a subjective view, with which we experienced with our own eyes the torture to which Pagan Min subjected his own soldiers, between a selfie and another . In short, what happens when Crysis and Grand Theft Auto love each other very, very much.
Da FPS a TPS?
Talking about the latter (the third-person view of Far Cry 6) reminds us how the latest son of the transalpine studio has pleasantly reshuffled the cards on the table. Yes, for the first time we also enjoy an alternative view, but there is a small catch. The question that will arise spontaneously (seeing the free change of view not only in shooters like Serious Sam Collection, but also in Grand Theft Auto V, Fallout 4 and Red Dead Redemption 2) is: is there a way to set it here too? We're going to find out together, as long as you're ready to travel a little bit for Cub Island — Yara, Yara. Why are we always wrong?
Guerrilla Fields - How to play Far Cry 6 in third person
You're looking for a way to play in third person, but in Far Cry 6 the question isn't so much "how" as "where". We have two news, one good and one bad. We prefer to start from the best. Whenever you step foot in one of the guerrilla fields and in other particular locations, the shot will leave the field of view of your avatar. If Fortnite has accustomed you to managing firefights in this way, then, you can also rejoice. However, the good news ends there. With a pinch of insight you will have already guessed what happens once the confines of these special areas are abandoned.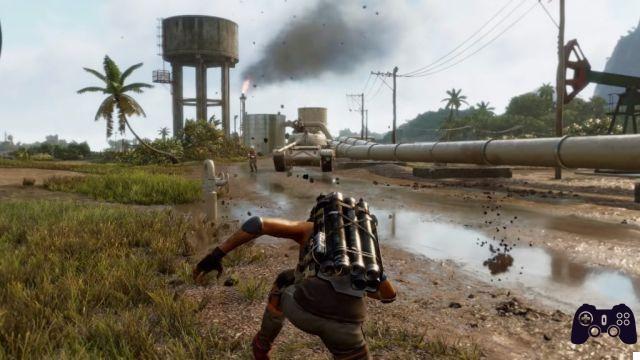 Let's unleash the Supreme! - How to play Far Cry 6 in third person
Outside the designated areas, unfortunately the view will return strictly in first person. For the rest, you will enjoy an impersonal view during the skits, and this represents a first for the saga (if you remember what we said about Pagan Min). The thing, however, ends there. There is actually another juncture where the camera will go into third person, and it is (understandably) when you use your skills with the Supreme. Dani causes enormous damage when he activates the special weapon contained in his backpack, and since it is… well, a backpack, we understand the choice to show it in action. For the rest, you will always see everything exclusively with your eyes.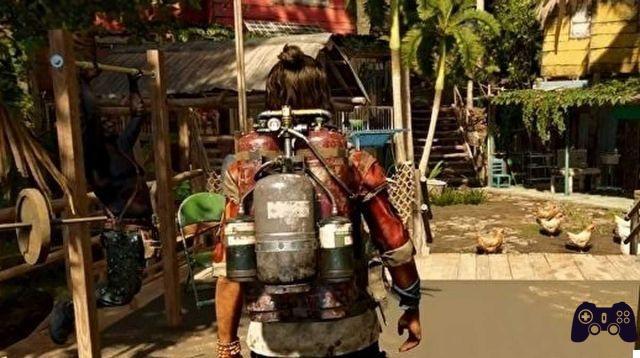 So can you normally play in third person?
No, there is no way to do this beyond the areas expressly designated for this view. Of course, a future patch (or a mod on PC, you know how these things go) could change this game design choice, but at the moment the first-person view is all you get. The third-person cutscenes greatly improve the pace of the narrative, and given the high presence of aesthetic elements to customize Dani, the guerrilla camps allow you to put everything on display. Of course, there is also the component of co-op to be able to compliment each other on that new cap.
Now it's up to you to tell us yours: did you need our guide on how to play Far Cry 6 in the third person, or at least our confirmation? Let us know below, and as always don't forget to stay on Holygamerz for all the most important news for gamers and more. For your purely gaming needs, you can instead find the best discounts in digital format on Instant Gaming.