Although 100 kilos are already a lot, Sam can carry much more. Let's find out how in this guide to find the exoskeleton in Death Stranding
Sam Porter is the most famous and efficient courier in the world of Death Stranding. Alone it can carry up to 100 kilos of load, also considering the environments it has to go through and the stability to be maintained; Sam almost looks like a super man. However, there is special equipment that will make our courier even more efficient. Thanks to the exoskeleton we will be able to transport up to 300 kg, let's find out how to find it in this guide for Death Stranding.
Where to find and how to upgrade the exoskeleton in Death Stranding
To find the exoskeleton in Death Stranding we will have to head to the central map, here we will be given the task of connecting several preppers to the Chirale Network. One of these is called "The Engineer", Reach him at already at Lake Knot City will be our first goal. When we have found and connected this prepper it will reward us with theLevel 1 exoskeleton. Let's make it and equip it.
At this point it will be upgraded up to the third level, improving fuel consumption and loaded weight. To get our hands on the necessary schematics, our relationship with The Engineer will need to improve. To do this, it will be enough to satisfy your requests which consist of: find some lost cargo e complete standard orders.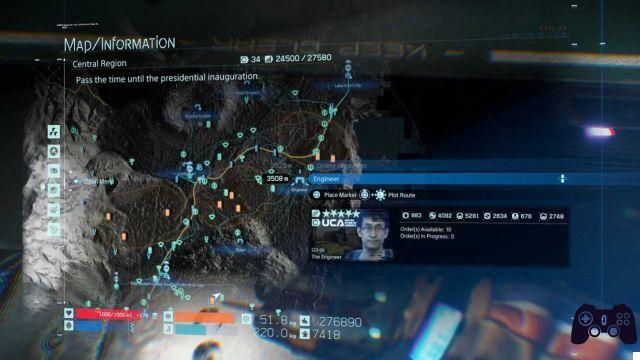 Reached three stars with The Engineer we will unlock theLevel 2 exoskeleton. Getting level 3 consists of bring your ratio to 4 stars. We continue by completing his other requests (a maximum of seven). Unlocked the third level we will be able to carry up to 300 kilos. The exoskeleton is one of the most useful equipment in Death Stranding, but it is advisable not to exceed 200 kilos to maintain a bearable balance.
This guide to finding the exoskeleton in Death Stranding is over, but if you have any difficulties or are about to start a new game. We have the guides for you. The new title by Hideo Kojima has many management elements, which at first glance can seem overwhelming. You can find on Holygamerz some useful tips to get started, how to unlock the bike and much more.
Death Stranding is now available on PS4 while for PC it will arrive in the summer of 2020. Don't forget to follow Holygamerz for more guides, news and reviews!