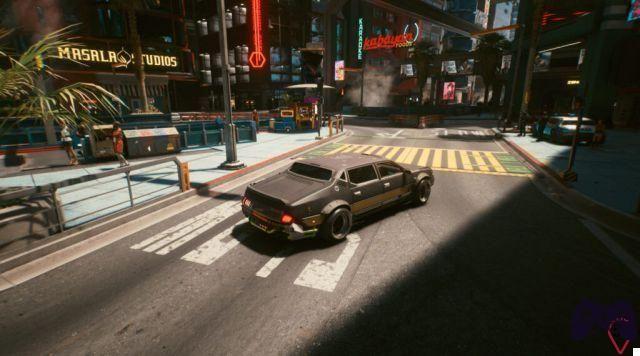 In cyberpunk 2077 there are the beauty of 54 vehicles between cars, motorcycles, trucks, drones and military vehicles, made by CD Project Red for the occasion. Some of these can be purchased and then recalled from your location when needed, others are given to you as rewards for missions. Cyberpunk 2077's best cars come from the manufacturer rayfield and they are high-end sports cars. If you enjoy it, you can also steal any vehicle on the street, but none of them will be added to your garage. In this guide we will describe all the vehicles of Cyberpunk 2077 in the order of the game menu and their main characteristics.
For more information on the game, we refer you to our specific section of Cyberpunk 2077, here is the link to access it, we also attach below all our guides on the game.
Guide to all love affairs in the game
Complete guide to all Tarot graffiti
Guide to trophies and Platinum
Guide to the endings and how to unlock them
Guide to all legendary and unique weapons
Guide to all legendary and unique armor
Complete guide to the skills, attributes and talents of the game
Complete guide to all vehicles in the game
Complete guide to all bosses in the game
Complete guide to tutti i Cyberpsicopatici
Drive the Porsche 911 and Johnny Silverhand's pistol for the Samurai Jacket
Guide on how to repair your car
Guide on how to make money quickly
Guide for quick travel and points on the map
Guide to creating objects
Guide on how to get infinite money
Here are some builds that are ideal for the game
Guide on how to take the Akira inspired motorcycle
Guide on how to unlock the secret ending
Guide for resetting Skills, Attributes and Talents
Beat on the Brat side mission guide
The Prophet's Song side mission guide
I Fought the Law side mission guide
Tune Up & Epistrophy side mission guide
The Beast in Me side mission guide
Complete guide to all Contracts
Guide to the choices to be made in the story
Complete Guide to Legendary Cyberware
Guide to all websites related to missions
Guide to the Colombario and who you can find us
Guide to the most interesting Easter Eggs
Guide to all side missions
Complete guide to hacking and hacks
Before leaving you to guide, we remind you that in the following text you could read some major or minor spoilers related to Cyberpunk 2077, regarding various playful sections and different details on the story created by CD Projekt Red. We therefore advise you to proceed with caution before completing the game's campaign in its entirety.
Quadra Turbo-Rv-Tech
It is considered the improved version of the Turbo-R, similar in appearance but with significantly higher performance.
Quadra Type-66 640 Ts
The car was released on the market in 2055. The main feature is speed, which is why it is the car of choice for illegal drivers.
Thorton Colby C240t
Produced in Chicago in 2045, it proved to be a highly reliable medium car and consequently a commercial success. In 2060, over five million units were produced. It is the car favored by urban and nomadic couriers. Even today you can find many perfectly marching ones.
Thorton Colby Cx410 Butte
It differs from the basic model Colby by the front panel and the rear trunk that can be covered with the cloth. Mostly used by small business owners who use it to transport goods, but also by street thugs who use the flatbed to transport corpses more easily.
Thorton Colby "Little Mule"
Similar to the Butte with the characteristic trunk, but with greater safety and improved engine. Mainly used by nomads.
Thorton Galena G240 (2031)
After the recession, the US government, to give a boost to the economy, decided a policy of selling cars at more popular prices. In 2031, because Thorton did not have much experience in producing small cars at the time, the company bought engines for the Galena from India Mahir Motors. Unfortunately, this partnership has not met with the hoped-for success, generating cars with insignificant performance and even less significant sales. However, it remains a running vehicle.
Thorton Galena "Gecko"
This is the basic model of the Galena adapted to the paths in the desert, but also equipped with the CystalDome technology, useful for the Militech fights of Cyberpunk 2077.
Thorton Galena Ga40xt "Rattler"
After years of off-roading in the desert, this vehicle has suffered significant wear and several pieces have been replaced with creaking scrap.
Thorton Mackinaw Larimore
This is a real vehicle that can definitely deal with desert and rough terrain, properly equipped it can carry even a few dozen liters of water.
Thorton Mackinaw Mtl1
It is a car suitable for all basic uses. Robust and economical, it does not have great performances but it fulfills its duty worthily.
Thorton Mackinaw "Warhorse"
This is the improved version of the basic model Mackinaw. Already from the design it can be understood that the car is a safe and powerful vehicle.
Mizutani Shion Mz2 (2060)
Definitely sporty, quick and fast but at an affordable price. Not for nothing is it used for illegal racing.
Mizutani Shion "Coyote"
It has nothing to do with the aerodynamic look of the base model. Fully reinforced, it adapts to the most difficult terrain.
Villefort Cortes V5000 Value (2040)
This elegant-looking model fits the tastes of politicians as well as criminals. A great engine and safety make it one of the best cars to drive.
Villefort Cortes V6000 Ncpd Overlord
City car, whose body is heavily reinforced to withstand gunfire and its huge engine allows you to clear obstacles, such as makeshift road barricades. In an emergency, the car's central computer can take control of the vehicle, leaving the operator free to make other maneuvers.
Delamain No. 21
This car has integrated artificial intelligence to the standard version that distinguishes it with a well-defined personality.
Villefort Columbus V340-F Transport (2068)
This is the latest minivan produced by Villefort. It is an average product and despite being the cheapest it is still functional and reliable.
Archer Hella Ec-D I360 (2023)
In 2023, when the company launched the first Hella series, it did such an excellent job that it nearly bankrupted the company. In fact the car, despite being produced with cheap and not very durable materials, proved to be so reliable and easy to repair that it was not necessary to buy spare parts and after several years the used car was still valid on the market. Although more than fifty years have passed, it is easy to see these still circulating in the world of Cyberpunk 2077.
Archer Hella Ec-H I860 Ncpd Enforcer
Since the basic model from Hella has poor durability, a variant with a reinforced body was produced. The cheap plastic composites and glass were replaced with fireproof and bulletproof materials, and the flimsy bumpers were replaced with tempered steel rods. This feature has meant that this car is also used for other purposes, for example, to silence inconvenient witnesses or hateful criminals, In fact some officers fasten their seat belts and press the accelerator pedal to hit the walls of concrete. The vehicle exits largely unscathed with the cops in good health, but the people in the back seat are left dry.
Archer Quartz Ec-L R275 (2041)
Since Hella did not generate the expected profits, Archer diversified production by expanding into the sports car sector. In 2041 the two-seater Quartz with a durable and affordable engine debuts, and the subtle elegance and robustness of its design make it popular not only in the urban middle class. The car is suitable for withstanding the harsh desert climate, becoming the main vehicle for a large part of the nomadic population.
Archer Quartz "Sidewinder"
This version of the Quartz has characteristics similar to those of an off-road vehicle, in fact it is used by various nomadic populations such as the Aldecaldos, Meta, Jodes, and the Roffen Shiv.
Porsche 911 Ii (930) Turbo (1977)
It's been 100 years but the Porsche is still the Porsche, who wouldn't want to drive it at least once? Unfortunately there are only a few examples left which are, of course, worth a fortune.
Villefort Alvarado V4f 570 Delegate (2044)
Despite its enormous size, the Alvarado is a very good car. Unfortunately it is often subject to breakdowns and maintenance is very expensive.
Magigai Maimai P126
The Makigai MaiMai is the cheapest mass-produced car, but to achieve this they have been forced to cut production costs by using cheap and short-lasting materials. Obviously without taking into account the safety of passengers.
Chevillon Emperor 720 Ncpd Ironclad (2073)
This variant of the Chevillon Emporer is produced with heavily armored bodywork, integrated Militech combat technology and reinforced bumpers.
Chevillon Thrax 388 Jefferson (2062)
The elegant lines combined with safety make this vehicle the preferred car of the mid-range executive class. She is equipped with bulletproof armor and glass that even allows her to pass through mine explosions. The excessive harness unfortunately makes it too heavy and slow despite the powerful engine it mounts.
Mahir Top Fs3
Don't let the looks fool you, but what appears to be a good vehicle for transportation is actually built of fragile materials.
Herrera Outlaw Gts
The Spanish company, by making this model, has definitely scored a goal. This luxury limousine is one of the most exclusive and sought after on the market, as well as the most expensive. Entirely handcrafted, it is a perfect combination of the latest technology and a classic and sophisticated design.
Rayfield Aerondight "Guinevere"
Prodigy of the British company, this car is definitely extra luxury. Other than a striking engine with racing characteristics, the Aerodight has no windows. With the help of CrystalDome technology, the vehicle's surroundings are displayed in real time inside the passenger compartment, ensuring complete privacy for the driver.
Rayfield caliburn
Always aimed at a wealthy audience, the sportier alternative to the Aerondight is the Calibur. The lines are more aerodynamic and an engine for which the driver will feel like piloting a jet on the road, and where the on-board navigation computer that takes control of driving can certainly not be missing.
Caucasus Bratsk U4020
This giant of Soviet military engineering sports a colossal engine and, despite its enormous size, can be flown without problems in all conditions, but city streets are not ideal.
Behemoth Militech
Military vehicle exclusively intended for government agencies and authorized companies. It can be used to transport an entire platoon or tank completely safely.
Caucasus Zeya U420
This work vehicle is equipped with a robust engine and is affordable.
Yaiba Kusanagi Ct-3x
It is a very fast bike, as well as being the most expensive. Not for nothing is it the two wheels most used by gangs like the Tyger Claws.
Nazareth
The very special design makes this bike the favorite of badboys.
Brennan apollo
This bike with a decidedly spartan look, but with a powerful engine, is equipped with an oversized fuel tank that allows it to travel long distances without refueling. Plus its solid frame and suspension can easily withstand rough and rocky terrain.
Beast
This is the basic Thorton Mackinaw but with a brighter engine to make it faster. It was also equipped with racing suspension.
Quadra Type-66 Avenger
Compared to its base model, the Avenger has better handling and top speed.
Quadra Type-66 "Cthulhu"
Instead this, compared to its base model, is designed to run and terrorize on the streets.
Quadra Type-66 "Javelina"
While the Quadra Type-66s were designed to take on city streets, this version is intended for desert trails. The decidedly captivating look features a lightweight body and CrystalDome technology, to allow the driver to remain invisible while maintaining a complete and unobstructed view of the surrounding environment.
Caucasus 271 Aras
This Soviet-made drone intended for cleaning city streets has an economic cost, and for this reason it has easily spread around the world.
Mahir MT28 Coach
It is a bus intended for the transport of passengers and goods even on long distances. It is equipped with an automatic pilot to reduce the risk of car accidents. As with all technologies, it is still subject to malfunctions and, if it happens, it is painful.
Militech Basilisk
This tank, despite its considerable size, moves across desert terrain with incredible agility and speed.
Militech Griffin
Military drone, can replace soldiers with reduced loss of life and savings in salaries and training hours.
Militech Manticore
Armored by the Night City police, it is used only in exceptional cases. Equipped with important weapons, he can also carry a platoon.
Militech Wyvern
This drone is used by businessmen who are looking for an advantage in negotiations. When deactivated, it stows away in a convenient carrying case that can be easily hidden.
Rayfield Excalibur
This extremely luxurious, and particularly expensive, limousine was designed to solve the problem of city traffic.
Zetatech Atlus
The vehicle is used by both the medical teams of the Trauma Team and the N54 News teams. The characteristic sound of sirens can be heard at all hours of the day and night in any corner of the city.
Zetatech Bombus
The Bombus was designed as a home drone to watch over children, and even play hide and seek. Due to its flexibility, couriers also use it for the transport of remote-controlled bombs in Cyberpunk 2077.
Zetatech Canopy
The Canopy is the American answer to the Soviet Aras waste collection drone, adapting it better to local needs.
Zetatech Octant
It is a good armed drone, even if it does not have all the characteristics of the Militech competitor.
Zetatech Surveyor
Flying coach initially designed for the transport of the military, it is currently used for the transport of civilians in the city.
Zetatech Light
It was Zetatech's first combat drone. Although slow and inelegant, this machine has proven itself reliable even in adverse weather conditions and climates. Although it has become obsolete, it still performs its duties with dignity.
Quad Turbo-R 740
This car contributed to the revival of American sports cars, by which time the market was saturated with the Japanese competitors of Cyberpunk 2077.