The new Call of Duty: Modern Warfare has been in our hands for a while and with the Activision title the possibility of playing in split screen two players is back, here's how
Call of Duty: Modern Warfare is in our and your homes now from 25 October, as time passes, and with the title of Activision the possibility of play local split screen multiplayer in two players, both for the classic multiplayer modes, and for the newcomers Spec Ops. How to do it is rather tedious and unintuitive, actually, but you can understand a little more with this short guide of ours.
We are obviously talking about playing in split screen in two, in what was once called "local muliplayer" and which has gradually disappeared, thanks to the increasing development of online modes through the services offered by the various consoles.
When we tell you that il procedure is not very intuitive we are using an euphemism, the Holygamerz editorial staff ourselves had to consult to get to the bottom of it. Between misleading online information and a lack of clarity (and, allow us, full sense) in the development house's handling of it, we have finally come to the crux of the matter. Follow us.
How to play Call of Duty: Modern Warfare for two, first you need a friend
Well yes, first of all you will need a friend. Taken? All right, let's move on. You will obviously have to have it available a second controller. To activate it, simply associate it with the console you are using by attaching it via USB cable. You can then switch to wireless mode if the controller has one. We'll take the PlayStation 4 as an example, for general convenience.
Having satisfied these initial minutiae, the road becomes a little more complicated. Using the second controller, you will need to open the XMB menu and create a New User to associate with the second player. It is important that you do not choose "play as a guest", as the new user will need to have a PlayStation Network account associated with them. Not only that, however, this second account will also need to be a PlayStation Plus subscriber.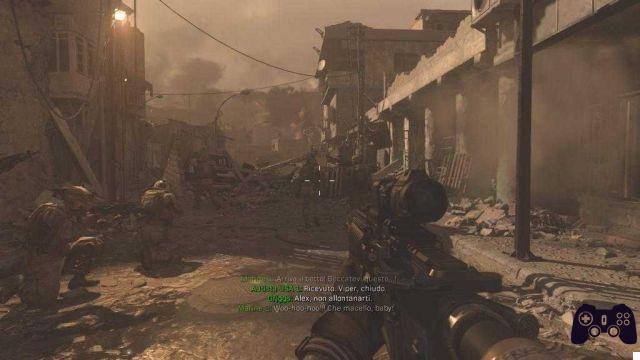 Are you confused? We too initially. Call of Duty: Modern Warfare split screen mode is supported only and exclusively for online multiplayer, not for Spec Ops or the Single Player Campaign. Both players must therefore necessarily be registered on the PlayStation Plus to take advantage of the online services.
Once all this is done, launching Call of Duty: Modern Warfare you will see in the upper right part of the screen "Press X to participate". Do it and, after the game has done the necessary checks, you will finally be able to play in local multiplayer with two players. With the only small note that it is not actually locally, if it requires an internet connection.
Now you know how to play Call of Duty: Modern Warfare in two players. Unfortunately it is not exactly the best, but if you had any doubts I hope it has been dispelled!
Hoping we were clear, we leave you to our other guides on Call of Duty: Modern Warfare, All the Killstreaks and how to unlock them, Guide to trophies, Tips and tricks for winning in multiplayer, How to unlock all the skins of the operators and many, many other. And you? Are you playing with it? Let us know below in the comments.