Wolfenstein: Youngblood is out today and we are ready, with this guide, to give you the best tips and reveal some tricks to start your adventure in the best way!
Wolfenstein: Youngblood is one spin off of the popular FPS series. The main characters of the new story are the two daughters di B.J. Blazkowicz, or Sophia e Jessica. The game is set over the years Eighties of the twentieth century and the story is divided into Paris. The two girls will have to face several battles against super-soldiers, robots and other Nazi monstrosities. One important thing to point out is that the two girls work together and cooperate: indeed the game can be played by two people in cooperative mode or the player can use an AI-controlled bot to fight with.
In this guide to Wolfenstein: Youngblood, we will show you various tips and tricks as well as various useful information for understand all game mechanics 100% and to be able, therefore, to start in the best possible way. Let's begin!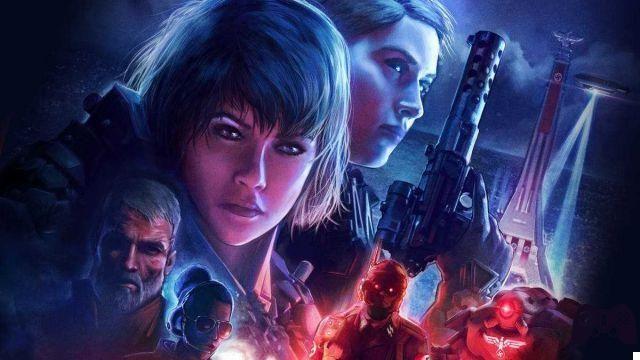 System requirements and internet connection to play Wolfenstein: Youngblood
Wolfenstein: Youngblood has very low minimum hardware requirements and should therefore run quite well even on slightly older PCs. THE official system requirements are the following:
Recommended: Intel Core i7-4770 3.4 GHz / AMD FX-9370 4.4 GHz, 16 GB RAM, 6 GB GeForce GTX 1060 or better graphics card, 40 GB HDD, Windows 7 / 8.1 / 10 64-bit
Minimum: Intel Core i5-3570 3.4 GHz / AMD FX-8350 4.0 GHz, 8 GB RAM, 4 GB GeForce GTX 770 or better graphics card, 40 GB HDD, Windows 7 / 8.1 / 10 64-bit
In case you bought Wolfenstein: Youngblood on PC, it will not be possible to play it without an internet connection. In fact, you will also be asked if you play offline, for example with the co-op mode using the second player controlled by the AI.
Also, we remind everyone that Wolfenstein: Youngblood in the PC version requires an account created on the platform Bethesda.net. Creating this account is free.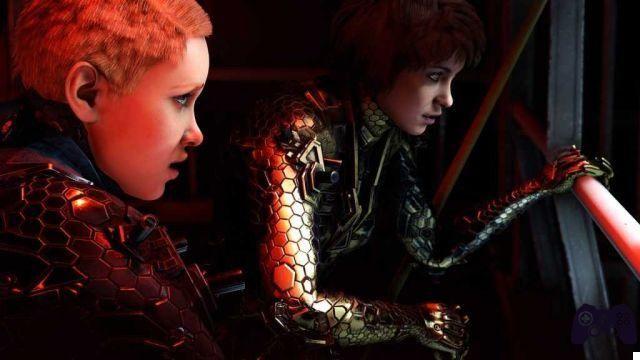 Hours of gameplay required to complete Wolfenstein: Youngblood single-player
Though Bethesda has not published precise information regarding the hours of play that Wolfenstein: Youngblood will require upon its completion, the publisher suggests that the game will offer much more content than its previous spin-offs (Wolfenstein: The New Order, Wolfenstein: The Old Blood and Wolfenstein II: The New Colossus). Having no further details to specify, we recall that the last chapter before Wolfenstein: Youngblood required about 11 or 12 hours of gameplay.
With regard to the Cooperative mode, this it is not mandatory even if recommended by the game authors themselves. It will therefore be possible to play single-handed if you do not have the opportunity to play in two to start the campaign, thanks to the help of the AI ​​who will command the second sister.
In case you have purchased the Deluxe Editionyou can also take advantage of the Buddy Pass to invite some of your friends to play with you. The second player will be able to download Wolfenstein: Youngblood and join you in cooperative mode at no additional cost.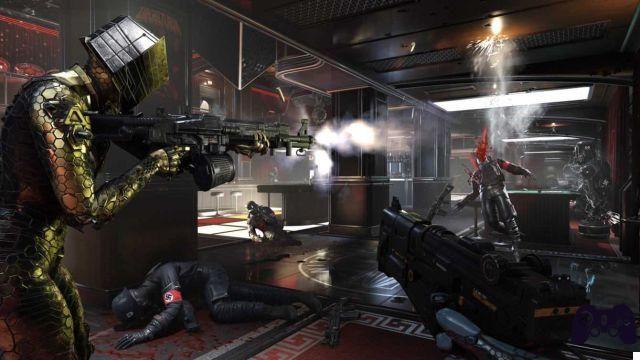 Difficoltà My life in Wolfenstein: Youngblood
Fear not! Wolfenstein: Youngblood will have no difficulty level Mein Leben. For the uninitiated, this is an extreme difficulty level that first appeared in Wolfenstein II: The New Colossus. This level provided only one life available without even the possibility of saving your game.
The higher difficulty level will be Uber, as in Wolfenstein: The New Order and Wolfenstein: The Old Blood. This mode offers a very challenging fight that is easily managed thanks to our tips and tricks for Wolfenstein: Youngblood, in addition each level will have the possibility to be repeated several times and it will be possible to save the game.
Wolfenstein: Youngblood version guide available
Wolfenstein: Youngblood is available in two versions: Standard e Deluxe Edition. The latter obviously contains some more features as we see below.
Buddy Pass: This pass allows the player to invite a friend to join their game, even if the friend does not have a copy of the game. In fact, he will be allowed to download Wolfenstein: Youngblood in a trial version and play it in cooperative mode without having to purchase it.
Cyborg Skin Pack: Contains a cyborg skin for your character, a titanium skin for each weapon, ax or knife, and an armor upgrade item.
In addition to that, there will also be a bonus for those who have made a pre-order, both for the Standard and Deluxe versions. The bonus is a Legacy Pack, which will allow you to unlock the outfits and weapons used by BJ Blazkowicz.
Wolfenstein: Cyberpilot is part of Wolfenstein: Youngblood?
No, Wolfenstein: Cyberpilot is a separately sold product and intended only for virtual reality devices. For example, it is supported by the PlayStation VR, HTC Vive and Windows Mixed Reality.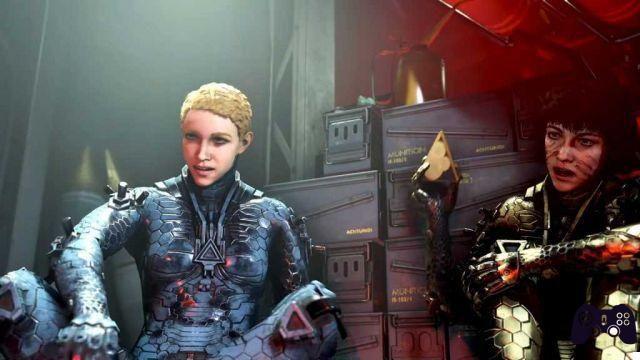 Wolfenstein: Youngblood, tips and tricks to start playing | Guide
Now that we have checked that we have all the necessary requirements to be able to take advantage of Wolfenstein: Youngblood to the fullest, here it is some game advice.
Since Wolfenstein: Youngblood was made in collaboration between Arkane Studios e MachineGames, some of its game systems and mechanics may be a little different from previous installments of the saga.
First of all, the choice to play with Jessica rather than Sophia is purely aesthetic: the two girls have the same skills, weapons and game mechanics.
PEP signals: This is one of the ways in which Wolfenstein: Youngblood allows the two sisters to use skills and emotes, ranging from a thumbs up to a punch. However, these cues also impact gameplay: thumbs up, for example, grants both sisters 50 life. The various PEPs have unique and different benefits and, as if they were real skills, they also have a cooldown to adhere to.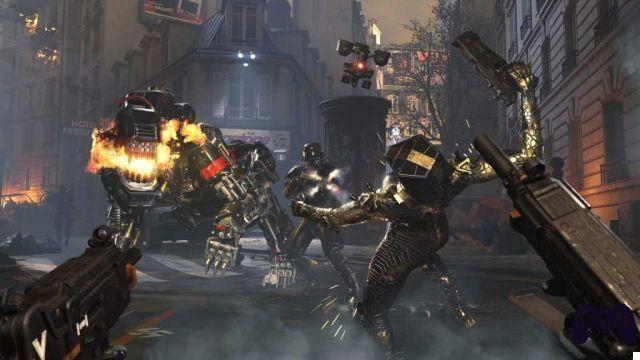 Brands or Categories: The weapons in Wolfenstein: Youngblood have a slightly different level of customization and advancement than the previous ones. First of all, they can be equipped with different modes and each of them belongs to three categories o Brand. The Stier category increases damage, Nadel improves accuracy, and Tempo focuses on rate of fire and speed. Keeping these categories in mind will help you improve the weapons you already have and, in addition, upgrading a weapon 3 times will grant you very interesting bonuses, such as adding extra firepower.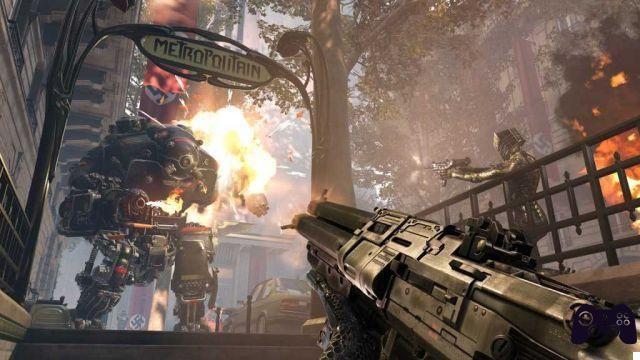 Types of ammunition: Wolfenstein: Youngblood uses different types of ammunition, as is normal for any self-respecting FPS, but the interesting thing is that some enemies in the game are weaker to certain types of bullets. On the health bars it will be possible to view some shapes of bullets that correspond to the three bullets available in the game: light, heavy and energy. Always check the type of projectile your weapon uses at the bottom of the screen, and if the figure matches the one shown on the enemy's life bar, be sure to do even more damage.
Wolfenstein: Youngblood Exploration Guide | Tips and tricks
Paris is divided into several centers, each of which is completely open and available for exploration. While it's not the largest game universe you'll ever play, by Wolfenstein's standards it's pretty big. The Parisian areas, thanks also to their size, have an intricate design and are made up of a multitude of hidden passages and rooms. Make sure you always explore to the best of your ability, not only because you might find useful items but also because you might collect a lot of silver (the currency of the game), which in turn is useful for improving weapons.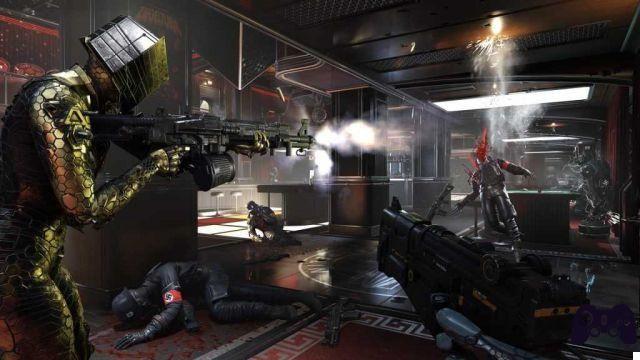 In Wolfenstein: Youngblood lo stealth (so not being seen by enemies and NPCs) is a fundamental part of the gameplay. What makes it different from the other chapters in the saga, though, is that the enemies have different levels and categories. While ordinary soldiers can be killed with even a single stealth shot, super soldiers are a bit more resilient. Make sure you unlock the skill Supersoldat Hunter in the skill category Muscle right away, as it unlocks silent shots to Nazi super soldiers. It will cost you 3 skill points, so it's a little expensive, but for those who prefer a more stealthy approach it's definitely worth the purchase.
Regarding the possibility of playing hidden, you can start the game by choosing the Cloaking skill which will make you invisible for a limited time. Especially early in the game, when Jessica and Sophia are still weak and could be easily overwhelmed by enemies, it will prove to be very useful. In any case, it can also be purchased later at the cost of 5 points.
Wolfenstein: Youngblood Weapons & Gameplay Guide | Tips and tricks
Heavy Weapons: another very useful skill to be found under the Muscle skills is Bigger Guns, unlockable for 4 points. This ability allows you to pick up and use heavy weapons dropped by enemies, so every time you kill a super soldier, for example, you can grab his weapon.
Another piece of advice we can give you is to make sure your in-game partner, whether it's a friend or the AI, doesn't die in a fight. In that case, the skill Get Up PEP makes it very useful. Try to unlock it as soon as possible, as it will allow you to revive a partner even at a distance at the cost of 3000 coins.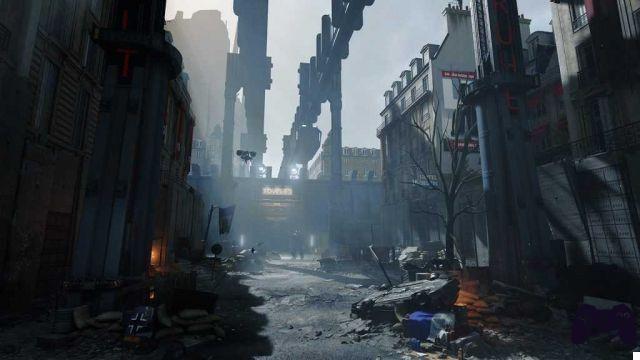 Speaking of useful PEPs, the Martial Arts PEP it becomes of vital importance when you are in some areas that already apparently seem to be difficult to pass. This skill, in fact, guarantees you 100 extra life, to you and the second sister.
I PEP Fighting Stance e Crank Knuckles they are particularly useful in boss fights and for the most difficult enemies, as well as for those situations in which multiple enemies will come towards you. Crank Knuckles will halve the damage received by both sisters for 10 seconds, while Fighting Stance will double the damage you do for 5 seconds. Using them together is definitely a winning strategy. Plus, both PEPs are particularly cheap - they only cost 1000 coins.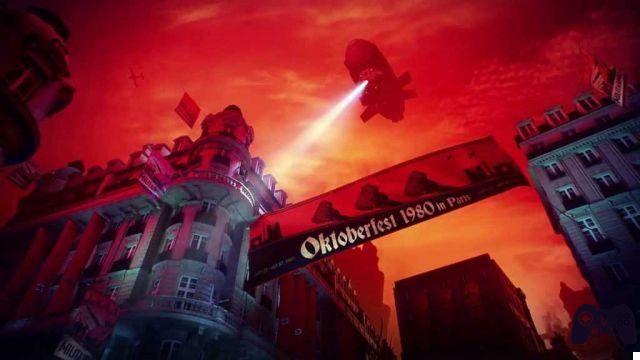 Another particularly useful gameplay mechanic that should not be underestimated is the spot (or tag) the enemy, so that your partner can visualize it and direct his shots. If you play alongside the AI-controlled bot, it will focus its shots directly on the enemy you spotted. Particularly useful, therefore, in situations that involve fighting against many enemies.
Wolfenstein: Youngblood, tips and tricks | Guide
Having read this useful guide containing valuable tips and tricks, don't miss the other enlightening guides that we will release on Wolfenstein: Youngblood! As well as our review due out in a few days.