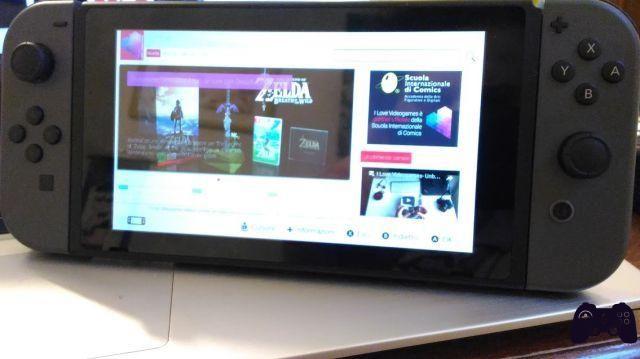 As we all know by now, Nintendo Switch, the new console of the Grande N, was released on March 3rd without an internet browser. The particular choice of Nintendo did not take long to generate the usual and predictable wave of controversy, which it is not our intention to explore at this juncture (we refer you to our ad-hoc editorial for those). What many still don't know is that actually Nintendo Switch is equipped with a browser and in this guide we will explain how to access it.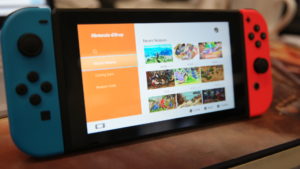 To learn more:
Why Nintendo Switch can't (yet!) Replace my iPad
A browser on Switch in 3 steps
If it is true that there is no browser icon in the Switch home menu, with the update of the Day One console, the one that brings the firmware to version 2.0.0, a webview has been introduced used to show the authentication screen when connecting to certain public wi-fi hotspots, the so-called captive portals. It is therefore possible to take advantage of this Nintendo Switch feature and with a little trick use the webview to surf the internet! What we will show you is only one of the methods that can be used, but the concept behind them all is always the same. What we need for this specific method is:
A Nintendo Switch with firmware updated to version 2.0.0
A PC connected to the network
The program Telerik Fiddler, downloadable for free from the official website
A .farx file containing some rules for Fiddler: you can download it here
You are ready? Let's go!
1 phase:
After downloading and installing Fiddler on your PC, open it and click on the "Tools", Then on"Telerik Fiddler Options"
In the window that opens, click on the "Connections"And there check the option"Allow remote computers to connect"And remove it from"Act as a sytem proxy at startup". The result should look like this: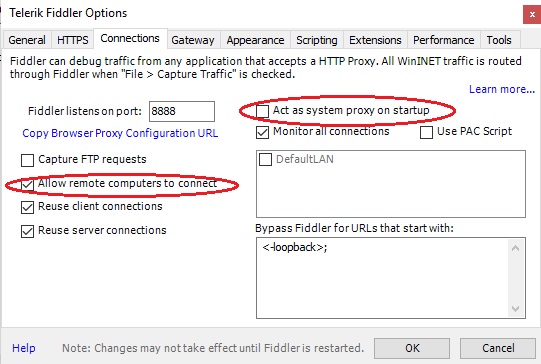 Click on Ok and at this point close and reopen Fiddler
2 phase:
After closing and reopening Fiddler click on the "Autoresponder"
Click on "Import"And import the previously downloaded .farx file
Make sure that the options "Enable rules"And"Unmatched requests passthrough"Are checked. The window should look like this: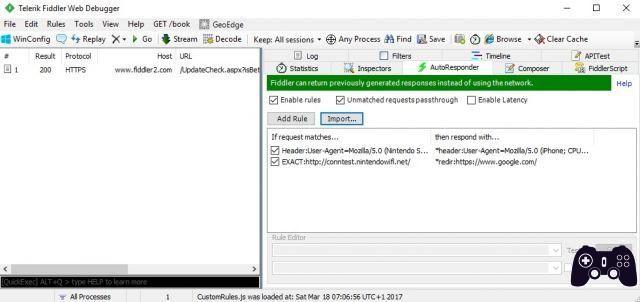 3 phase:
Turn on the Nintendo Switch and go to system settings. Select "Internet"And therefore"Internet settings"
Select the WiFi network your PC is connected to and go to "Change your settings"
Activate the proxy settings, inserting the IP address of your computer (to know it, just run the command "ipconfig"From the command prompt) and"8888"As a door
Save and click on "Connect to this network"
At this point Nintendo Switch will try to connect to the network through the proxy we have just set up and failing to verify internet access he will tell us "You need to register to use this network."
Just click on next and if we have performed all the steps correctly, the Google screen will load in a webview, from which we can then launch any search and surf the net: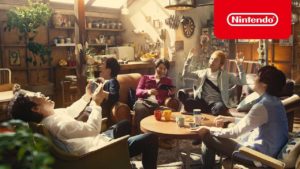 To learn more:
Switch: the post-social console that doesn't need to challenge iPad We will finally have gained access to the Nintendo Switch hidden browser! Not being designed for common browsing, this webview has some limitations. It does not feature multi-tab browsing and does not have access to history and favorites, as well as there is no address bar. To navigate we will then be forced to search for sites in the Google search bar. You can view videos on YouTube, but not all streaming platforms: the web version of Netflix unfortunately doesn't work. It is a cumbersome and inconvenient solution, feasible more for personal curiosity than for real usefulness. In fact, even just to implement the tutorial it is necessary to have devices with incredibly more usable browsers than the one included in Nintendo Switch.
Once your experiments are finished, remember to go back to the connection settings and disable proxy settings: as long as they are active it will not be possible to play online on Switch nor access the Nintendo eShop!
Source