In this guide on Rust, the resurrected title of Facepunch Studios, we want to explain how you can build a shelter first, and then a house, your real base camp
Rust is a title originally released in 2013 as Steam Early Access. A Survival like so many of that era, which, however, thanks to the push also of quite famous content creators, had managed to create a circle of fans who carried the title forward until 2018, the year of release of the full version on PC. In recent days, Rust has returned to the crest of the wave following some broadcasts on Twitch of big streamers, who, by agreeing, played at the same time as the Facepunch Studios title. An unexpected return, in short, that of the Survival of the small English studio, which also recorded a high peak of simultaneous players on Steam.
Waiting for the PS4 and Xbox One version, which has been postponed from its 2020 release due to the Covid-19 pandemic, we have decided to start covering the Facepunch title with a list of guides that can help you get into the his brutal world. We have already given you an introduction to the game mechanics in our first guide on how to start playing, now we want to focus on something always basic and fundamental, especially for those who really want to survive. In this article we will talk about how to first build a shelter and then a house in Rust, so that you can create your base camp as quickly and easily as possible. Let's begin!
Before starting
First of all, we want to underline that there is a marked difference between Refuge and Casa in Rust. Both structures will act as a real Base Camp, where you can deposit your items to protect them from thieves, bandits and other players in search of fortune. Furthermore, the storage of the objects will allow you not to lose them around the map once you are dead (because it will happen and also very often, trust me), so take advantage of it and be wise.
Il Rifugio - Rust: how to build a shelter and a house
The Refuge is the basic and simplest structure to build in Rust. It is a small building, very similar, at least in size, to the portable toilets you find at the entrances to the stadiums. Just to give the idea. The Refuge has 1000 health points and building it is pretty simple. All you need is simple wood, 50 units to be precise. As you well know, you can get the wood either by hitting the trees or by collecting the piles that you find around the map.
The Refuge is as simple to build as it is fragile. In fact, the structure can be easily destroyed by weapons and grenades, but it is a good starting point for all those who are traveling around the world of Rust looking for materials to build a real house. Once you have built the Refuge, you just need to equip it and place it in the spot you have chosen.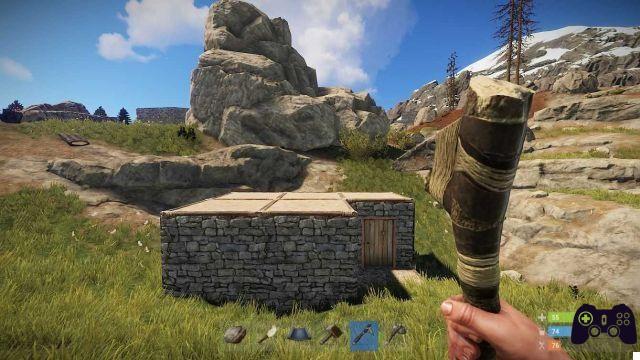 La Casa - Rust: how to build a shelter and a house
To build a House, however, you will certainly need more materials, but also a lot more patience. At the base of the construction of a House are the Wooden Planks and, to build one, you will need 10 wooden units. Below we list all the parts from which a house is built, with the respective wooden planks that you will need, so as to give an idea of ​​how much patience you will need.
Foundations: 8 wooden planks;
Pillar: 2 wooden planks;
Wall: 4 wooden planks;
Entrance: 4 wooden planks;
Ceiling: 6 wooden planks.
To each his own - Rust: how to build a shelter and a house
Having made the necessary calculations, let's start for a moment to talk about the various parts of the house. The foundations are, of course, the first part you will have to build and then graft onto the pillars. The latter are necessary to build windows, doors and walls, because you can only build wooden structures between pillars.
As for the walls, they offer good protection. The wooden ones, for example, resist up to 3 explosive charges and take no damage from melee weapons. Fundamental in the construction of the house is to establish the entrance to install the door. Always remember not to leave the server before you have done so, because otherwise other players will be able to enter and take over the structure.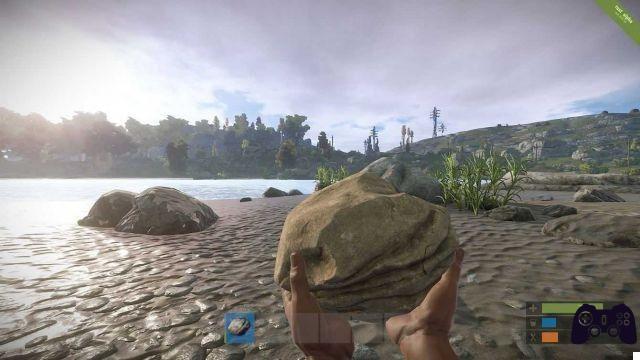 Have fun!
Well, now you know how to build the shelter and a house in Rust, so that you can keep all the items you want during your adventures in the ruthless world created by Facepunch Studios. Did you know Rust? What do you think about it? Write it to us below in the comments, we will continue to keep you updated with all the news and guides on videogame and tech!