We briefly summarize the best tricks and tips to start playing Pokémon Unite on the right foot, without missteps.
By now Pokémon Unite came out on Nintendo Switch, but before the mobile version comes out we wanted to share ours with you advice and the various tricks to get you off to a good start. Game Freak's pocket monsters never made it into the multiplayer online battle area (MOBA) genre, and the same goes for many of their fans as well. This time, in fact, it is not a question of the strength and weakness of creatures, but the management of time, distance and impromptu team play everytime. We will explain why it is best to start with caution, which characters to start with, classes and more.
The wait pays off!
The first of the tricks to win is also the most basic of advice: resist the urge to dive blindly into Pokémon Unite. There are six tutorial, and both MOBA experts and beginners should take their time to watch them all. After the first the game will allow you to play, but it is worthwhile to "graduate" first. The tutorials will explain the basics and reward you for following them, between basic and advanced mechanics. The first three will show you how to attack and score points, while the other half will show you how to diversify your targets is good for your score.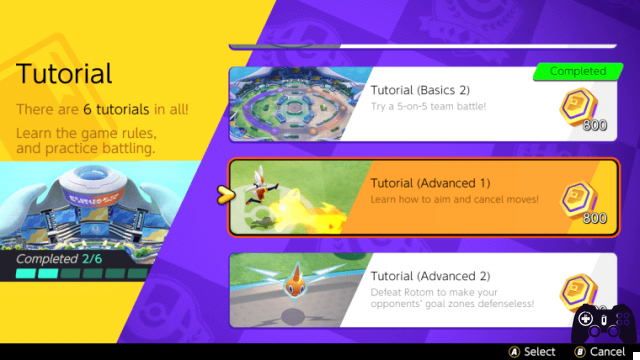 Optional Options - Tips and Tricks for Pokémon Unite
It is not that the options menu often falls within the basic advice for a game, but that of Pokémon Unite hides various tricks to triumph. One of the first settings you will find are the attack controls, which can be normal or advanced. In the latter case you will have two buttons to attack different opposing creatures. The Lock-On icon also helps you choose a target in the middle of the action, especially when there are differences between poor defenders and walls to break down. In short, choosing which target to prioritize will prove vital soon enough.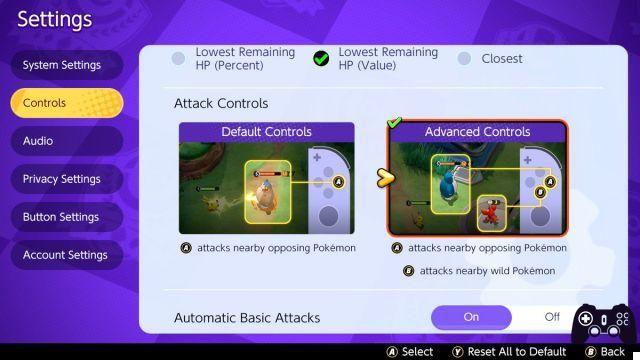 Total Unlock - Tips and Tricks for Pokémon Unite
After the Pokémon Unite tutorials, you will get one license with which to unlock one of the creatures: if you accept advice, we can tell you where to start. Know the classes it is vital, and we explain in two words what differentiates them. You could also find better, as you already know ...
Eldegoss: Pokémon of support. Attack from afar and heal companions. Great for playing in the rear, bad in defense. Essential to keep the team alive, target of attacks for this very reason.
Snorlax: Pokémon defender. Strong in close encounters, very tough. Ideal for those who want to join the fray.
Pikachu: Pokémon long range striker. Able to attack and beat opponents from a distance, little brought to defense. Great for attacking.
Charizard: Pokémon balanced. Dangerous at any distance, with average attack and defense. Equipped with different skills in growth. Suitable for flexible players. (Choose him for lack of ideas.)
Talonflame: Pokémon sprinter. Able to move throughout the arena and pose a threat anywhere. Ideal for supporting various allies on the battlefield in turn, a little less for standing still.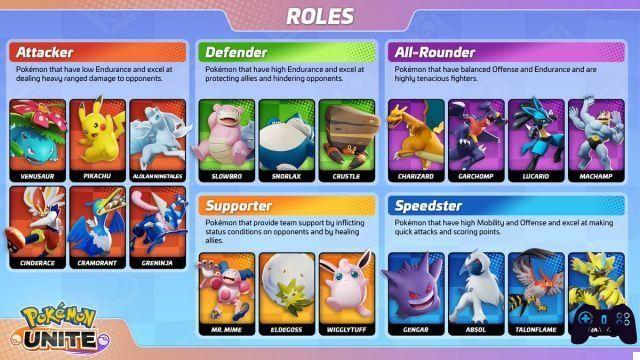 Grow - Tips and Tricks for Pokémon Unite
You will level up during Pokémon Unite matches, learning new attacks in the meantime. Over time, you will learn new skills that will override the two you had at the start of the game. It's up to you to shape your fighting style as you play. At level 5 and 7, the Pokémon will learn new abilities. You will always have a lot of choice, but you will have to create your own strategies. For example, based on the moves Charizard can inflict continuous damage to a certain play area or excel in close combat. It will be up to you to combine the moves as you see fit.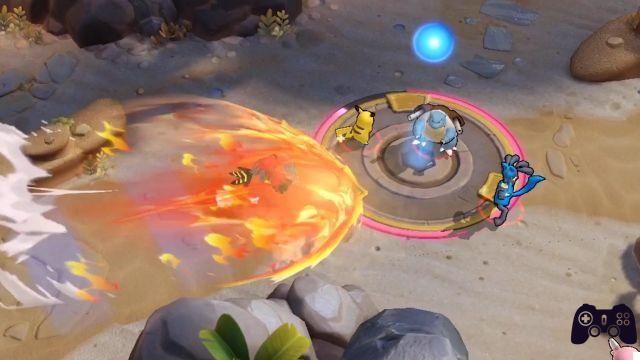 A coach in the lane
Each Pokémon excels at areas of the map best suited to him. You will find out by consulting the map before each match while you are in the lobby. By choosing the team modification option, the zone most congenial to each creature will be shown. For defenders, the best lane will usually be the one at the top, while balanced characters do best at the bottom. These are not dogmas, but these tips will prove invaluable in your first game.
Now it's up to you to tell us yours: did our guide serve you? Let us know below, and as always don't forget to stay on Holygamerz for all the most important news for gamers and more. For your purely gaming needs, you can instead find the best discounts in digital format on Instant Gaming.