The hybrid between chinchilla and bush, Shaymin, returns in New Pokémon Snap as elusive as always: we tell you how to take a four-star shot
Unfortunately Shaymin it is not simply a creature of legend: it is part of the gods who require players to participate in events to obtain it, and New Pokémon Snap unfortunately you have no qualms about replicating their exclusivity, so expect to have to sweat your four stars. The bad news, however, has largely ended here, luckily for you: we are here to help you in the enterprise. The Walking Organic Bouquet will come out, with or without the Gracidea deck - are you ready to put the lens on your next Poké-scoop and snap a Pulitzer photo?
Shaymin: how to get the various stars in New Pokémon Snap
As with Sylveon, in New Pokémon Snap the photos of Shaymin that earn the most stars are those that portray him in the company of Meganium. In the same lumina area as the latter you can also look for the legendary creature, on the left, on top of the cliff that you can see. All you have to do is keep your eyes on where Meganium sets foot, especially its luminescence.
A star: Take a picture of Shaymin where she is.
Two stars: Take a picture of him as soon as he jumps into Meganium's head.
Three stars: Take a picture of it just before it lands on Meganium's head. There are several hops in place that precede the big leap; that's your signal.
Four stars: Photograph it even earlier! Take the picture as his expression grows more and more enthusiastic as he hops in place before the big leap in the direction of Meganium takes off. Take more photos, one of those will be fine.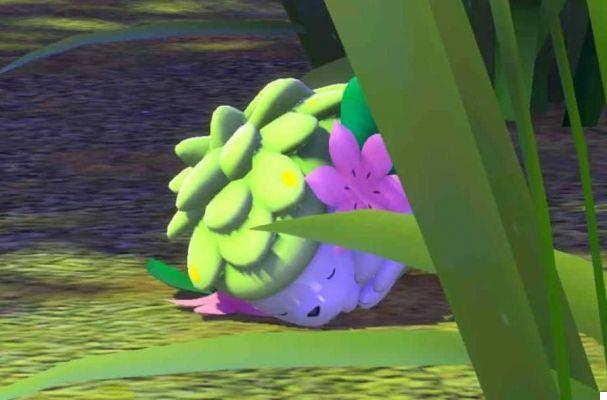 Note that the behavior of the various creatures depends on yours research level. If you can't find the specific moment you are looking for, this may also be the reason. Keep taking photos to raise the level and fill the Fotodex.
Now it's up to you to tell us yours: did you need the guide? Let us know below, and as always don't forget to stay on Holygamerz for all the most important news for gamers and more. For your purely gaming needs, you can instead find the best discounts in digital format on Instant Gaming.