In this guide on NBA 2K21 we will see what, in our opinion, is the best build for your Center or Big Wing, perfect for finishing and defending by dominating
NBA 2K20 has been out for a week now and, as for several years, one of the most important modes in the title is My career. Here we will find ourselves creating our player to ascend starting from High School, up to land in the NBA or throw ourselves into the fray against other players in multiplayer.
Character creation is always tough to deal with, especially in this title, where every parameter is important and will allow us to unlock specific animations and badges. In the previous guide we saw how to create a great Playmaker build. In this, however, we will see how to create a City Center (or Ala Grande) worthy of bearing this name!
The best Center is the Great Wing
Well yes, to create what we believe is the best Center in NBA 2K21, we will have to use the position of Ala Grande as they will change some parameters that improve our build. We also reiterate in this guide that this is not the perfect player as the builds are personal and fit each player's style of play. This Center, however, is a good one given that will crush on every opponent e it will stop that is a marvel (just like Leonard's middle finger).
Let's set the parameters - NBA 2K21: guide to the best build from Center / Big Wing
Let's start, as always, by entering the player's basic info and setting "Big Wing"As a location. Among the graphs available to mark what will be the positive sides of your sample, you will have to choose the one with the defensive part (Red) greater.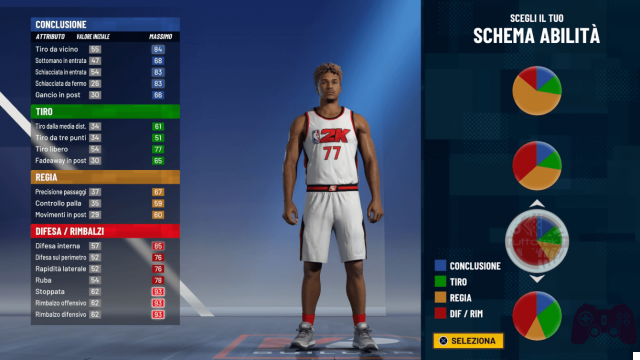 As regards the physical profile, here we will rely onlatest pie chart: the most balanced. This is because you will have, basically, 70 in speed, 68 in acceleration 78 vertically and well 79 in force. For a Center, strength is essential as it will allow you to dominate under the iron, allowing you to take more rebounds and defend more effectively. As for the inclusion of the various values ​​that will define the player's potential, we leave an image below, so you can easily copy it.
Let's move on to the physical setting - NBA 2K21: guide to the best build from Center / Big Wing
As you can see, thanks to this setting you can unlock 16 badges in conclusion, 1 in shooting, 4 in directing and well 30 in defense. Here, however, comes one of the crucial parts in character creation: the physical setting. As for theheight, our advice is to set it to 204cm, with the maximum weight of 127 kg it's a'opening of the arms of 229cm.
The strengths of this build are undoubtedly the crushed, both standing still with a maximum value of 94 and inbound, up to 85. Needless to say, then, that with the force to 92 and such high defensive parameters will be a real warrior.
After selecting the various statistics, you will have to choose theimpetus. For this Centro / Ala Grande we have chosen "Great Rebounder"As it will enhance rebounds, close range, strength, vertical attribute and, moreover, allows you to see where the ball will land, so you take a lot more rebounds.
Regarding badges (or badges), in defense you can really indulge yourself but, to have an extra gear we direct you to our guide on the best badges!
I love this game!
This is, in our opinion, the best Center / Big Forward build in NBA 2K21. More guides on the game will be released in the next few days, in addition to the actual review.
To not miss any of this, stay tuned to the pages of Holygamerz!