In this guide on NBA 2K21 we will see what, in our opinion, is the best build for your Playmakers, excellent in conclusion and with a good percentage in the 3-point shot.
Like every September, the most famous basketball title in the world is back on the shelves! Among the various modes available there is My career which allows us to create our champion in order to play the storyline in single-player, or face online PvP challenges.
Character creation is always tough to deal with, especially in this title, where every parameter is important and will allow us to unlock specific animations and badges. We at Holygamerz will propose several guides on NBA 2K21, starting from what is, in our opinion, the best build for the role of Playmaker.
The best point guard?
Let me be clear: the build that we are going to propose in this guide is not necessarily the best for every type of player, but rather a versatile setting that will allow you to do a little bit of everything. Obviously, in case you want a pure shooter or a brutal posterizer, you will have to make changes according to your style of play. But now let's start with the real guide!
Let's set the parameters - NBA 2K21: guide to the best Playmaker build
After entering the basic information and setting "Playmaker"As your player's position, you will be ready to choose the various statistics that will make up your champion. First of all you will have to select one of the various pie charts available, in particular the one with the widest shot and end slices.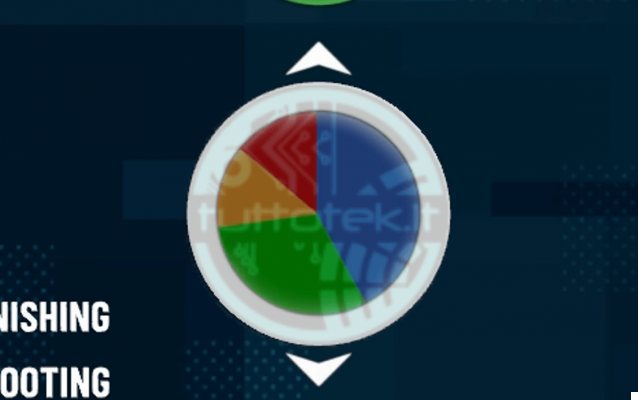 After that, you will have other pie charts available, this time to set the physical profile of the player. Here you will need to select the first chart, which he will attribute to you 85 in speed and acceleration, 52 in strength and 72 vertically. Once this is done, we move on to set the potential, that is the maximum statistics that your player can reach. For your convenience, we leave you some screenshots below, so you can copy everything.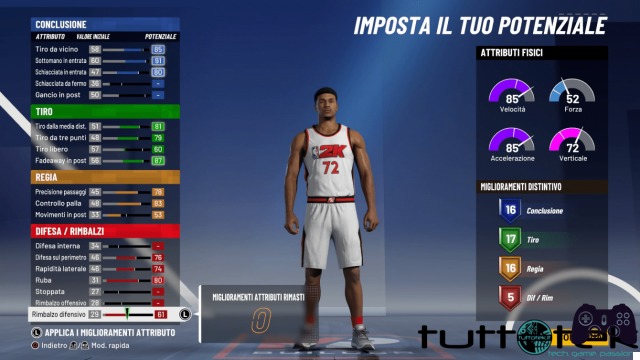 Let's move on to the physical setting - NBA 2K21: guide to the best Playmaker build
As you can see, thanks to this setting you can unlock well 16 badges in conclusion, 17 in tiro, 16 in the direction e 5 in defense. Here comes one of the crucial parts in character creation: the physical setting. As for theheight, our advice is to set it to 1.92cm, with the weight minimum of 78 kg it's a'opening of the arms of 210cm. This way you will get a real all-rounder.
With a dunk in entry at 82, for an shot from three points to 77 it's a ball control at 81, your Playmaker will be a real marvel. While this build is really strong, it shines once it is brought to 99 overall, since i +5 in all stats will allow you to unlock the crushed with contact and movements pro to dribble and your opponents!
After selecting the various statistics, you will have to choose the takeover. For this point guard we have chosen "Penetrate"As it is the most balanced of the offensively available upgrades.
As regards the badges (or cards), the most important ones to bring to the maximum remain "Slayer of giants","Realizer with contact","Long range","Green car","Quick departure"And the coupled"Intimidator"And"PincersAs regards the defense. In general, we refer you to our guide on the best available.
I love this game!
This is, in our opinion, the best Playmaker build in NBA 2K21. They will be out in the next few days other game builds and guides, in addition to the actual review.
In order not to miss any of this, stay tuned to the pages of Holygamerz!