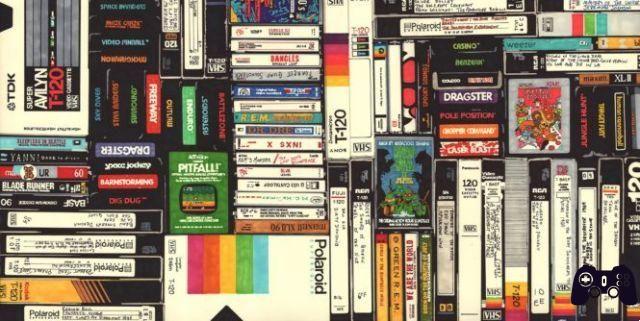 Copy VHS to DVD: what you need to know. Copy your VHS tapes to DVD before it's too late. VHS VCRs have been with us since the mid-70s, but in 2016, after 41 years, the production of new units ceased. Since the introduction of DVRs, DVDs, Blu-ray Discs and Internet streaming, VCRs are no longer practical.
Although many VHS VCRs are still in use, the search is increasingly difficult as the remaining stock is running out. As a result, many consumers save VHS tape content to DVD. If you haven't done so yet, time is running out. Here are your options.
Read also: What is a DVD Recorder and DVD Burner?
Option 1: use a DVD recorder
To copy VHS tape content to DVD using a DVD recorder, here are the steps.
Connect the composite (yellow) and analog stereo RCA (red / white) video outputs of the VCR to the corresponding inputs on a DVD recorder. Specific DVD recorders may have one or more video / audio inputs, which can be labeled in different ways, such as AV-In 1/2, Line-in 1/2 or Video 1/2 In.
Select the input on the DVD recorder to which the VCR is connected.
Place the tape you want to copy into the VCR.
Insert a recordable DVD into the DVD recorder.
Start DVD recording first, then press Play on the VHS VCR to start playing the tape.
The reason you start the DVD recorder first is to make sure you don't miss the first few seconds of the video that is playing on the VCR.
Option Two: Use a DVD Recorder / VHS VCR Combo Unit
You can copy VHS to DVD using a combo DVD / VHS recorder. This method is similar to option 1 but is simpler since the VCR and DVD recorder are a single unit. This means that no additional connecting cables are required.
Another way it's easier to use a DVD recorder / VHS VCR combo is with most double-dubbing features. This means that after inserting a playback tape and a recordable DVD, you select the way you want to dub (from VHS to DVD or from DVD a VHS ) by pressing a button Oak.
If your DVD Recorder / VHS VCR Combo Unit does not have a One Step Dubbing function, press Register on the DVD side e Play on the VCR side (see the user guide for details).
Read also: How to connect a DVD recorder to a TV
Option Three: Connect a VCR to a PC via a video capture device
Here is a solution that is becoming more and more popular and practical (with some caveats).
This third way of transferring your VHS tapes to DVD involves:
Connecting the VCR to a PC via an analog-digital video capture device.
Recording your VHS video to your PC hard drive.
Transfer video to DVD using PC DVD burner.
Related: How to transfer videos from an old camcorder to a PC [Solved]
These devices are equipped with a box with the analog audio / video inputs needed to connect the VCR and a USB output for connection to the PC.
In addition to transferring VHS tape video to a PC's hard drive, some of these devices come with software that helps make video transfer more flexible with editing features that allow you to enhance the video with titles, chapters, etc.
The main things to take into consideration when using the VCR to PC method are:
The amount of RAM you have on your PC
The speed of both the processor and the hard drive.
The reason these factors are important is that when converting analog video to digital video, the file sizes are large. Not only does this take up a lot of hard drive space, but if your PC isn't fast enough, your transfer may crash or you may lose some video frames during the transfer process. This results in skips when playing from the hard drive or DVD that the hard drive also transfers the video.
Time may run out for DVD recording
While using a DVD recorder, DVD recorder / VHS VCR, or PC DVD burner is a convenient way to transfer VHS tapes to DVD, in addition to interrupting VCRs, DVD recorders, and DVD / VHS recorder combos are becoming very rare and fewer PCs and laptops provide built-in DVD burners. However, although DVD recording options are dwindling, DVD playback devices will not disappear anytime soon.
Consider the career path
Besides the options discussed above is another method of copying VHS to DVD to consider that it is widely available, especially for important videos, such as weddings or other videotapes of historical family importance, is to do it professionally.
You can contact a video duplicator in your area and have VHS to DVD transferred professionally.
The best thing to do is have the pro service make a DVD copy of one or two of your tapes. If the test DVD is playable on your DVD or Blu-ray Disc player (you could try it on several to be sure), then it might be worth having the pro service make copies of any tapes you want to keep.
Also, if you have a good budget, the duplicator can make changes that can improve color, brightness, contrast, and inconsistent audio levels, as well as add additional features like titles, table of contents, chapter titles, and more.
Only non-commercial VHS tapes recorded on DVD can be copied. Copies of most commercially produced VHS films cannot be made due to copy protection. This also applies to professional tape copy / duplicate services.
Further Reading:
How to get tapes in Crash Bandicoot 4: the time has come
All promotional codes working in Rocket League 2020
What does the term 1080p mean
How to delete old user accounts in Windows 10
How to disable file compression on Windows 10