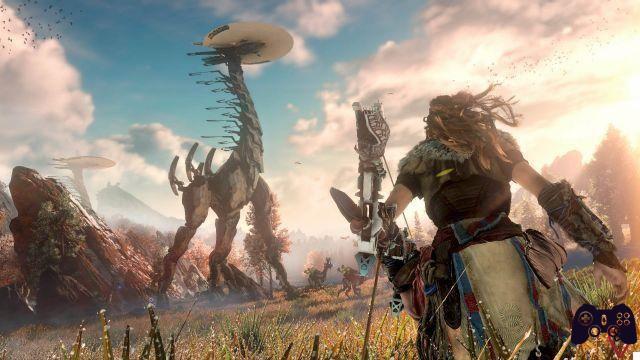 In Horizon Zero Dawn, the game for PlayStation 4 developed by Guerrilla Games and released on the Sony console in 2017, there are tons of areas to explore, but to get a complete overview of the map you need to clear the fog that covers it. This does not mean that the areas are not accessible, just that looking at the map they will not be visible. A type of mechanical creature comes to our aid to solve this problem: the Collolungo. The Collilunghi are very tall machines, whose appearance resembles that of gigantic giraffes and, by climbing on them, we will be able to synchronize by unlocking and making visible a portion of the map.
These machines are harmless and do not attack, and regardless of what is happening around them, they only follow the path they are patrolling. They usually run around a building or other structure, which you will see will come in handy to get on it.
Where to meet the Collolungo
You will encounter these mechanical quadrupeds already in the first missions of the game of Horizon: Zero Dawn, and every time you need to know the area in which they move, you will have to go and find them. First of all you will have to study their movements and their routines (scan them and discover the route), so as to choose the best spot to use to climb. As they move around other cars, it is very likely that you will find yourself facing unwanted enemies and since they are constantly walking, it will not always be easy to find the right location to hook you.
How to climb the Collolungo
To make the area scannable, as we said, you will have to climb the Collolungo. Therefore, being a very tall car, to start the climb to the summit you will need a very high starting point, at least up to the back, to be able to grab the first grip. Once you get to the first yellow platform, the first step will be taken.
Where is the Collolungo Override
Start climbing by holding on to the yellow parts until you reach the top of its flat head. When you arrive at your destination, interact with the Override and scan the surrounding area.
We also remind you that if you climb all the Collilunghi, you will unlock the bronze Primo Override trophy on Collolungo and the silver Override trophy on all the Collilunghi.
This is all there is to know about Horizon: Zero Down. For more information, please refer to our constantly updated section on the guides.