Now that Genshin Impact is available worldwide, it's time to find out some tips and tricks to start playing
Genshin Impact has been out a few days ago but has already become the new catchphrase. Model free to play it is certainly an invitation to try it without obligation and that millions of players have already welcomed on mobile, PC and PlayStation 4. Although the name may make it sound different, it has nothing to do with Honkai Impact except the development house itself. Since it is an original video game with mixed mechanics, we thought we would help you understand what are the most important things and on which you should focus more. So let's start with this guide on tips and tricks to start playing Genshin Impact.
Understanding the game
It is a (mostly) single-player video game, part of the RPG genre with typical gatcha elements. You will have the opportunity to explore the game world through numerous exploration tools including free climbing and glider, similmente a Breath of the Wild. The latter would indeed seem to have strongly inspired Genshin Impact, providing the developers of myHoYo the basic tools on which to build an original mix of gameplay.
In fact, in the game we find time-based resources and a real coin to spend in the game typical of the gatcha-games found on mobile. With this guide we want to help you get started by giving you some tips and tricks about Genshin Impact.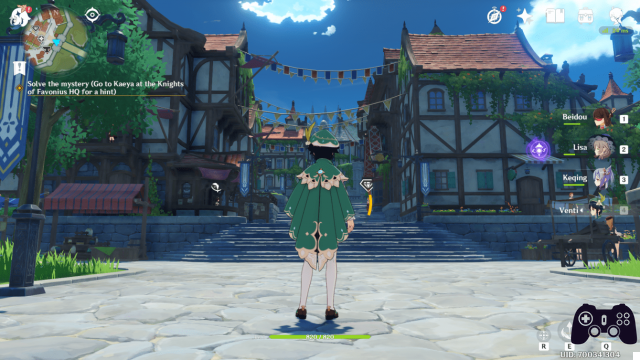 Do not accumulate the Original Resin - Genshin Impact: tips and tricks to start playing
The first point we are going to touch is among the most delicate, as it concerns one of the most important resources of the game: the Original Resin. It is a resource that is consumed by carrying out some activities. Among these we find the possibility to open the deposits of Ley Line Outcrops, defeat bosses and face special dungeons such as the Abyssal Domains. However, you don't have to worry about using it, as automatically regenerates by 1 every 8 minutes even while you are offline. For this reason, we recommend that you end your game always having consumed some.
You can keep a maximum of 120 and they can also be recharged using Fragile Resins or Primgems, but we do not recommend doing this. To check how many you still have, just open the map and look at the number at the top right. The quantity of resin used for each activity is as follows:
Ley Line Outcrops: 20
Abyssal Domains: 20
Hypostasis: 40
Weekly bosses: 60
Finally, you can complete tasks even if you don't own Original Resin, but you will not be able to collect the prizes. Now let's move on to one of the next tips and tricks to start playing Genshin Impact.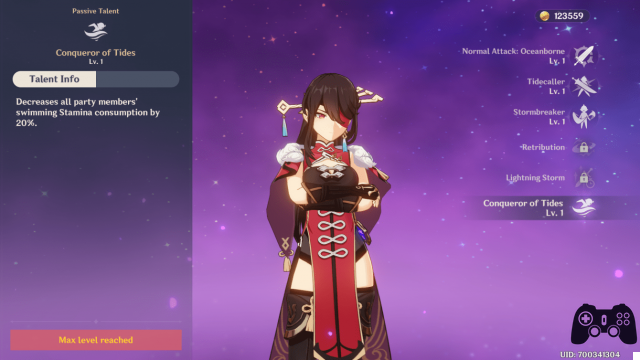 Take down the wizards and bosses of the world - Genshin Impact: tips and tricks to start playing
Proceeding with the main story, you will inevitably be able to unlock l'Adventurer's Handbook. It is a tool that allows you to level up in the adventurers' guild simply by completing some achievement-like objectives. By leveling up sufficiently you will unlock the opportunity to face the World Bosses. Some of these are elemental wizards, scattered around the map. The latter in particular will make you obtain precious resources to improve weapons and equipment, so you should try to find and defeat them as often as possible. However, it is only possible to challenge them for a limited time, as they have the ability to suddenly disappear and reappear after 18 real hours.
Of course, it is also possible to collect resources all over the world. If you find rare items always take them as: Crystal chunk, Philanemo mushroom and others. You will need all of this for Character Ascension and to upgrade weapons. What you just read was a key point for your progression in the game, read on to find out more tips and tricks to start playing Genshin Impact.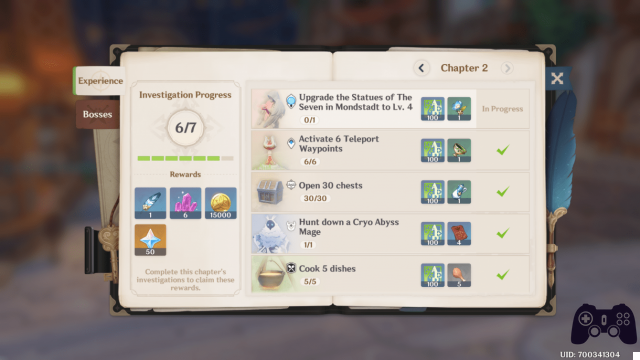 Always equip Artifacts - Genshin Impact: tips and tricks to start playing
- Artifacts they are extremely useful items, which when equipped can greatly improve your characters' stats. One of their particular features is the ability to unlock further upgrades if accompanied by other Artifacts of the same category. For example, if you have them 4 of the Berserk type, you will get a special bonus as described on the item. A good practice would be to level them up, but not just to improve their stats, but to add new ones. Of our tips and tricks this was the shortest but not the least if you want to survive, continue on to find out more ways to start playing Genshin Impact at your best.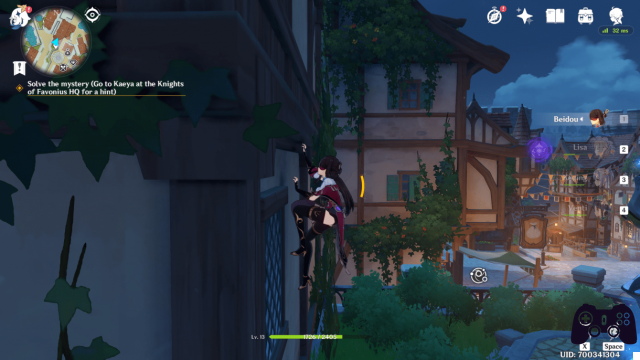 Summon, but only x10 - Genshin Impact: tips and tricks to start playing
Previously we told you that you can use Primogems to reload missing Resins. However we advise against using them in this way, as they are much more useful when used to obtain Intertwined o Acquaint Fates. These last two resources are the only ones you can use to summon new heroes or weapons from the game's "gatcha" system. Furthermore, if we tell you that 1600 Primogems are equivalent to about 20 euros, you already understand why they should be kept for better use.
Another piece of advice we can give you is to only summon when you can do it x10 in one go. In this way Genshin Impact gives you the opportunity to get 100% at least one four-star character. By doing summon one by one instead, you will lose the guaranteed reward. Since there's only a five percent chance that every single summon will give you a four-star item, that's a bonus not to be missed. Genshin Impact is a game where you need to manage your resources and these were among the most important, let's continue with other tricks and tips to start playing.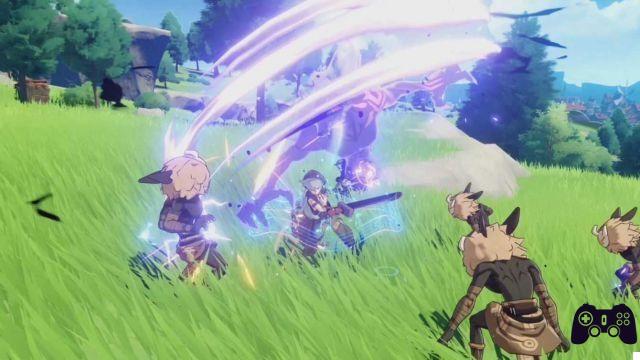 Collect all items and resources - Genshin Impact: tips and tricks to start playing
In your adventures in cities, forests and lakes, always try to collect as many items as possible. Avoid randomly leaving them on the ground as many of these can become useful resources for upgrading weapons or cooking delicious dishes. The inventory also has 30,000 slots, and it will take a lot of effort to fill it. Part of this is that many items will literally be consumed later on. In fact, the weaker weapons can be used to increase the power of other weapons. Instead, the ingredients are used to create medications or temporary bonuses to your characteristics. Instead, metals and stones must be brought to the blacksmith to create completely new weapons and equipment.
Finally there are over 1000 treasures to be found in the world. Despite the fact that the rewards level automatically adjusts based on your Adventure Rank, never leave them behind even if you would normally drop them on the ground. Open every chest always and in any case, your future I will thank you. The next of our tips and tricks is the last, but not the least, to get started playing Genshin Impact.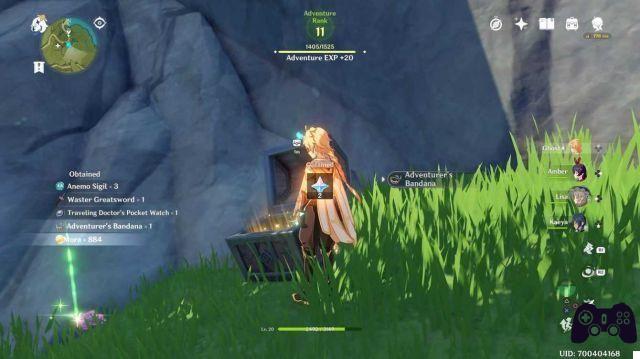 Increase the Adventure Rank and advance the storyline - Genshin Impact: tips and tricks to start playing
The one covered here is perhaps the most important aspect of the game of all, as it governs what you can and cannot do in Genshin Impact. Many advancement systems are in fact based on the Adventure Rank, therefore increasing it quickly will allow you to participate in many more activities. Thankfully this is not a major undertaking, however it does require some time on your part. Virtually everything you do in the game world is helping you get closer and closer to a new level. Completing side and main quests is a good way to get AR XP quickly, even the smallest actions contribute to the same purpose, but in less quantity.
Plus the main storyline as well as being a rich source of experience allows you to have free access to three other characters: Amber, Kaeya and Lisa. Initially, we therefore recommend that you get lost a little in the verdant lands of Genshin Impact and focus on your main objective. This way you can solve some otherwise impossible puzzles and certainly increase your survival against powerful monsters. When you have all the characters at your disposal, feel free to explore the world of Teyvat. This was the last of our tips and tricks, but continue on in this article for more guides on how to start playing Genshin Impact well!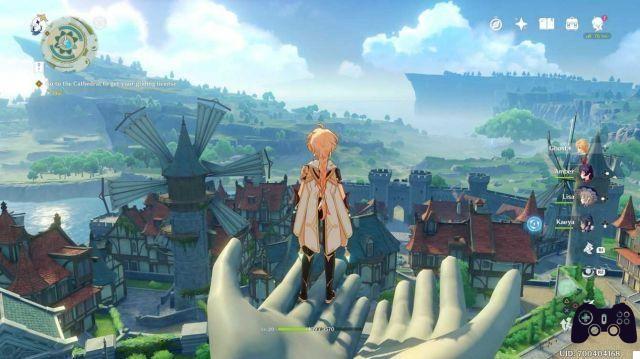 That's all!
We have finally come to the end of this guide on tips and tricks to start playing Genshin Impact. To close with a flourish, let's quickly recap what they are the important points to keep in mind:
Non accumulate l'Original Resin
Take down the wizards and bosses of the world
Always equip Artifacts
Summon, but only x10
Collect every item and resource
Increase the Adventure Rank and advance in the storyline
In case there are any doubts or you want clarifications, ask us your questions below in the comments! Otherwise we recommend that you take a look at our others here on Genshin Impact: how to play in 2 and multiplayer, how to quickly level up, how to quickly increase Adventure Rank.
Genshin Impact is a game developed by miHoyo Games and is available for free on PC, PlayStation 4, iOS and Android; launch on Nintendo Switch is also planned. I invite you to continue following us to stay updated on video games and technology.