Here we are with the usual appointment with the guide on the weekly challenges of this season 5 of Fortnite. Today we at Holygamerz will explain how to overcome those of week 7
We have now arrived at a nerve center of this Fortnite season 5. While the new changes are being prepared that will then determine what the new season will be, the challenges of week 7 have just come out. Let's see how to overcome them thanks to our guide.
Fortnite season 5: here's how to overcome the free challenges of week 7 | Guide
Visit different places indicated in a single game (0/4)
This challenge may seem difficult to many, but it is actually very simple to overcome. It will be enough for us play in the 50 vs 50 mode and visit the different locations that have names on the map to complete the challenge. Just go through the places indicated and that's it.
Search for supply deliveries (0/3)
Also this like the previous challenge of week 7 of Fortnite season 5 can be completed safely in the 50 vs 50 mode as you have a higher frequency of supply crates and therefore you are more likely to open 3 in a single game.
Eliminations with machine guns (0/3) (DIFFICULT)
Here is the usual challenge of eliminations with a weapon. The advice I can give you is to sneak up on you opponent and unload the entire magazine at him. If you can't kill him like this you can always opt for the 50 vs 50 mode. Here, in fact, after having killed your enemy, you can safely eliminate him permanently with the machine gun.
Fortnite season 5: let's overcome the challenges of the Week 7 Battle Pass together | Guide
Inflict damage to opposing structures with remote controlled explosives (0/8000)
The simplest challenge of this guide, which you can easily complete even in single mode. In fact, it will be enough for you find some C4 and turn the map in search of the enemy buildings. Who has never happened to find buildings built by enemies during a fight? Place your explosive and walk away as the C4 has been upgraded as you can see from the patch notes 5.30.
Phase 1: Search for a chest in Pacific Park (0/1)
Unlike previous chest search challenges, this one is has been divided into 5 phases. You will then have to look for them 5 baskets each in a different place. If you leave with Pacific Park and the subsequent zones will be Corso Commercio, Landing ventured, Boschetto greasy e Paradise palmetto. Below we have shown the map of Landing adventured as, being always uninhabited, it is the least known of the others.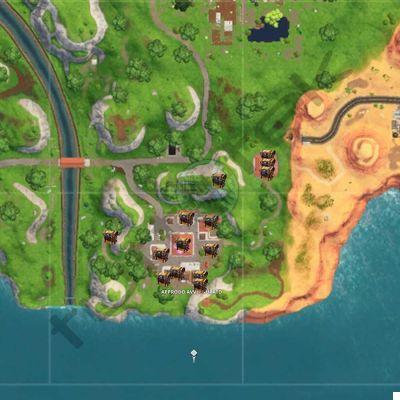 Follow the treasure map found in Stale Sinking (0/1) (HARD)
Below you will see the exact point where it will be possible to search for the hidden star. It is located in the middle of the three trees behind the stone head northwest of Sporfondo Stantio.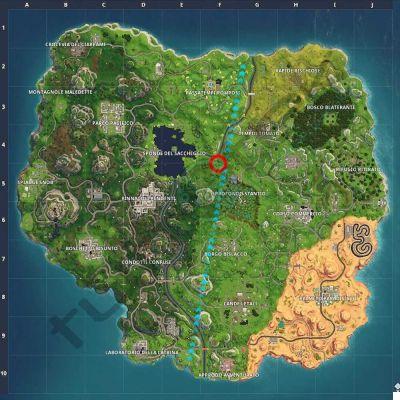 Eliminate opponents in pompous pastimes (0/3)
The new place that replaced Acre in this Fortnite season 5 returns to the fore with a new challenge that concerns it in this week 7. The goal this time is to eliminate our opponents. If you see too many people around I recommend you land on the small house to the south, or in some sand pit where you can find a weapon to defend yourself. If there are really too many people, you can head to the quarry to the west and then come back armed to perfection and with some more material and hope to meet enemies with half life.
For this guide on the challenges of week 7 of Fortnite season 5, that's all. If you are still anchored with the challenges of week 6 I recommend you read our guide by clicking here. How did you find these challenges? Were they to your liking or were they too easy? For any doubts do not hesitate to comment. If you want to stay up to date on your favorite game, keep following the pages of Holygamerz!