Here we are with the last appointment with the weekly challenges guides for this season 5. Today we at Holygamerz will show you how to overcome what are the missions of the week 10 for this season of Fortnite with the help of this guide
Even this season 5 is now ending and while the hype grows for what will happen in the coming days with this huge cube that is now approaching its final goal, we still have to face the challenges of week 10 which started a little while ago. So let's proceed with this guide and see quickly overcome these last 7 tests.
Fortnite season 5: let's see how to overcome the free challenges of week 10 | Guide
Search for puzzle pieces in the basements (0/7)
Here you can find the map that will allow you to find all the pieces that you need to complete the challenge.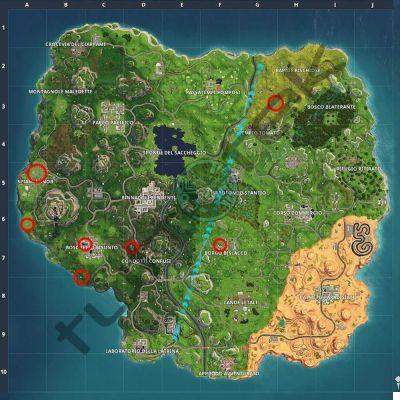 Consume Apple or Funghi (0/20)
A very simple mission that plans to consume one or the other element. It will be enough for us to land (although it would be better to pass them while in the game) in the places where they are and to consume as many of them in the shortest possible time.
Eliminate opponents (0/10) (HARD)
There is no restriction on either weapons or places to do this. Obviously if you are really good at this challenge you will be able to complete it in a single game or at most two. For those less good I recommend instead engage opponents who have just come out of a fight. He's not honest with them, but at least you'll be able to get some kills home easily.
Fortnite season 5: let's see how to overcome the challenges of the Battle Pass of the week 10 | Guide
Search for chests in Borgo bislacco (0/7)
Below you will find the usual map with all places where you can find chests in Borgo bislacco.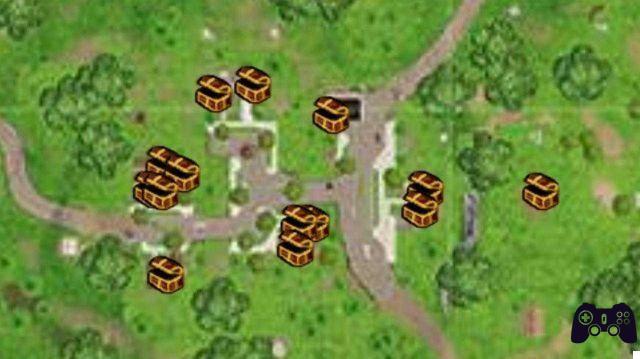 Inflict damage on opponents (0/5000)
Even in this case we don't have any restrictions on the weapons to be used. However, it certainly remains a less demanding challenge than that of killing. If played in a mode other than single, each killing will allow you to gain extra damage by permanently eliminating the opponents.
Search between a covered bridge, a waterfall and the ninth green (0/1) (HARD)
Here is the exact point in which to look for the hidden star.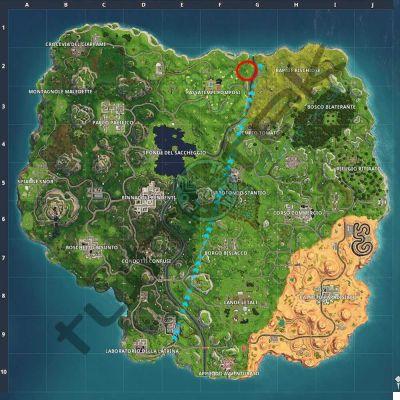 Phase 1: Eliminate an enemy in the Peaceful Park (0/1) (HARD)
Now even this mission format has become common among Fortnite players. All that needs to be done, as in the previous weeks, will be eliminate an enemy in the Peaceful Park and after which eliminate two others respectively a Blathering Wood and Adventurous Landing. Remember to respect this order to complete the challenge.
That's all for this latest season 5 challenge guide. If you're still left behind with week 9, you can consult our guide clicking here. Recall that after week 10 it will start again with the new season 6 of Fortnite, so in order not to miss any news regarding what awaits us, continue to follow the pages of Holygamerz!