The challenges of week 8 of Fortnite season 5 have just come out and we at Holygamerz are here to help you overcome them with our guide
This season 5 is now coming to an end and between various changes and the introduction of this huge cube going around the map, the developers prepare for what will be there Fortnite next season. However today the challenges of week 8 came out and now we will see how to overcome them without too much trouble thanks to our guide. Let's see how to do it.
Fortnite season 5: guide to the free challenges of week 8
Place traps (0/10)
This is perhaps the simplest challenge out there so far. All you have to do is place traps as soon as you find them to complete it. Of course, you don't waste them unnecessarily if you are surrounded by enemies. Try to kill some of them, but if you can't then put them where it happens.
Search for chests in the babbling Wood (0/7)
Below we will provide you the map with all places where you can find the chests. Beware of enemies as it is a very suitable area for ambushes.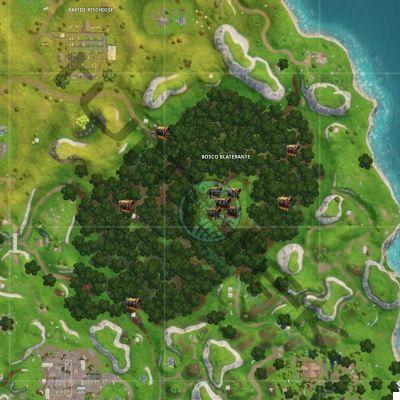 Eliminations with heavy rifles (0/4) (DIFFICULT)
This challenge practically completes itself. You just need to find a rifle, have a minimum of skill and a good dose of luck as, at least momentarily, the rifles in some moments do not inflict the due damage.
Fortnite season 5: guide to the challenges of the Battle Pass of the week 8
Inflict damage to opponents with a pickaxe (0/250)
It may seem like a tall order, but if you try to complete it in a team mode or in the 50 vs 50 mode it will become a walk in the park. All you have to do is knock down an opponent and pick him up. With 3 opponents you can complete the challenge.
Use a rift at a place where rifts are generated (0/10)
Below you will find the map with all the places where a Rift can be found. However, remember to use one for each location!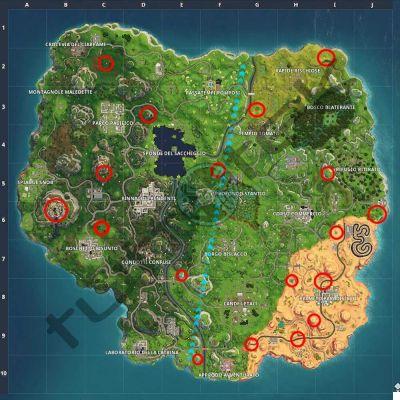 Search between 3 huge seats (0/1) (HARD)
Here you will find the exact point in which to look for the hidden star.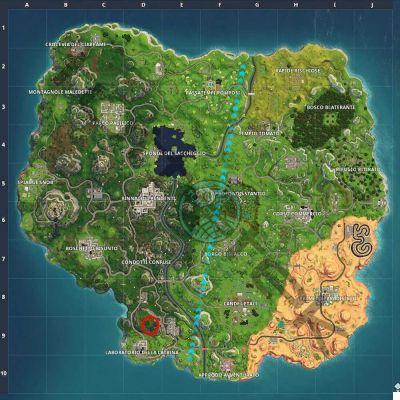 Phase 1: Eliminate the enemies in the greasy Grove (0/1) (HARD)
After the change that took place last week with the subdivision of the chest search challenge into several steps, this time it's up to that of the eliminations. The first will have to be done a Greasy grove, the second a Refuge withdrawn, while the third and last a Late lethal.
That's all for this week 8 challenge guide. We remember our special continuously updated with everything related to the huge cube that appeared a week ago and the future season 6. In order not to miss further details on Fortnite and what remains of season 5, keep following the pages of Holygamerz!