The challenges of week 9 of Fortnite season 5 have just come out, and we at Holygamerz are ready to offer you a guide on how to overcome them!
La 5 season di Fortnite is about to come to an end, but epic Games always surprises the players. As we all know, a giant purple cube has appeared and is circling the map, causing players to ask questions and expose theories. In addition, patch 5.40 was published yesterday, adding the grapple, a new mode and various improvements. In this article we will see how to overcome all challenges of week 9.
Fortnite season 5: guide to the free challenges of week 9
Inflict damage to enemies with Explosive Weapons (0/500)
This is one of the simpler challenges, as you won't have to take out the enemies, but damage with explosive weapons. This challenge is easy to complete as they are intended as explosive weapons: Rocket Launcher, Grenade Launcher, C-4, Explosive and Sticky Grenades.
Get stunt points with a Shopping Cart or ATK (0 / 150.000)
In this challenge, all you have to do is find a ATK (Golf Cart), or a shopping cart, start driving it and, using ramps and jumps, do several trick. The more complex the trick, the more your score will go up. Below is a map, the locations circled in red contain ATK, those in black i carts.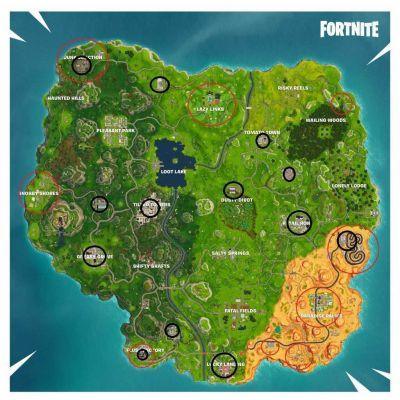 Follow the Treasure Map found in Condotti Confusi (0/1) (DIFFICULT)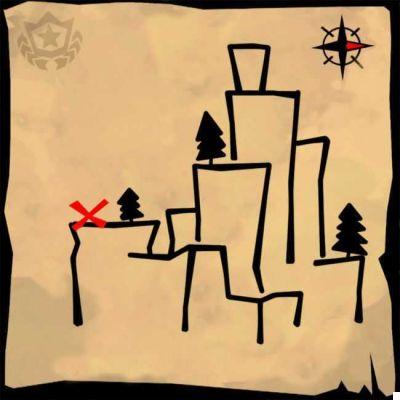 As usual you will have to follow a map that will take you to one stella bonus for the Pass. This map will be located in Condotti Confusi. Here is the exact point of the star.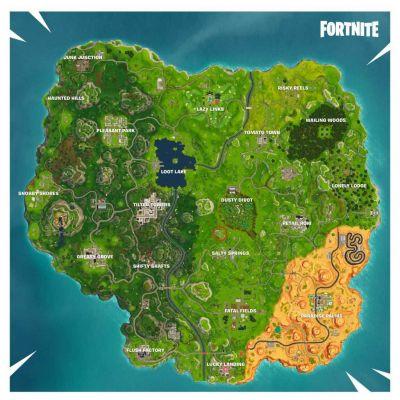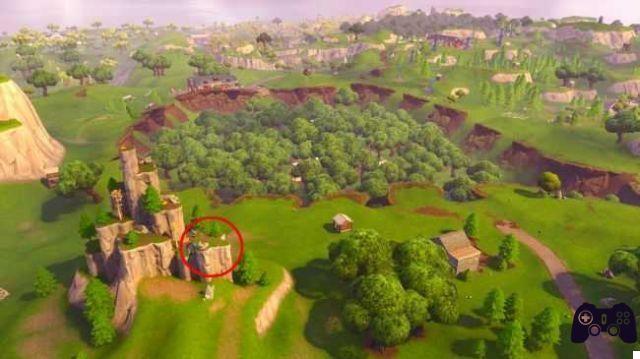 Fortnite season 5: guide to the challenges of the Battle Pass of the week 9
1/5 Phase one: Look for the chest in Montagnole Maledette (0/1)
For this week, the challenge based on search for chests is divided into 5 parts. The first part is to look for a chest a Montagnole Maledette, for the remaining 4 the goal will be the same, but in different locations.
Visit the different Stone Heads (0/7)
In this challenge we should go to seven different locations on the map, containing the famous "Stone Heads", Inspired by the statues located on theEaster island. Here is a map for the different statues.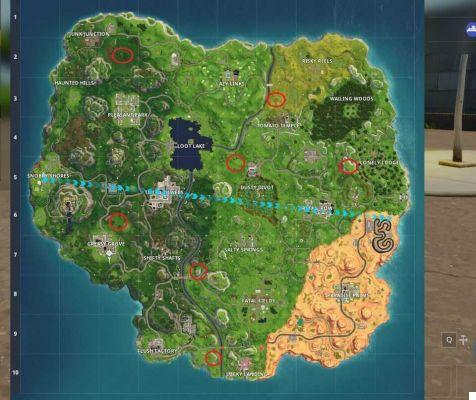 Eliminate enemies with Assault Rifles (0/5) (HARD)
For the completion of this challenge you will need eliminate 5 enemies with the various assault rifles present in the game, namely: Assault Rifle, Flame Rifle, FAMAS, SCAR, Assault Rifle with Scope and Assault Rifle with Thermal Scope. This is certainly the most complicated challenge for this week, which certainly does not excel in difficulty.
Eliminate the enemies in Tempio Tomato (0/3) (HARD)
Tomato Temple is one of the latest locations added in Fortnite. Just with one of the latest updates, Tomato Town it underwent a change, and became a temple similar to that of the Maya. For this challenge you will have to launch yourself in this location is take out 3 enemies. We recommend taking on this challenge early in week 9, as it will be busier than normal.
Fortnite season 5: guide to the challenges of week 9
The guide on the challenges of week 9 of Fortnite season 5 has now come to an end.
We remember the our special continuously updated with everything about the huge cube that appeared a week ago and the upcoming season 6. Anyone who wants to read it can click here.
In order not to miss more details on Fortnite and what remains of season 5, continue to follow the pages of Holygamerz!