Here we are with the usual appointment regarding the Fortnite weekly challenges for this season 6. In this guide we will show you how to overcome the missions of week 7 quickly thanks to the help of our maps and our advice
After the Halloween event and the new changes introduced just yesterday with the patch 6.22, it's time to go back to our good and old weekly challenges. As you know those of week 7 have just come out and we of Holygamerz we are here to provide you with this guide to better overcome them, allowing you to complete them and thus obtain the "prize" skin for this season 6 of Fortnite. Let's see how to survive these missions.
Fortnite: guide to the free challenges of week 7 | Season 6
Search 7 crates of ammunition in a single match (0/7)
This mission could be very difficult if you decide to fall into a crowded place. My advice is to choose one of the various named places on the map, perhaps the one farthest from the bus route, and thus complete the challenge in a few seconds. Personally I recommend that you land at Adventurous Landing, Snobby beaches or Crossroads of the Ciarpame (usually isolated places).
Inflict headshot damage to opponents (0/500)
Fortunately, this mission can be completed in several games. All you have to do is have maximum precision in hitting your opponent in the head (which is not easy actually). My advice is to play in a team mode and once you land an opponent you can eliminate him by hitting him easily on the head.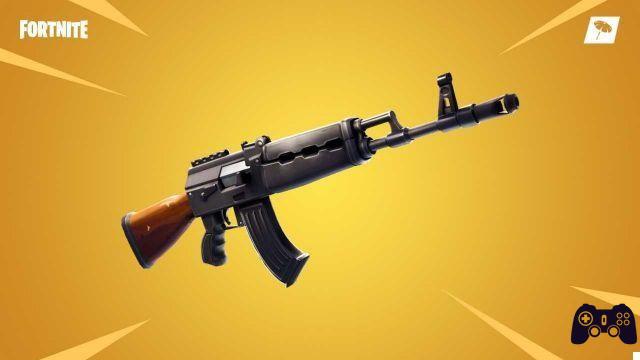 Phase 1: Inflict damage on opponents in a single game (0/300) (HARD)
Although it turns out to be somewhat difficult, this challenge can be completed easily. The first phase involves dealing 300 damage to opponents. Here too my advice is to play in a team mode. If you manage to take down an enemy with the whole shield you will have inflicted 200 damage and with the subsequent elimination you will reach 300. In the second phase the damage will be 400, while in the third and last phase even 500.
Fortnite: Guide to the challenges of the Battle Pass of the week 7 | Season 6
Phase 1: Destroy trees (0/50)
The first phase is really very simple. Who among you has never destroyed trees? In this case I would like to give you two tips to get started; you can try to cut down weak trees and then complete the mission quickly, or land in Bosco babbling and raze everything to the ground taking longer. In the next step we will have to destroy 25 rocks, while in the last 10 machines.
Throw yourself through the floating rings (0/20)
This challenge is part of the Fortnite annals by now. Also in this season 6 the floating rings return to be seen again and the respective mission emerges among these challenges of week 7. Unfortunately there is no suitable advice to be included in this guide. All I can tell you is to try to catch as many as possible with a single toss.
Phase 1: Consume 5 apples (0/5) (DIFFICULT)
The real difficulty of this challenge lies in its length. In the first stage we should consume apples, in the second instead the bende, in the third i Medkit while in the last we should consume the juices.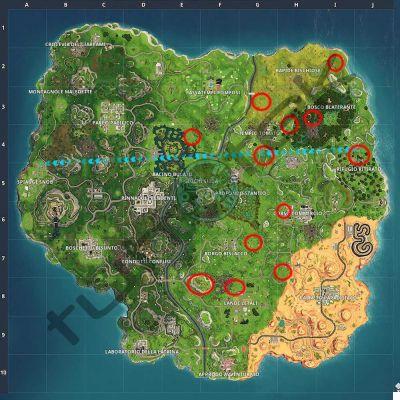 Places where apples can be found
Eliminate opponents in the Peaceful Park (0/3) (HARD)
All you have to do is land before your opponents, retrieve a weapon and kill those who don't yet have one. Watch out for the various enemies that may come looking for you hearing the sound of gunfire.
That's all for this week 7 challenge guide. For those who have not yet completed those of the previous week of this season 6, you can consult our guide by clicking here. Continue to follow the pages of Holygamerz not to miss any future news on Fortnite weekly missions!