The new weekly challenges of this Fortnite season 6 have just come out and we at Holygamerz are here ready to provide you with our usual guide to overcome them in the best possible way and in total simplicity. Let's see how to survive week 5
La new patch 6.20 has brought many innovations to the world of Fortnite, first of all the event Fortnitemares - The Nightmare. Although, therefore, we are now halfway through season 6, the developers of epic Games continue to offer us news on novelties in their game, especially with the event organized to celebrate the most important Celtic festival, Halloween. Today, however, the usual pace of the game has marked the release of the new challenges with the start of week 5. Let's see how to overcome it through our guide.
Fortnite: guide to the free challenges of week 5 | Season 6
Record a speed of 27 or more on different Radar Signals (0/5)
This week's first free challenge is to whiz past five different radar signals with a speed that is greater than 27. To do this, all you have to do is find an ATK or the brand new Quad Annihilator and rush towards one of the radar signals shown in the map below. Walk past it with a speed higher than 27 and that's it! Remember to always pass in front of the Radar Signal or it will not detect your speed.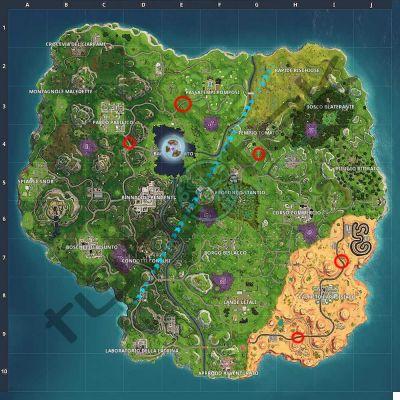 Jump into the circles of fire with a shopping cart or an ATK (0/5)
This challenge it can be completed together with the previous one. In fact, if you have taken an ATK to pass in front of a radar signal, after completing that mission you can head with your vehicle to one of the various circles scattered on the map and jump into it. Obviously where it is deemed necessary you will have to build some structure to be able to do so. Below you will find the map with fire circles scattered on the island. From what has been tried, you can also jump with a Quad and it will count anyway.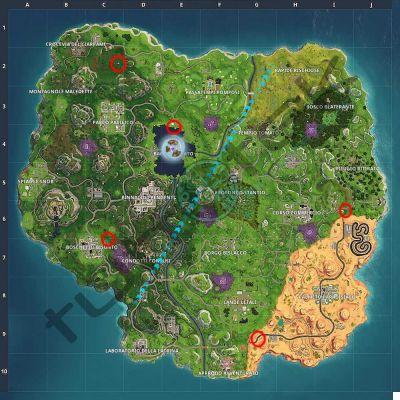 Inflict damage to opponents with tactical heavy rifles (0/200) (HARD)
This challenge is divided into several phases. The first involves inflict damage to our opponents with tactical heavy rifles (the purple and golden ones to be clear). This first phase can also help you overcome the first challenge of the Battle Pass. Later instead you will have to inflict damage with the Shotgun and finally with the tactical rifle.
Fortnite: guide to the challenges of the Battle Pass of the week 5 | Season 6
Eliminate an opponent from 5 meters or less away (0/2)
This mission can be completed in conjunction with the previous one. What better weapon than a tactical shotgun to take down a nearby enemy? If you find this weapon immediately, in fact, you can take down two enemies that are still full life and without a shield and complete two missions in one fell swoop!
Inflict damage to opponents with machine guns (0/500)
SMGs are also great weapons for close combat. After hitting an enemy in full with any rifle, in fact, it won't take long to "melt" his remaining life with a few well-aimed machine gun shots! This weapon is also good even in the early stages of the game, when some enemy is prowling around without a weapon near your position. However, our advice is to play in a team mode so that you can deal more damage to the enemy after taking it down.
Eliminations with machine guns (0/2) (HARD)
This mission and the previous one NO are connected! In fact, to eliminate your opponent you will not have to use a machine gun, but one machine gun (the bigger ones to be clear). If you want some advice, also play this mission in a team mode, as these weapons are not always accurate. Playing in this mode you can take down an enemy using any weapon and confirm the kill through the machine gun. Doing so will confirm both the kill with the weapon used the first time and the one with the machine gun.
Inflict damage to opponents with standard pistols (0/200) (HARD)
This mission also does divides into three phases like the last of the free ones. The first involves deal 200 damage with a standard pistol. The next is to deal damage with the heavy gun (the Eagle for short), while the latter tells us to inflict damage with the brand new one Six shots.
That's all for this week 5 challenge guide. For those who are still in difficulty with the missions of the previous week, we remind you that you can consult our guide by clicking here. And what do you think of this season 6 of Fortnite? Are you finding it exciting and challenging or have you lost the desire to play? Let us know what you think and remember that to stay updated on all the news regarding Fortnite, you must continue to follow the pages of Holygamerz!