The new week just started has brought significant changes in the world of Fortnite and in addition to these, the new challenges for this season 6 have also arrived. Let's see how to overcome week 4 through our guide
The weekly challenges of Fortnite they are always a time when each player's skills are put to the test, both in research and in surviving the tide of competitors who are intent on completing our own missions. We from Holygamerz we are here to provide you with a guide that will help you at least relieve you from the task of going to look for every single element which will help you complete the ea venture dispense some advice which we believe will be useful to you. Now let's see how to get through week 4 of season 6.
Fortnite: guide to the free challenges of week 4 | Season 6
Use a Fortatile or a Super Fortatile in different games (0/5)
A fairly easy mission when taken individually. The problem will be to find 5 Fortresses or Super Fortresses in 5 different games. My advice is to play games in the 50 vs 50 mode to get one higher probability of finding one of the two objects. Once you find it, all you have to do is use it where you see fit (you can also use it in a place where it is not needed) for 5 different games.
Look for a box of ammunition in the different places indicated (0/7)
This mission is something as simple as it is long. To complete it, all you have to do is open a single box of ammo within the boundaries of a locality that has a name in the map. Once done you can directly head to the next location or continue looting the one you are in. Obviously if you decide to stay where you are the chances of finding a box in the next location will get smaller and smaller.
Ring the bell of a house with an opponent inside in several games (0/3) (DIFFICULT)
With last Tuesday's patch, bells have been added to the houses (mostly they are all with some Halloween decoration). All you have to do is play one while an enemy is inside. Beware of the enemies that will be found not only in the house, but also all around you. The difficulty, however, lies not only in being able to play, but in understanding which house contains an enemy and which does not, so eyes and above all ears open!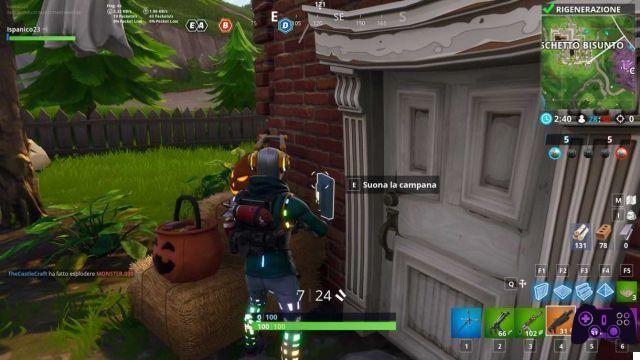 Fortnite: guide to the challenges of the Battle Pass of the week 4 | Season 6
Reach the Greasy Grove (0/1)
Nothing is easier. Just launch yourself directly on Boschetto Bisunto and land on one of the houses or on the street and that's it!
Dance at the top of the clock tower (0/1)
Here too all you have to do will be dance atop the Clock Tower of Leaning Pinnacles. But watch out for the various enemies that could snipe you from any point of Pinnacles or even from the mountains that surround the city. The advice would be to jump directly up there (maybe in a 50 vs 50 to not take too many risks) or to pass it in a second during a game hoping the city is deserted. Later we will have to dance on top of the pink tree of Approdo Avventurato and finally on giant toilet located at the Latrine Laboratory.
Get a score of 3 or more in different dartboards (0/5) (HARD)
To complete this challenge you will need to be in possession of a weapon. You will have to position yourself on the shooting range and shoot at the targets that will rise in a predetermined order. Each hit will earn you one point, so it won't be too difficult to complete this challenge. Obviously the sound of your shots could attract the attention of the enemies, so always try to pay close attention!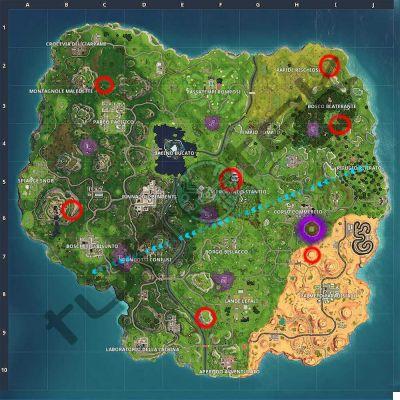 Eliminate opponents near any of the corrupted areas (0/3) (HARD)
The advice I can give you, since there are no gun restrictions, is to throw yourself headlong into the Corrupted Area that interests you and land before the others in order to immediately open some crates and impallinare the first opponents that you will have in range.
For this guide on week 4 of Fortnite season 6, that's all. If you are still bogged down with the challenges of the previous week I recommend you read our guide by clicking here. To not miss future news on your favorite video game instead, continue to follow the pages of Holygamerz!