Fortnite week 2 has just started and it is already possible to complete the various challenges of season 8. Let's see how to overcome them all in our guide
- continuous Fortnite updates they always bring new news to the island also in this season 8. The arrival of the patch 8.01 has in fact innovated everything with the arrival of the new object Buried Treasure, which will allow you to find hidden treasures with legendary loot. For more news about it, we invite you to read our article by clicking here. Now let's not waste any more time, let's start this guide and let's see how to overcome the new challenges of week 2.
Fortnite: guide to the free challenges of week 2 | Season 8
Phase 1: Land in the Neighborhood (0/1)
The first of the Fortnite week 2 challenges for this new season 8 plans to land in several places indicated. The first will be the Quarter, the only place to change almost every week during the season. Next we will have to land at I sink Stale, Polar Peak, Snobby beaches e Palmeto Paradisiaco to complete this challenge and get 5 stars. In this guide we show you the map with all the indicated places of landings.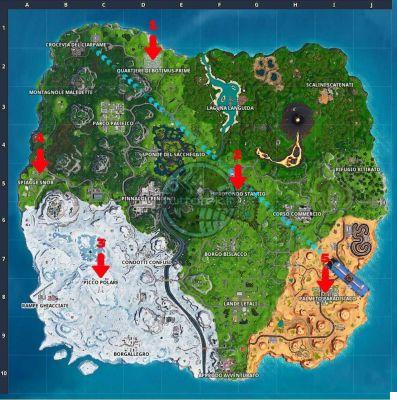 Inflict damage on incoming supply deliveries (0/200)
To complete the second free weekly challenge, all you have to do is shoot supply deliveries. Just intercept one of the balloons and shoot up to hit it for a total damage of 200. My advice is to manage everything during a team MAT very numerous as many deliveries will land in the safe area.
Eliminations in Borgo Bislacco or Montagnole Maledette (0/3) (DIFFICULT)
The last of the free challenges of Fortnite week 2 for the new season 8 can be quite complex and demanding, especially since many will flock to these areas that are not exactly rich in terms of loot. If you have a good landing timing then you can jump directly there, otherwise my advice in this guide, especially if you decide to land in Montagnole, is to land in a nearby place (e.g. Crossroads) and head to one of these places as soon as possible.
Fortnite: guide to the challenges of the Battle Pass of the week 2 | Season 8
Phase 1: Get health from apples (0/25)
The first of the Fortnite Battle Pass challenges of this week 2 for this season 8 is also divided into several phases. In the first we will have to recover 25 health points by consuming apples, in the second, however, the health points will be 50 and must be recovered through bonfires, while the last one plans to recover 75 health points using medical kits.
Visit the northern, southern, eastern and westernmost points of the island (0/4)
In the second challenge we must visit the 4 most extreme points of the island, that is, those further north, south, east and west. In this guide we present the map with the 4 points to visit.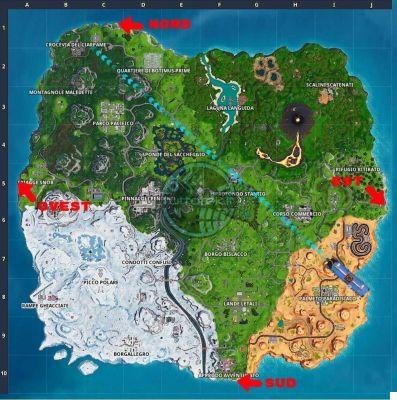 Inflict damage to opponents with a pirate cannon (0/100) (HARD)
The new weapon introduced in this season 8 immediately finds a place of honor among the challenges of Fortnite week 2. Hitting an enemy will not be that easy and you will be very easy targets to spot and eliminate, therefore pay close attention around you. In this guide we report the locations where it will be possible to find a cannon to be used in this mission.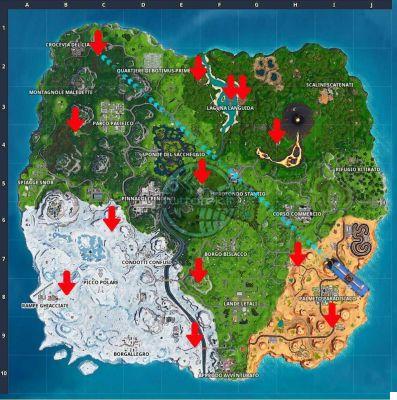 Search for a chest in different places indicated in a single game (0/3) (HARD)
The last of the Fortnite week 2 challenges for this season 8 seems trivial, but in reality it is really tricky. Not only will you have to open 3 baskets in different locations (which is very difficult since it is almost impossible to find baskets in some other place where someone has landed), but you will have to do it even in a single game. Our advice is to try to visit 3 locations close to each other, Such as Frozen Ramps, Polar Peak e Confused Conduits, or opt for 3 locations that are not present in these missions such as Unleashed Steps, Retreat Refuge e Commerce Course (safe permitting).
That's all for this guide. If you are left behind with the missions of the previous week, you can consult our article by clicking here. To not miss future guides and news on the gaming world, continue to follow the pages of Holygamerz!