Here we are back with the weekly appointment in which we offer you a guide to complete the Fortnite challenges. Let's go now to complete those of week 3 in season 6, let's see how to do it together!
Here we are, like every week, to offer you a guide on how to overcome the weekly challenges of Fortnite. As usual epic Games offers three free challenges and well four with the Battle Pass, let's see now how to overcome the challenges of week 3 in season 6 after seeing them in a leak!
Fortnite: guide to the free challenges of week 3 | Season 6
Revive a player in different games (0/5)
This challenge itself is quite easy, you don't need any skills to complete it since it will be enough to revive a teammate who has been landed in five different games, so it can also be completed automatically over time, without any commitment.
Phase 1: Search for a chest in Refuge withdrawn (0/1)
As usual, there is a phased challenge. The first step is to look for a chest in Retreat Refuge and, thereafter, there will be other steps similar to the first to be performed. Our advice is to wait a day before doing it since initially everyone will launch themselves in that place to complete the challenge, but if you love the risk, jump into it now! Here's how to complete the entire mission with the other steps.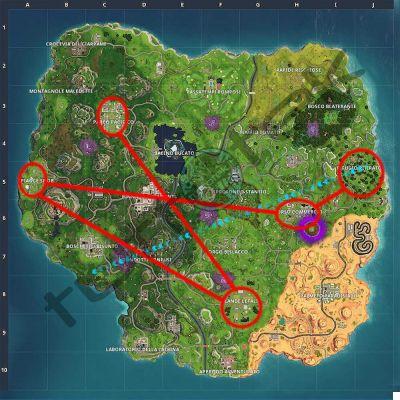 Eliminations with Damaging Trap (0/1) (HARD)
This is a very special and very demanding challenge from all points of view. Requires particular skill in construction in such a way that we can lock up an opponent in our buildings and set a trap that can kill him. But it can also be overcome with a generous dose of luck. In fact, you can also place a trap in a strategic point and hope that an opponent passes by.
Fortnite: guide to the challenges of the Battle Pass of the week 3 | Season 6
Phase 1: Visit Risky Rapids and Blathering Woods in a single game (0/2)
And here is yet another phased challenge. In this we should go first to risky Rapids and then to Bosco Blaterante or vice versa, then the other phases will follow, which will certainly be similar to the first. there all locations that you will have to visit to complete the entire challenge of this week 3 of Fortnite season 6.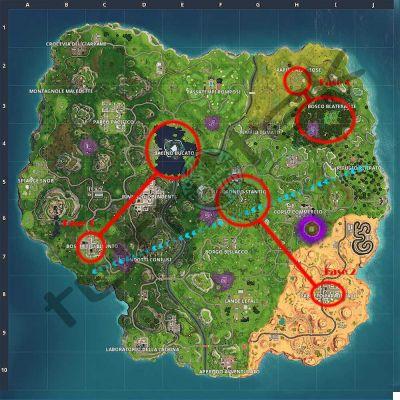 Hit a player with a Pomodoro from a distance of 15 meters or more (0/1000)
Ok, I think this is the most fun challenge to do only if, by "player", we also mean a teammate, otherwise it becomes quite difficult since we should hit a player with a tomato from 15 or more meters, and, if he were an opponent, he wouldn't think twice before eliminating us!
Complete time trials (0/3) (HARD)
As in the previous season, here are the time trials. To complete them, after finding them (you can use the map below) just activate them and collect all the various checkpoints that will be activated within a time limit.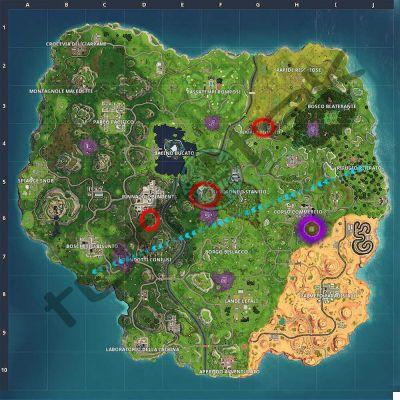 Eliminate an opponent in different matches (0/10) (HARD)
This is listed as a tough challenge, but it's not that hard given that just kill an enemy in 10 different games, so it is possible to complete it gradually, even in the single player mode, since the enemies are eliminated immediately, unlike the "duo" mode, in teams and so on. Furthermore, the use of a particular weapon is not required, so you can also perform kills with the pickaxe!
What is your opinion on these challenges? Are they easy or difficult? To stay up to date on Fortnite and to have the guides on the weekly challenges on time, keep following Holygamerz!