The challenges of this new week 3 of Fortnite season 7 have just come out and we at Holygamerz are here to offer you our advice and show you our maps with the places to complete them. Let's see how to survive this week thanks to our guide
The new update this season 7's Fortnite did not bring with it the long-awaited Driftboard, but officially started what it is the Christmas event which characterizes the whole island. In the 14 days of Fortnite it will be possible to find old timed modes, but also to complete special challenges that will give players various rewards. But now it's time to start this guide. Let's see how to overcome the challenges of week 3.
Fortnite: guide to the free challenges of week 3 | Season 7
Use a Zipline in different games (0/5)
The first of the challenges of week 3 of Fortnite season 7 plans to use one of the multiple cable cars to match introduced just this season. In this guide I will bring you back the map with all cable cars that you can find on the island.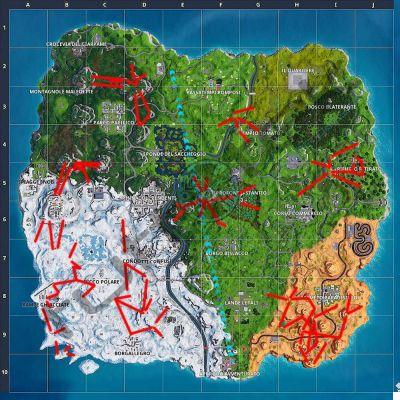 Phase 1: Land in Retreated Refuge (0/1)
This challenge must also be completed in several games. The first stage involves land at Refuge Retired, while in the following you will have to land respectively at Peaceful park, Adventurous Landing, Pompous pastimes e Hanging Pinnacles.

Legendary weapon eliminations (0/2) (HARD)
This challenge is not so difficult for the number of eliminations, as for the fact that it will be necessary find at least one legendary weapon in order to complete it. Since it is not specified what type of weapon to use, we can safely use them all, as long as they are golden.
Fortnite: guide to the challenges of the Battle Pass of the week 3 | Season 7
Search chests in Polar Peak or Tomato Temple (0/7)
The first of the Battle Pass challenges for this week 3 of Fortnite season 7 plans to Search for chests in the new Polar Peak location or in Tomato Temple. Definitely a good way to "revive" one of the areas that seemed deserted over the last few weeks.
Ring a house bell in different places indicated in a single game (0/2)
This is perhaps one of the most challenging missions of the whole week. Not only will you have to find a house with a bell (they are present almost everywhere, so it won't be difficult), but you will also have to go and ring another one in a second location. The advice I give you in this guide is to equip yourself with a shotgun, approach a house with a bell without letting you see e listen carefully. If you hear footsteps, ring and then choose whether to break into the house or escape and head towards the second location.
Search among three ski huts (0/1) (DIFFICULT)
Here is the return of one of the challenges that characterized the first seasons. Below you will find the map with the exact place to search.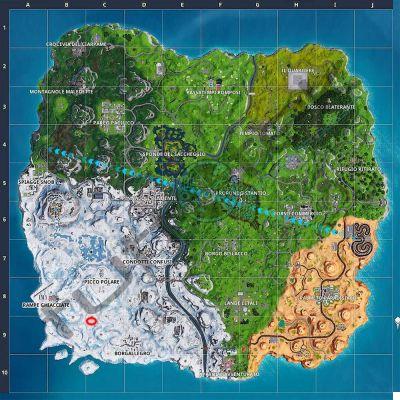 Phase 1: Inflict damage to opponents with shotguns (0/200) (HARD)
The final challenge for this week is to inflict damage on opponents first with the heavy rifles and subsequently with the guns and finally with a sniper rifle.
That's all for this week 3 challenge guide. If you are left behind with those of the previous week, you can consult our guide clicking here. What else will season 7 have in store for us? To not miss other news on Fortnite, keep following the pages of Holygamerz.