Fortnite's new week 3 has just begun! Let's see together how to overcome his challenges in this new weekly guide on season 8
Fortnite is always expanding and the proof comes from the fact that this week there are more new features with the arrival of patch 8.10. A new vehicle and free distributors are just some of the novelties. For more details on the new patch, you can read our article by clicking here. Let's start this Week 3 Challenges guide now and see how to overcome the new quests of this Season 8.
Fortnite: guide to the free challenges of week 3 | Season 8
Phase 1: Visit Lande Letali and Borgo Bislacco in a single game (0/2)
The first of these Fortnite week 3 challenges plans to visit two locations in a single game. This challenge is an old acquaintance, long before season 8 hit the island. In the first stage you will have to visit Lande Letali e Borgo bislacco, while subsequently it will be respectively a Montagnole Maledette e Hanging Pinnacles and finally a Frozen Ramps e Banks of the Sacking. In this guide we show you the map with the places indicated.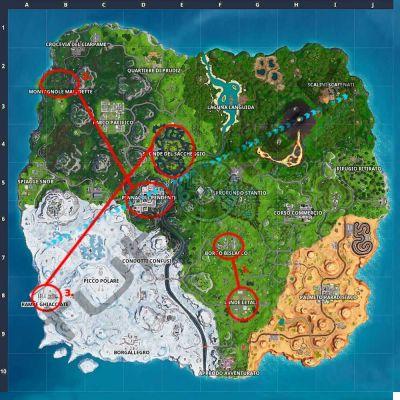 Phase 1: Destroy cactus in the desert (0/30)
The second challenge is also divided into several phases and will see us grappling with the destruction of some cactus in the desert. Later we will be forced to open some ammunition boxes on the snow, while in the last stage we will have to search for chests in the jungle.
Place several objects from trap slots in a single game (0/2) (HARD)
The latest of Fortnite's Week 3 Free Challenges plans to place two different objects placed in trap slots in a single game. It's not quite the most complicated challenge of this season 8, but it will certainly create a lot of headaches for all of us. Our advice in this guide is to place objects regardless of whether they will be useful or not to kill an opponent.
Fortnite: guide to the challenges of the Battle Pass of the week 3 | Season 8
Search the point indicated by the magnifying glass in the treasure map loading screen (0/1)
The first of Fortnite's Battle Pass challenges this week 3 is perhaps the easiest thing to get. You will only have to search where indicated by a loading screen of the new season 8. For the avoidance of doubt, in this guide we report the map with the precise point in which to carry out your research.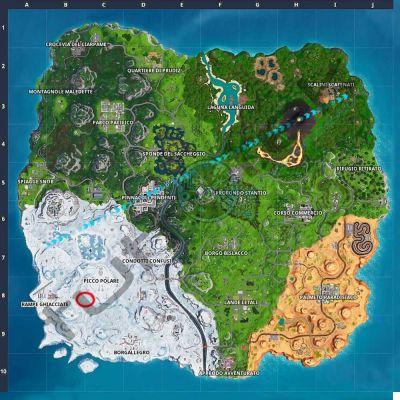 Search for chests in Unleashed Steps or Lethal Lands (0/7)
This is the usual chest search challenge. You can choose between Unleashed Steps o Lande Letali, two of the locations that will see many opponents land who will be intent on completing other challenges. Watch out for the enemies who will be waiting for you behind every obstacle. Our advice, if you are not good, is to play in a team mode in order to complete the mission as soon as possible.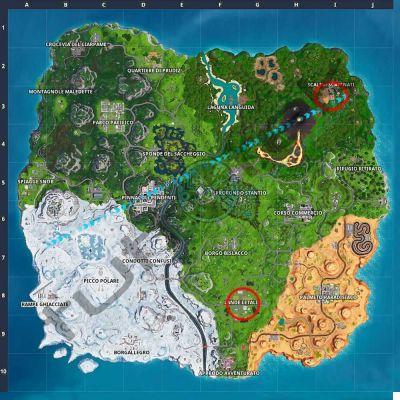 Inflict headshot damage to opponents (0/500) (HARD)
This Fortnite Week 3 Challenge does not have any useful tips or a map of the island during Season 8 to report in this guide. All you have to do in fact will be have good aim and hit your opponents in the head as many times as possible without missing a shot. A sniper rifle would be ideal because it will allow you to complete the mission in just a few shots.
Get an elimination with a machine gun, a pistol and a sniper rifle (0/3) (HARD)
The last of the Fortnite week 3 challenges for this season 8 plans to eliminate your opponents using a machine gun, a pistol and a sniper rifle. As you well know, these weapons are not exactly easy to use, or in any case they don't do enough damage (see the common gun) to be able to eliminate an opponent quickly. If you don't have one of these golden or purple weapons, my advice is to get as close as possible to your opponents without getting noticed and open fire to take them out without too many pretensions. Playing in a team mode you can take them down with any weapon and then eliminate them with one of these three.
That's all for this guide. If you are left behind with the missions from the previous week, you can consult our article by clicking here. To not miss other news on the videogame world, keep following the pages of Holygamerz!