Despite the Christmas season, Fortnite's challenges never stop. Let's see in this guide how to survive the missions of week 4 for this season 7
Natale brought with him dinners, lunches, gifts and some surprises in the map of Fortnite this season 7. Despite these small changes, however, the challenges continue to come out relentlessly. Let's see together in this guide how to overcome those of week 4.
Fortnite: guide to the free challenges of week 4 | Season 7
Use an X-4 Stormwing biplane in different games (0/5)
Definitely the simplest challenge this week. All you have to do will be land in one of the many places where you can find a plane and get one. But remember to collect some materials and a few weapons before continuing.
Shoot the fireworks (0/3)
Below you can find the map with all the fireworks stations.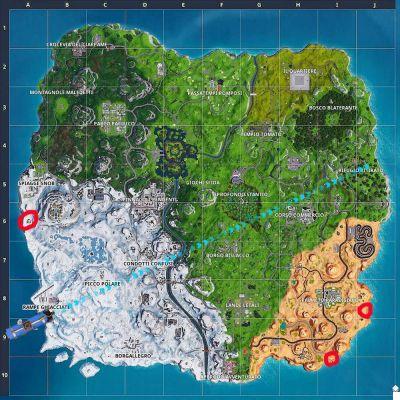 Eliminate opponents in the outposts of expeditions (0/3) (DIFFICULT)
Here instead you will find the map with all outposts of shipments. Watch out for enemies who will try to complete the first free challenge.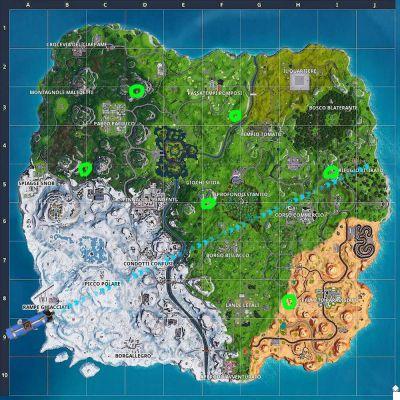 Fortnite: guide to the challenges of the Battle Pass of the week 4 | Season 7
Phase 1: Destroy chairs (0/80)
This particular series of challenges will allow us to break a lot of objects. In fact, in the first phase we should destroy chairs, while in the following we will have to destroy gods respectively light poles and pallets (the wooden platforms).
Inflict damage to opponents with a pickaxe (0/100)
This challenge could be difficult for many, but if played in a team mode it will be very easy. All you have to do is take down an enemy and take them out with a pickaxe. If you prefer to play solo then the only way will be to land next to an opponent and take him out before he can pick up a weapon.
Eliminate the opponents in Borgallegro or Parco Pacifico (0/3) (DIFFICULT)
Nothing simpler. All you have to do is land in one of the two locations before your opponents and take them down before they can get hold of a weapon. If you are too tall you can land somewhere nearby, arm yourself and throw yourself into the fight. By doing this you will be better armed and with a higher life than your opponents.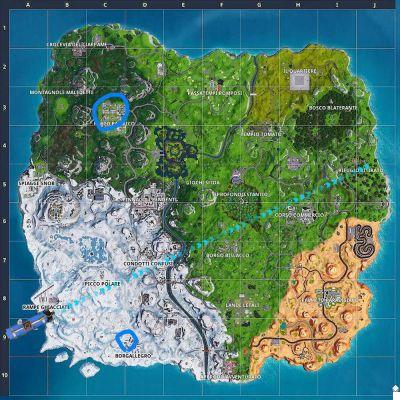 Phase 1: Look for the letter "O" west of Parco Pacifico (0/1) (HARD)
Also the last of the free challenges of this week 4 of the season 7 of Fortnite is divided into several phases and puts us to the test with the search for some letters. Under this paragraph of this guide you will find the map with all the letters. These will make up the NOMS sign, that of the Corso Commercio shop.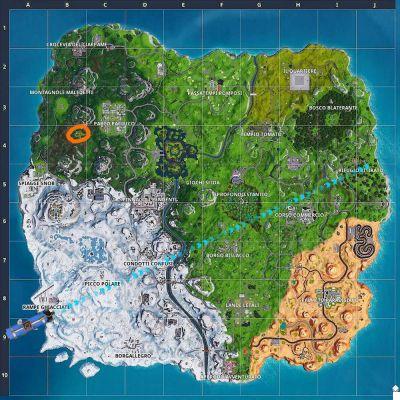 That's all for this week 4 challenge guide. If you are left behind with those of week 3 of this season 7, you can read how to overcome them by clicking here. In order not to miss other news regarding Fortnite, continue to follow the pages of Holygamerz!