Final Fantasy XII The Zodiac Age is here among us. If you are completely new to the title or if after all these years you do not remember how everything works, check out our tips to make the most of the old-new game from Square Enix available on PS4 and PC
After reading our preview and review, you may be curious about the best way to tackle Final Fantasy XII: The Zodiac Age on PS4 and PC. Here are our tips.
1) Take advantage of speed without exaggerating
We're not talking about the Speed ​​stat, but the brand new one accelerated mode activated via L1. From the options menu it is possible to set this mode al 200% o al 400%. Our advice is from keep it at 200% and to exploit the exaggerated 400% only in case you have to face an area that presents no risk for the team. Certainly grinding (i.e. training for a long time in one area) much more quickly is welcome, but it is better not to step longer than the leg.
If you are not comfortable with gambit, in the early stages, play at normal speed: But when you notice that all you have to do during the fighting is watch the loading bar fill up, then you know it's time to hit the L1 button and see your characters scurry through the regions of the game at high speed.
2) Quick in the wilds, but calm in the cities
Final Fantasy XII isn't just a collection of areas filled with enemies and treasure to collect. Often we will have access to safe areas, in some cases even to large cities that will bring with them shops and chatty locals. In these cases it is not necessary to run without looking back. Talk to non-player characters and you will be rewarded: sometimes with useful items, but always with information about the game world, characters and history of Ivalice. The narration advances not only through the films and dialogues between the protagonists: the world around them also tells a story and it is part of the fun to enjoy it calmly. In short, I mustn't get caught up in a rush. Accelerated mode can be turned off when needed.
3) The class system
If you have read the review, you will know that even creating random combinations with the classes you do not lose anything serious and you do not risk getting stuck. This does not mean that it is not convenient to think carefully before choosing. The various weapons do damage based on different stats (strength, magic, speed) while some are based on none. Check the Hints item in the Clan Diary and then Experiment with different weapons !: you will get a quick and clear overview of the functioning of the various weapons. Each class is linked to a specific weapon (plus some special deviations that can only be accessed in the advanced stages) so choose the class well according to the weapons you want to use.
Furthermore, unlocking a license on one board will find it unlocked on the second as well: this will allow you to have a starting point on the second chessboard away from the center and to be able to access more advanced boxes. Buy squares on both boards to advance them in the way that suits you best: even if you will be more interested in one of the two classes, it is never convenient to ignore the other.
Furthermore, different classes also have different abilities: do you want a white wizard with a lot of HP, so that he can stay alive even after very powerful attacks? Then add him to the monk: the white magician does not have access to all the monk's "HP +". Do you want your black magician to be able to fight hand-to-hand effectively? Then join it to the samurai: the katana does damage based on the magical power!
Remember: think long and hard, because once you have made a choice you will not be able to go back!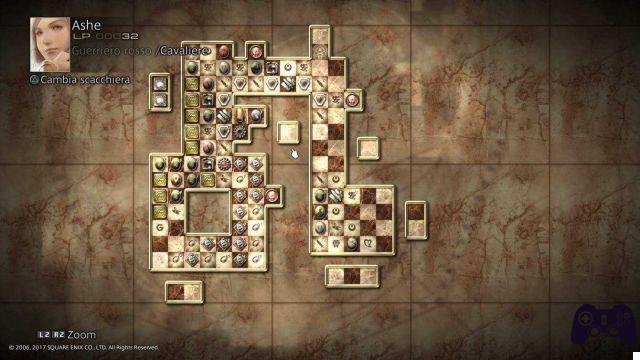 4) The invocations
An invocation is a special boss that you will have defeated and who will give you his services: in reality, however, their usefulness is not linked only to the power in combat.
Invocations to be used must be purchased like any other square on a chessboard. These are purchasable by all characters, so one may be tempted to assign them at random. In reality, the invocations are to be chosen according to their specific position: in the chessboards there are boxes not reachable normally, the invocations will create a link with some of them. Each invocation has a specific position on each board and it is very important to check where it is placed and what their purchase allows to unlock. Once purchased by a character, the summons will no longer be available to others, so choose wisely where it is more convenient to place it, so as to optimize the evolution of the characters. Also check that the skill you want to reach through an invocation is not unlockable on the other board.
5) Equipment
In an RPG it is very important to keep your team at the right level and with the right skills, but it is not enough. In Final Fantasy XII: The Zodiac Age, equipment plays a central role and each category features dozens of increasingly powerful pieces, some of which with particular abilities such as the ability to inflict elemental damage or resist it.
It is important to have a team that uses different equipment, so as to always have characters that inflict physical and magical damage on the field. Having the certainty of always being able to inflict damage on the opponent is important: a team that only does physical damage risks finding itself in serious difficulty with enemies with a high physical defense.
You need to update your set as much as possible, guil permitting. Also, it is good don't ignore the accessories: In addition to creating immunity to certain altered statuses, some of them significantly improve some stats without being explicitly written. Equip everything you can and do various tests!
6) Guil, i soldi di Final Fantasy XII: The Zodiac Age
It is important not to run out of gil completely, the game coin for Final Fantasy XII: The Zodiac Age.
There are many ways to get them: mainly we will have to sell our loot to various merchants. Also, this will allow you to have access to various offers where bundles of products will often be sold at prices well below the regular value. In these cases, however, you will not know exactly what you are going to buy and we will have to evaluate only on the basis of a small description: if we understand what it is we can also check the real cost of those objects and understand if the purchase will be worth the thinks. In some cases it is even possible to earn a few gil: the sale price will in fact be higher than the purchase price and therefore we will be able to transform ourselves into brazen merchants with great satisfaction of our pockets.
Wanted hunts are another way to earn rewards. Speaking of clan, in the headquarters of our clan in Rabanastre (the initial city), the clan leader will reward us for each defeated boss: returning from time to time to Rabanastre will therefore be good and right.
Final Fantasy XII: The Zodiac Age - 6 Tips for Newbies (PC & PS4) | Guide
These were our 6 quick and easy tips for newbies to Final Fantasy XII: The Zodiac Age available on PS4 and PC. Have they been useful to you? Tell us in the comments!