From Antón Castillo's A to Yara's Y, here's what you need to know before diving headfirst into Far Cry 6's Caribbean war
Occasionally Ubisoft enjoys sending us in some revolution, and in the case of Far Cry 6 we will have to overthrow a dictatorship on the fictional island of Yara: what do you need to know before starting? More than giving you an answer to this question, we have directly gathered all the information released so far (plus statement, minus statement). It goes without saying that, with the breath of next-gen on the neck of the consoles we already have, this is the most ambitious chapter of the saga seen so far. But isn't that always the case, after all? Get the ticket: we're about to take you to Cub… er, Yara. Yes, Yara.
Okay, maybe we should be a little more explicit about the merits. The source of many of these "official rumors", or rather the narrative director himself Navid Khavari, has leveraged their life experiences to specify that, contrary to what previously stated by Ubisoft, the plot of the game will be of a political nature. Yara's existence is actually a clear one allegory for the situation of Cuba and the development team wanted to have their say about it through the game. Now that everything is clear, we can finally proceed: we are faced with a title that really has a lot to say.
Yara free
The first thing to know about Far Cry 6 is the chosen setting. In this case we are in the "tropical paradise frozen in time" by Yara, in the heart of the Caribbean. The island has definitely seen better days. As stated by the aforementioned Khavari, the island is a veteran of decades of economic sanctions. Poverty and schisms have caused a revolution against a tyranny that will lead us to the jungles, beaches and cities of the place. We will take the reins of Dani Rojos, our male or female avatar, in the "largest playground" ever built by Ubisoft.
The avatar will be voiced entirely with a lot of motion capture regardless of its genre, and will be a native or a native of the place obliged to follow the course of events. Khavari's team made some field research to explore the culture, diversity and history of the various guerrillas; as in the video game, even in real life there are those who fight on principle and those who do it for adrenaline. The David-Goliath dynamic and the backwardness of an island left behind for fifty years will be reflected in the gameplay, including improvised weapons, vehicles and pets.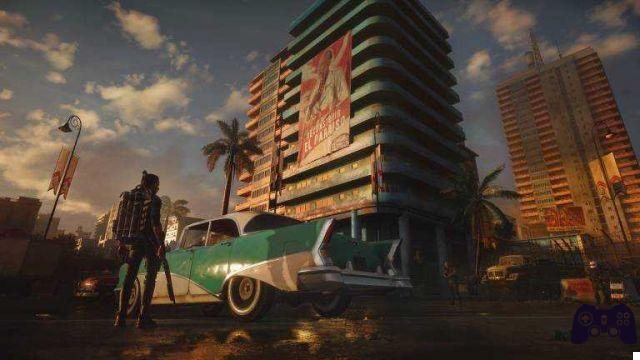 Black Spot has lost its way - What to know about Far Cry 6
The saga is known for its antagonists, and by now you should know what (or rather, who) awaits us in Far Cry 6. After the megalomania of Pagan Min and the integralism of Joseph Seed, now it's up to Anton Castillo, interpreted by Giancarlo Esposito. The name would lead us to think of a Neapolitan actor, but in reality the younger ones might remember him for dubbing Black spot in the third season of DuckTales 2017 while adult audiences will recognize him as Gustavo "Gus" Fring in Breaking Bad and Better Call Saul. Yara's "El Presidente" will give us a lot of trouble.
The "force majeure" of his vision will lead him to keep his country under an iron fist with even brutal methods (does anyone remember the cutter in Breaking Bad?), Believing that Yara was "better" fifty years ago, before of the first revolution that stole his father from him (at the time at the head of the island, look a bit). Castillo's "vision" got him elected, omitting the fact that heaven belongs to those who obey. On the other hand, those who do not do it are forced to work under the constant threat of a firearm. And this "vision" will also be handed down from father to son ... to the sound of grenades.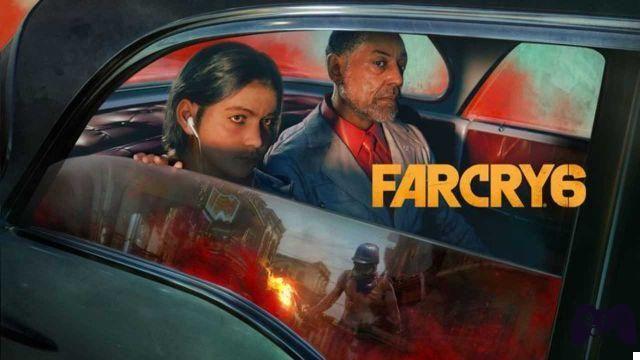 An Explosive Dad - What to Know About Far Cry 6
We all remember the first trailer of Far Cry 6, thanks to the magical moment in which Antón gives it to his son Diego (Anthony Gonzalez, Miguel in Coco) a grenade without safety: "And our people, they don't know how to be happy. They are divided by opinions, noise, indecision. Strangled by their own freedoms. And even if you love them, even if you want what's best for them, if you just want to save them from themselves ... they will hate you, Diego. Everything you say, do, believe, will be wrong. " Will Diego follow in his father's footsteps (without ending up in therapy)? It will be up to us to find out by playing, as Antón paces back and forth on the border between dictator and loving father.
According to Khavari, it will be this perspective between orphan and father that will make everything interesting, which will give us the opportunity to be in the same room with Antón Castillo. "There's something interesting about sharing his own space and seeing him try to justify what he does." Apparently, Esposito got this right from the start, while the avatar Dani will be part of a complex and crucial "triangle"With the antagonist and his son. "Everyone remembers what it's like to be thirteen," says Khavari, "and we wanted to put Diego on a tightrope." Will he grow up as a dictator like his father or will he have a life of his own?
Let's hope so - What to know about Far Cry 6
For the first time, the series enjoys something never seen before: Far Cry 6 enjoys not only a city, but even a capital, which as you may already know is called Hope. You can explore it on the sly or proceed the way of the old DOOM; it's up to you to decide. "Right from the start," says Khavari, "we wanted a capital. We will then talk about the gameplay, but sciuro changes the way you play and approach things. When there is a city, there is definitely verticality… and you will have a sense of revolution. " We will start from jungles and farms, but then we will arrive in the city.
La verticality it is tangible in the sense of oppression that we will experience looking at the buildings from the bottom up. This will not only change the way we play, already revolutionized (pun unwanted, we swear) in many other respects. The fact of experiencing the weight of the sprawling dictatorship exercised by Antón Castillo in the gameplay will also influence the narrative itself when we take courage and go to track it down. But overthrowing a dictatorship is certainly not something that is done every day. Because it is clear that, sooner or later, we will need the triumphal arrival of the cavalry.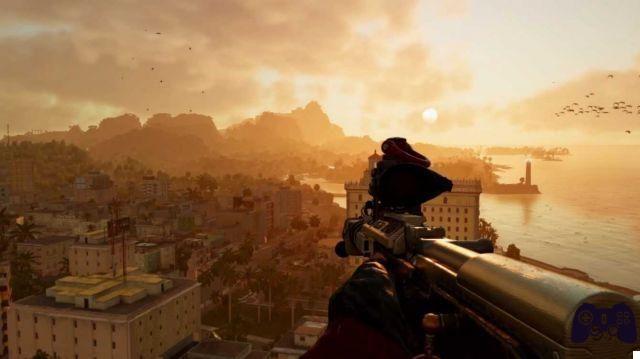 Bamba de amigo - What to know about Far Cry 6
One of Far Cry 5's most popular elements makes a comeback. You might remember the feature "Guns for hire", With which we could recruit CPU-driven allies for support. Well, this time it won't be different… more or less. We have provided the English name by assonance with the new epithet of this feature: we can in fact rely on the "Friends for Hire", Or" friends for hire ". By helping them in the campaign, as in the predecessor, we will be able to "unlock" their services so as not to face certain missions alone and we will also be able to choose who will be to support us.
The variety, between allies in helicopters and others equipped with flamethrowers, was not lacking in the fifth chapter and will also appear here. We will have characters of the (literal) caliber of a cynical ex-spy from the KGB and an adorable dachshund. And it is precisely on the latter that Khavari, while not wanting to unbutton elsewhere, wanted to let us understand something. "If you want I can give you a little sneak peek: Chorizo, the dev team's favorite, kills with kindness, and I can't wait for the players to realize that." Could it be for the wheelchair (sharp) for the hind legs?
A quick list of what we know
We conclude this summary of the information known so far on Far Cry 6 by reporting a list what (well, at least what else) is worth knowing before playing. Here are our highlights.
Clothes and equipment offer several advantages: some help in stealth, others in controlling weapons.
Le weaponry they can be enhanced and modified.
The new weapons Solve they are improvised and require tools scattered around Yara, such as the flamethrower, the machine gun and… the CD thrower.
I Supreme are the devices to be used as a last resort to bring home victory. One of them, the Exterminador, is a mortar installed in the backpack.
I vehicles they can be customized with any kind of addition, such as a turret.
I characters like weapons expert Juan Cortez there are many, but the DLC content will bring back the previous antagonists: Vaas Montenegro from Far Cry 3, Pagan Min from Far Cry 4 and Joseph Seed from Far Cry 5.
Contrary to what the first trailer may have led you to think, the current release date is set for 7 October: next Thursday.
Now it's up to you to tell us yours: was there something you didn't know yet? Tell us below, and as always don't forget to stay on Holygamerz for all the most important news for gamers and more. For your purely gaming needs, you can instead find the best discounts in digital format on Instant Gaming.