Find out with our short guide how to unlock the bike in Death Stranding, because walking is fun, but there are streets
Death Stranding is out. Well yes, although this affirmation until recently could leave you in disbelief, yesterday, November 8th, the new title of Hideo Kojima and first IP of Kojima Productions is finally in our PlayStation 4. Expect our review soon. In the meantime, however, we want to try to lighten your trip by giving you a means of transport, I donated the motorcycle.
Unlocking the bike in Death Stranding is pretty crucial, if you don't want to get calluses on Sam Porter's feet, and in our short guide we will explain how to do it. The bike, a three-wheeled model in the game, will prove to be very useful for reaching the cargo delivery destination in less time.
Sweet, sweet ride - How to unlock the bike in Death Stranding
The first bike that we will meet in our travels is the one that will be pointed out to us during the first delivery to Logistics Center west of Capital Knot City. It will also be pointed out to us, however, that the battery of our future fantastic friend is completely dead. We will therefore have to find a way to recharge it. But how?
We will therefore have to continue a little longer, this time going to the North-West to reconnect the Wind farm. By doing this, we will obtain an extremely useful CCP project, that of the Generatore. Generators are a new type of structure that you can build thanks to the use of your own CCP building one near the bike we told you about earlier, the one near Capital Knot City, we will be able to recharge the battery to make it usable again.
As we said before, the motorcycle will prove particularly useful during your trip to speed up travel, but you can also consider the carry multiple parcels at the same time, loading them on.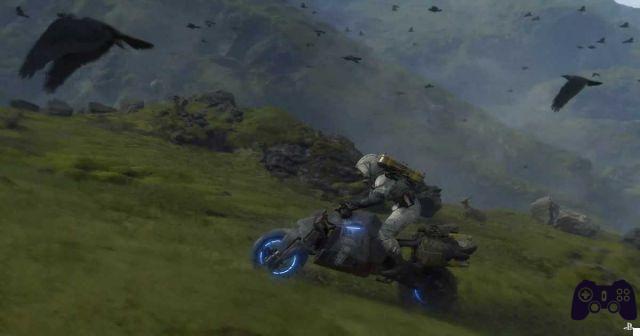 Have a good trip!
And there you have it, you have therefore seen how to unlock the bike in Death Stranding. While waiting for our review of, you can catch up on our initial Trophy Guide, which is to come in the future updated with lots of new information and advice. You can also find some information on the online component of the title and a short interview released by Kojima in which he talks about the complexity in his video games.
Have you purchased Death Stranding? Are you playing with it? What do you think of the initial impact? Write it to us below in the comments and ... Have a nice ride!