In this guide on Brawlhalla we will see how to play cross-play on PC, PS4, Nintendo Switch and Xbox One
Brawlhalla is the famous fighting game developed by Blue Mammoth Games and inspired by the iconic Super Smash Bros. In the title, in fact, we will be able to choose from a plethora of available characters and face our friends (or online opponents) in frenetic two-dimensional battles. The game is completely free-to-play, with the possibility of buying "legends" with coins that we will earn through battles, or aesthetic components with money.
For some time now, given the compatibility with PC, PS4, Nintendo Switch and Xbox One, the developers have made cross-platform available. We see, then, how to play cross-play on Brawlhalla with this guide!
Brawlhalla: how to play cross-play on any platform
Before starting with the actual guide, if you play from console you will have to activate the option to play cross-play. To do this, simply go to the settings (top right), scroll down and enable it.
Well, playing cross-play on Brawlhalla is really simple and, as we previously mentioned, it is possible to do it on any supported platform. First of all you will need to create a private room selecting "Custom Game Room" and then "Private Room". Above the available legends there will be a number after a "#". Here, that's the number of your private room, essential to be able to activate cross-play.
The friend (or friends) who wants to enter your room (from any platform) must select "Custom Game Room" and then "Join Room". A numeric keypad in which he will have to enter the number of the private room and that's it!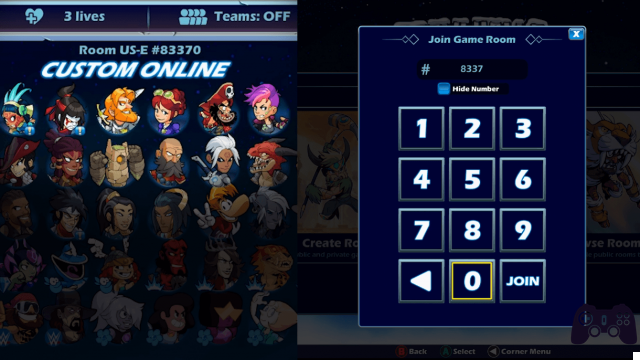 And was this guide on Brawlhalla useful to you? We remind you that on our site there are a lot of guides, such as the one on the best Free to Play and free games for PC, those for Nintendo Switch and much more!