Let's see in this guide to choosing the Borderlands 3 character which hunter to use based on our play style
Borderlands 3 is the last chapter of the homonymous saga made Gearbox Software and released by 2K Games. After a brief interlude with the chapter Borderlands: The Pre-Sequel not exactly exciting, the project is back in the hands of the developers who made it famous. Let's start this Borderlands 3 character selection guide now and see which hunter to use.
Let's analyze the various characters - Guide to choosing the character to use in Borderlands 3
The choice of a character is always one important question not to be underestimated, especially if it will be played in cooperative mode. Finding the right feeling between our fighting style and that of the various crypt hunters is not easy. A description could mislead us and make us select an inappropriate character. We at Holygamerz come to your rescue, introducing you to the various characters and making you understand as much as possible how they work.
Zane Flynt as "themselves"
Contrary to what it may seem, the first hunter in this guide to choosing which character to use in Borderlands 3 is much more than the usual soldier. Zane it can indeed use two different skills at the same time. Let's see in more detail the various specializations.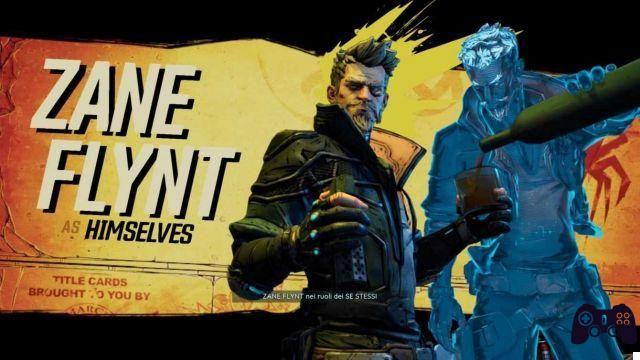 SNTNL: Zane deploys a drone that will attack various enemies with his machine guns
DIGICLONE: the hunter can create his own digiclone that stands still in one spot and shoots at enemies. You can also swap places with your clone
BARRIER: Zane places a barrier that blocks enemy projectiles, but allows those on the team to pass through with increased damage
This character is suitable for anyone who wants one great mobility on the battlefield and if you want to fool your opponents with your clones, Zane is the right choice. Furthermore, he is particularly suitable if you are looking for a character who will give you a taste for playing thanks to his skills.
Amara in the role of the mermaid
The second hunter in this guide to choosing which character to use in Borderlands 3 is Amara. This huntress plays the usual role of the mermaid, now famous for fans of the saga. However, unlike the others, she prefers to let various enemies taste the power of her fists. Let's take a closer look at the three different specializations.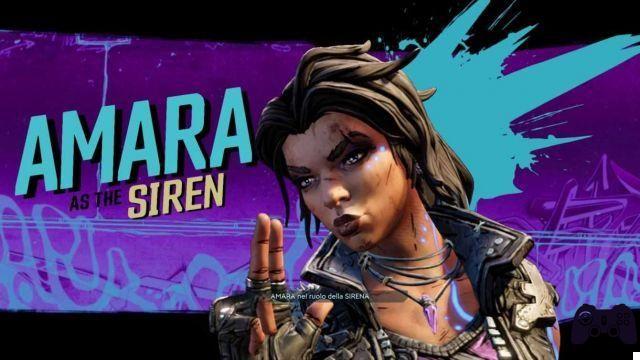 PHASE CRUSH: The siren jumps high and lands with a powerful dunk, damaging and knocking down all surrounding enemies
SUMMON OF PHASE: Amara summons an astral projection of herself that travels forward damaging enemies along the way
CLOSE PHASE: the siren summons a gigantic fist that emerges from the ground lifting enemies into the air and freezes them for a short time (similar to the power of Maya, the siren of the second chapter
Regardless of the type of skill you have selected, it will inflict elemental damage. Also, depending on the tree chosen, you can give all skills a specific element, or mix two together to inflict various damage on our enemies.
Moze in the role of the gunner
The third hunter in this guide to choosing which character to use in Borderlands 3 is It can. The Slayer is the most representative for fans as regards the "to blow things up". In short, he is the typical character that can be represented with huge weapons ready to blow up everything. In fact, most of his abilities revolve around the mech, explosions, health or the launch of multiple bullets. Let's take a closer look at the specializations.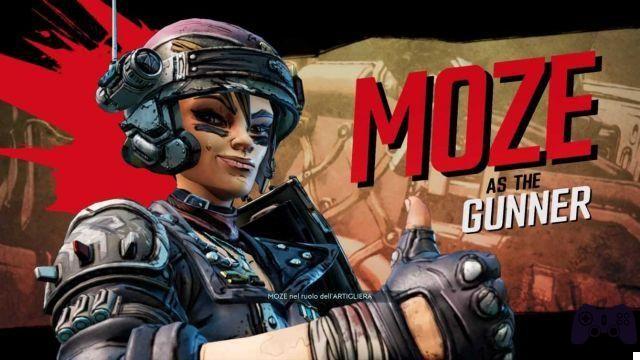 RAIL CANNON: Moze using her mech fires electrifying projectiles at very high speed that inflict electrical damage
MINIGUN: the huntress in the mech is able to fire for extended periods; if you use this ability for too long, however, the minigun will overheat, becoming unusable for a few seconds
V-35 GRENADE LAUNCHER: is a semi-automatic grenade launcher. Moze's Grenade MOD has no effect on V-35 grenades
If you prefer to crush opponents with explosive weapons, deal damage to multiple enemies at the same time, rarely die and not have to reload, Moze and her Bear are the ones that are right for you.
FL4K in the role of tamer
The ultimate hunter in this guide to choosing which character to use in Borderlands 3 is FL4K. This is the first hunter entirely dedicated to companion animals and, contrary to what happens with Zane's dorne, here you don't have to press a button to summon your puppy. Let's take a closer look at the various specializations.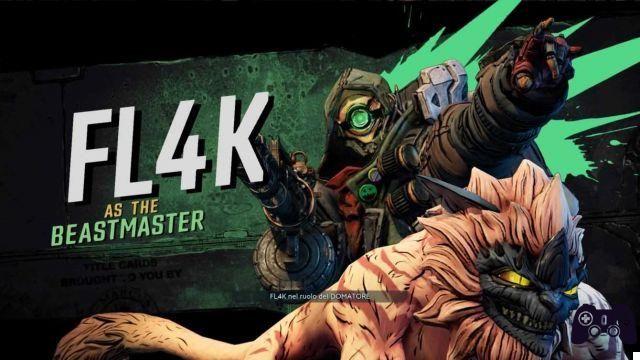 DISAPPEARANCE: the hunter activates concealment, becoming invisible. It can fire three times while cloaked and each shot will automatically become a critical hit. During this time you will enjoy a higher speed and the energy regeneration rate will also be higher. Here you can equip a Jabber as a companion
RAKK AT THE ATTACK: through this specialization you can order two Rakk to attack the enemies in a dive. This particular skill has multiple charges available. Here you can equip a Centurion Spider Spider as a companion
IMPULSE RANGE: with this specialization a slit is created in the indicated point that will allow our pet to teleport, inflicting radiation damage to surrounding enemies. As if that were not enough, the animal increases in size and becomes radioactive, causing even more damage. This specialization also allows you to resurrect our pet from a distance, giving him 30% of the maximum energy, but doubling the activation time of the ability. Here you can equip a Guard Skag as a companion.
If you want to cruise the wastelands in the company of a pet that takes some heat from enemies and adds some damage to your side, then FL4K is for you.
Good hunting! - Guide to choosing the character to use in Borderlands 3
That's all for this guide to choosing which character to use in Borderlands 3. In order not to miss further news on the game of Gearbox Software, continue to follow the pages of Holygamerz! Below we leave you a list (in update) with all the other guides related to the game.
Tips and tricks to quickly level up
How to beat Shiv
How to get new vehicles
Guide and tricks to get started
How to reset your skills
VIP program guide and SHiFT code list
How to play local co-op
Guide to artifacts
How to find and apply weapon skins
Meridian Metroplex Challenges Guide
How to unlock classroom MODs