The latest creation of Ninja Theory is finally available, in Bleeding Edge we are ready for battle and we tell you how to parry and dodge
We are facing the latest creation from a development house with a vast knowledge of action games. Ninja Theory was in the spotlight thanks to the highly acclaimed: Heavenly Sword, Enslaved: Odyssey to the West and the enigmatic Hellblade: Senua's Sacrifice. How long Bleeding Edge is very far from the dramatic tones of the events of Senua, it still contains the same approach to attention to detail.
It is a stylish title that is not afraid to blind players with its bright colors, combining very different inspirations and never creating too much confusion in the battle. In this guide for Bleeding Edge we will explore how to parry and dodge.
We avoid unnecessary damage
In Bleeding Edge, we spend most of the fighting face to face with the enemy. Even characters with ranged attacks can't avoid standing at least ten feet away to deal some damage. Given the danger to which we are exposed, it is necessary to understand them well defense mechanics that are offered to us. Some can be found in the specific abilities of some fighters, but there are other generic ones that almost everyone can take advantage of. Let's not delay and immerse ourselves in driving.
Be like water - Bleeding Edge: how to parry and dodge
This is a typical system of action games and hardly seen in online games that rely on heroes. Its use is extremely essential for our survival. Dodging is a pretty simple action and can be done both in and out of combat. Pressing RT and leaning L3, our fighter will perform a slide in that direction.
It is useful to avoid incoming shots or even to disengage from a combo we are undergoing. In the latter case the dodge is free while for the others it will exploit a single unit of stamina, moreover its continuous use will exhaust it until we remain uncovered until its recharge. Use it sparingly and especially to avoid special abilities or if we are against more than one character. However, when you are 1 on 1 with the enemy, parrying will be more useful.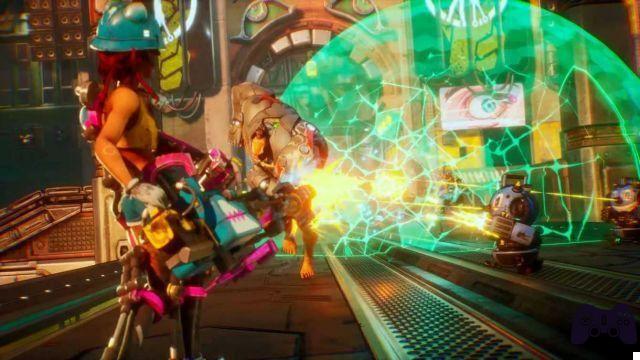 Defend yourself like a rock - Bleeding Edge: how to parry and dodge
If you have already played titles like Dark Souls or Nioh 2 you certainly know the parade, in English said parry. It is a system to bounce an opponent's shot, without taking any damage and opening the way for a counterattack. Ninja Theory has also decided to include it in Bleeding Edge to stimulate greater competitiveness by rewarding the skills of the best players.
To make a save, just press RT (standing still) just before receiving a hit, if successful we will see the opponent's attack deflect. This will give us a very small window in which we can respond with our own skill or combo. It's a slightly advanced technique that consumes a unit of stamina, but nullifies any damage that would have dealt to us.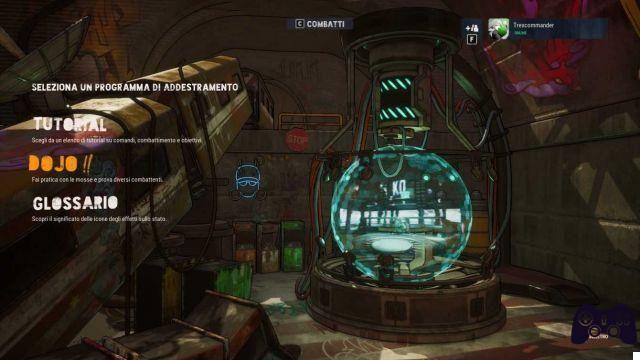 Practice in the Dojo - Bleeding Edge: How to Parry and Dodge
If you want to get some practice avoiding experimenting on the battlefield, our advice is to move to the Dojo. We can access it through the Training menu and pressing on Dojo. After choosing the fighter we want to practice with, we will find ourselves inside a gym against three opponents.
Initially these characters will be completely immobile, but from the options by pressing Start we can decide their aggressiveness, defense and other useful parameters for training. When we understand a bit how it works, we can practice as we please by learning the dodge and parry system properly.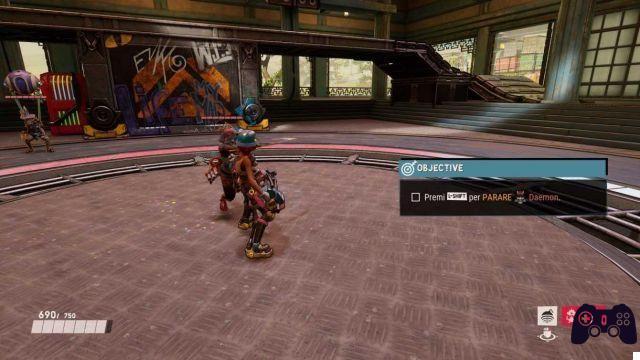 Let's go back to the arena
With the guide we have given you now you should know how to dodge and parry in Bleeding Edge. In case you have any doubts or want clarifications about this Hero Brawler created by Ninja Theory for Microsoft, ask us your questions below in the comments or take a look at our guide on tips and tricks and the best characters and strategies.
Bleeding Edge is available from March 24, 2020 for Xbox One and PC, also with Xbox Game Pass. In the meantime, I invite you to continue following us on Holygamerz to stay updated on the world of video games and technology.