Are you playing Assassin's Creed Odyssey? Are you an impatient gamer and can't wait to find out how to change from day to night to complete missions? Then read our guide and find out how to easily switch from day to night!
Assassin's Creed Odyssey will offer you a wonderful gaming experience: you will have the opportunity to explore the length and breadth of the map, decide how to face your adventure and much more. Yet, during your journey into the past with Kassandra or Alexios, sometimes you will have to observe schedules: there will be situations where you will have to introduce yourself to a date with another character and be found at a certain time of day, both day and night; or, some events will be available only in certain time slots. If you have no intention - or time - of waiting for the time to come by itself, then it's time to learn how to get from day to night effortlessly in Assassin's Creed Odyssey!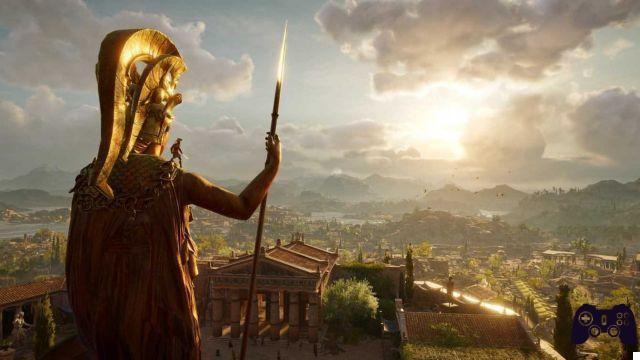 Assassin's Creed Odyssey: from day to night
In fact, switching from day to night is a feature that already appeared in Assassin's Creed Odyssey's predecessor, Origins. But if you haven't played it, don't worry, we will tell you immediately how to do it. Going from day to night in the game is really simple, yet the game never tells you exactly how. To pass the time it is enough that your character you start meditation. Yes, you read that right, meditate (or take a nap, we're not quite sure about the difference yet).
To start the meditation in Assassin's Creed Odyssey, it will be enough press and hold the touch pad on your PlayStation 4. In case you have one Xbox Oneinstead, press and hold the View button on your controller. Once this is done, the camera will move across the sky and you will see it change from day to night - or night to day, depending on what time of day you are experiencing. If you have doubts about which buttons to press, look at the images below, in which we have highlighted the buttons in red:
PS4_controller




XboxOne_controller
Simple, right? Here's how to change from day to night (or night to day) in Assassin's Creed Odyssey!
Let us know if this guide was useful to you, and write us in the comments if you want other suggestions or you want guides on something in particular! We leave you reminding you that Assassin's Creed Odyssey is the latest, brand new episode of the Ubisoft Assassins saga, released on October 5th for PlayStation 4 and Xbox One!