In this Animal Crossing: New Horizons guide we will explain how to play in 2 with your friends both online and locally
Animal Crossing: New Horizons has been available for just over a week, and tons of players have already started building your own dream island. Spending all day taking care of your island is very relaxing but sometimes it may happen that you feel a little lonely, especially during this quarantine period. For this reason, we have decided to write this guide in which we will explain to you how to play with 2 or more players on Animal Crossing: New Horizon.
Show your work to friends
Once you have created a beautiful island it would be a real shame not to share it with other players. You may be waiting for someone to visit you on their own, but personally show your island to friends it's a whole other thing. Playing Animal Crossing as a couple is a really fun experience but as often happens with titles Nintendo it may not be very intuitive. Methods for playing multiplayer on New Horizons there are two and they vary according to if you want to play on the same console or with two different consoles.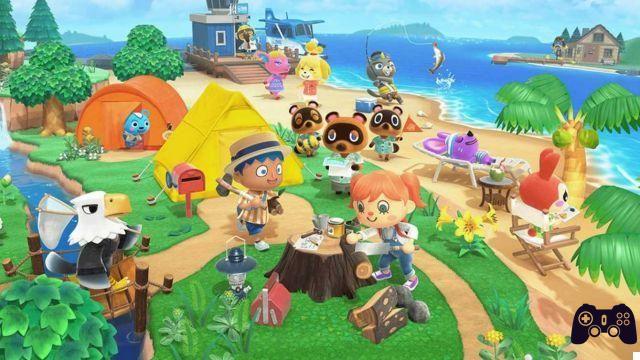 Playing with two different consoles - Animal Crossing how to play in 2, multiplayer guide
If you want to play with your friend who owns it your own Nintendo Switch and a copy of Animal Crossing, you can do it in mode local wireless or online. In this mode it is possible to play Animal Crossing not only in 2 players, but also in 8.
If you want to host a player on your island in local wireless mode, you will have to go to the Dodo Airlines and talk to the bird behind the counter. Once this is done, you will need to select "I want to receive visitors" and subsequently "local shows". If, on the other hand, you want to be the one to go to your friend's island, you must select "I want to fly", then "I want to visit someone" and finally "Local game". We remind you that in local wireless mode no internet connection is required to play, but you don't have to be too far from your friends. Also if you are looking to play with more than two people you will have to log in one at a timeotherwise there may be some connection problems.
If you want to visit your friends in online wireless mode, the procedure will be very similar to that for the local mode. As usual you will have to go to Dodo Airlines and speak to Orville, but this time you will have to select "I want to fly" and then "I want to visit someone through online play". Remember that to play wireless online you will need both an internet connection and a subscription to Nintendo Switch Online.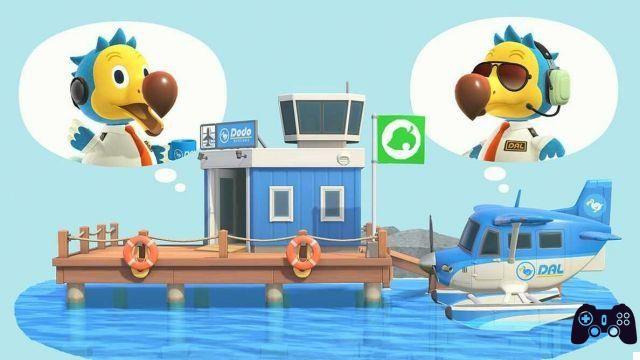 Playing on the same console - Animal Crossing how to play in 2, multiplayer guide
In Animal Crossing: New Horizons it is possible to have one island per console and all accounts on a Nintendo Switch will live in the same place. This mechanic has been heavily criticized by players who wanted their own island, but it also allows you to play local multiplayer with the same console.
To play with your friends on the same console, first of all each player needs their own account. On an island, the avatars of 8 players, but you will only be able to play multiplayer with a maximum of 4 at a time. After creating an account, players will need to create their own Animal Crossing character and continue in the game until they go to sleep. after the welcome party. You will then receive a NookPhone with a new app called Call Islander which will be essential to play with your friends.
Once you get this application, a player can use it to call the others and play together. The caller will be labeled as leader, while the others will be i followers. The leader will be the only one who can enter buildings, purchase items and gather resources like Stone, wood and fruit, while the followers will be free only to fish and collect insects. Fortunately, it is possible easily change the leader at any time using the same app with which the followers were called.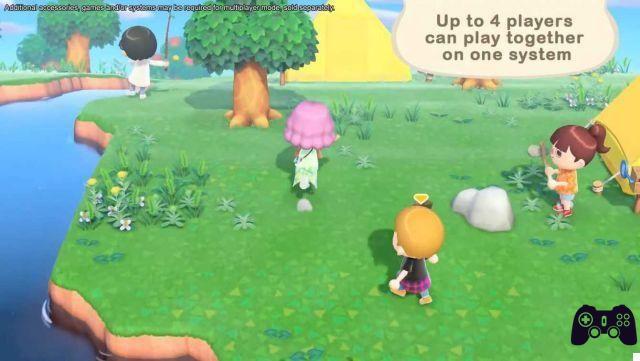 Have fun all together!
Thanks to this guide, for sure now you will know how to play Animal Crossing with 2 or more players without difficulty. If you are also interested in other aspects of the game, we refer you to ours guide on how start playing, as jump and travel through time, how to plant the star trees and how build the stairs. Furthermore, we recommend that you also take a look at our guide on the event of the Bunny Day.
Animal Crossing: New Horizons is available now for Nintendo Switch. If you are interested in staying up to date with all the news on the world of video games and much more, then continue to follow us here on Holygamerz.