The next Super Smash Bros. Ultimate online tournament will focus on assistants: we briefly explain what to expect
And again this week we arrived at Wednesday: the time has come to see which event, in this case a online tournament, will brighten our weekend in Super Smash Bros. Ultimate. After having given us an appointment on the Spirit Board with the celebration of the twentieth anniversary of Nintendo GameCube, this time the fighting game of Masahiro Sakurai celebrates the characters who "almost made it". The title of the tournament is "Assistants galore", And will allow us to have potential great allies on our side. Of course, we will take advantage of this to add another one appendix to our guide.
The new online tournament for Super Smash Bros. Ultimate Assistants
Let's start first with what you need to know in the context of this week, namely the details of the Super Smash Bros. Ultimate online tournament. This event will begin the day after tomorrow, Friday September 17, at eight in the morning, and will end at the same time as Monday 20. Gli clashes they will be timed and will last two and a half minutes, but the Final Smash Bar will not be active. Rather, the appearance of tools (Smash Sphere and, of course, Assistants) will be set to "Many". That said, you will want to know what awaits you: we are here to satisfy you, of course!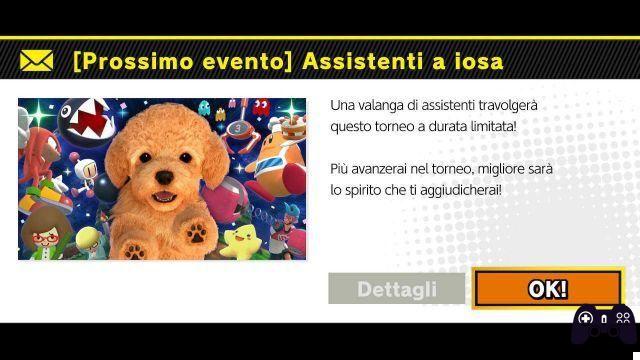 - Assistants appear in the form of encapsulated trophies and must be collected by the player (A). You can also prevent another player from using one, but you have to attack it quickly. Once an Assistant has been collected, the player will remain in place for a second and will raise the trophy in order to free the contained character. To increase interaction with some of these fighters, Ultimate has included the ability to attack them: KOing them not only makes them look a little less like "excluded characters", but also serves to save their skin. Not all evil comes to harm: after all, Little Mac, Dark Samus and Fuffi first made their debut as Assistants.
List of Assistants
In the previous appendices to the Super Smash Bros. Ultimate guide, we have glossed over some of the content, but this time you will need to know who you will find in the tournament. Here is a short list.
Akira, from Virtua Fighter: Runs around the field and hits enemies. It can be defeated.
Alucard, from Castlevania Symphony of the Night: Strikes with the sword and floats around the field. It can be defeated.
Andross, from Star Fox: Attack fighters with bullets from the background. It cannot be defeated.
Playroom bunny, from Nintendo Badge Arcade: The Nintendo 3DS app manager uses a crane to grab fighters and lift them. It cannot be defeated.
Ashley, from WarioWare: Create a cloud with random effects. It cannot be defeated.
black Knight, from Fire Emblem Path of Radiance / Radiant Dawn: slow but powerful, attacks players. Leathery, but can be defeated.
Bomberman: releases explosives from the "cross" range, similar to the X-Bomb. It can be defeated even from its own bombs.
Vermentilla squamata, from Pikmin: emerge from underground at random spots in the arena and attack, before popping out elsewhere. It can be defeated.
Chomp, from Super Mario: Stay anchored to the stake and attack nearby enemies. It can be defeated.
Kawasaki cook, from Kirby: Puts Kirby's first Final Smash from Brawl, luring enemies and cooking them. It can be defeated.
Color TV-Game 15: two Pong bars emerge on the sides of the scenario, hitting anyone who comes within range. They can, strangely, be defeated.
Demon, from Devil World: stay in the background and move the frame in such a way as to alter the boundaries of the arena. It cannot be defeated.
Dillon, from Dillon's Rolling Western: Roll and run over opponents, even using devastating Charged Attacks. It can be defeated.
Dr. Kawashima, from Brain Training: brings up numbers that can be hit and sent in the direction of other numbers. When the sum of the colliding digits is ten or more, it causes an explosion. It cannot be defeated.
Dr. Wright, from Sim City: spawns buildings that cause damage to anyone who touches them, especially those hit by their "riser". It can be defeated.
Insects and hand, from Mario Paint: A hand wielding a shovel hits bugs, which players are better off keeping away from. It can be defeated.
Ghirahim, from The Legend of Zelda: Skyward Sword: wanders around the field and strikes with the sword, and if he falls out of the arena he returns to the game by teleporting. It can be defeated.
Ghosts, from Pac-Man: Blinky, Pinky, Inky and Clyde roam the arena in ninety degrees as if they were in a maze, damaging all players touched. They can be defeated.
Gray Fox, from Metal Gear Solid: goes back and forth through the arena, swords and reflects bullets. It can be defeated.
Guile, from Street Fighter: By replicating a strategy known to the character, he remains crouched on the ground and strikes from afar with Sonic Boom. Anyone who approaches receives a Flash Kick instead. It can still be defeated.
Martelkoopa, from Super Mario: Jump on the spot and throw hammers around. It can be defeated.
Isaac, from Golden Sun: Use Psynergy to move opponents with a giant hand, as well as occasionally hit them. It can be defeated.
Jeff, from EarthBound: Ness's friend attacks the first opponent he frames with his "bottle rocker". It cannot be defeated.
Rowing, from Animal Crossing: Drive the bus and drag opponents away, resulting in a potential KO. You can struggle to get out, but there is no way to defeat Remo.
folding stairs, from Donkey Kong Country: Sling on an opponent and throw them away. It can be defeated.
Knuckle Joe, from Kirby: beat the first opponent that comes within range and ends him with an uppercut. It can be defeated.
Knuckles the Echidna, from Sonic: he throws himself underground and re-emerges, hitting with punches or with the attack in search of Sonic himself. It can be defeated.
Krystal, from Star Fox: Strikes opponents with his freezing scepter. It can be defeated.
Lyn, from Fire Emblem The Binding Blade: Attack opponents with a lightning-fast blow. The moment it waits to teleport, it can be defeated.
Metroid: attaches itself to players and hits them repeatedly. If frozen, it can be defeated.
Midna, from The Legend of Zelda: Twilight Princess: Grabs nearby opponents and throws them, teleporting here and there. It can be defeated.
Moon, from The Legend of Zelda: Majora's Mask: appears in miniature above the fighter who summons it, and then reappears "big" in the background and dashes into the arena, investing everyone (including the summoner) in the explosion. It cannot be defeated.
Mother Brain, from Metroid: it appears in miniature in front of the summoner, only to enlarge as soon as it touches the ground. He can enjoy the help of the Rinka, but also be defeated.
Nightmare Wizard, from Kirby: envelops fighters in darkness with an evil grin. It cannot be defeated.
Nikki, from PictoPosta: draw various obstacles that appear on the arena, just like in the La PictoChat arena. It cannot be defeated.
Nintendog: an adorable poodle slingshots across the screen and prevents us from seeing anything. It cannot be defeated (why would you want to do this ?!).
Phosphora, from Kid Icarus Uprising: she teleports around the arena and thunders those who come within range. It can be defeated.
Rathalos, from Monster Hunter: Spits fire on enemies and dumbs them down by roaring. Big as it is, it's not hard to hit: can be defeated exactly like when you face him as a boss.
Riki, from Xenoblade Chronicles: Attack opponents with various spells taken from his home game. It cannot be defeated, However.
Rodin, from Bayonetta: the infernal bartender uses portals just like the witch of Umbra to punch with gigantic fists, and before he leaves he leaves a tool. It can be defeated.
The prince of Sablé from Kaeru no Tame ni Kane wa Naru (For the frog the bell tolls): Transforms into a frog or snake and attacks. He can be defeated, but only in human form.
The False Samurai, from F-Zero: runs left and right waving the katana. It can be defeated.
Shadow the Hedgehog, from Sonic: Use Chaos Control to slow down time. It cannot be defeated.
Sheriff: 8-bit music that heralds its arrival means nothing but trouble. The trigger-happy sheriff attacks opponents from above with painful bullets. It can, however, be defeated.
Shovel Knight: The only indie of the group fights exactly with the basic moves of its original game. Swoop and shovel hit make him fearsome, but can be defeated.
Skull kid, from The Legend of Zelda: Majora's Mask: depending on how he turns him, he can flip the scenery, overturn the controls to players, or make them all invisible. It cannot be defeated.
Spring Man, from ARMS: the sprung guy who hoped to take the invitation letter to Min Min attacks as you would think. He jumps around, hits from a distance and, if he likes, blows up a victim with a blow. It can be defeated.
Sea Sirens, from Splatoon: the two reporters and singers want the spotlight on them. The shot, as it approaches, narrows the edges of the arena as in Decisive clash. It goes without saying that they cannot be defeated.
Starfy, from The Legendary Starfy: the protagonist of the "puccioso platformer" who dared to follow in Kirby's footsteps is at the center of many digs from Masahiro Sakurai (creator, among other things, of Kirby). Starfy wanders, hits with weak twists, and it can be easily defeated.
Starman, from EarthBound: The alien android teleports around and hits players with some lightning. It can be defeated, complete with "SMAAASH!" directly from EarthBound.
Sukapon, from Joy Mech Fight: hits with twists, heads and holds. It can be defeated.
Takamaru, from The Mysterious Murasame Castle: the samurai jumps around the arena, throws kunai and strikes with his katana. It can be defeated.
Tiki, from Fire Emblem Shadow Dragon and the Blade of Light: the knight attacks opponents as soon as she transforms into a dragon. It can be defeated.
Thwomp, from Super Mario: as per tradition, this boulder hurls itself down as soon as a character is under it. It cannot be defeated.
Leo, from Art Academy: Overlays a drawing on all players, making it impossible to tell which attack they are charging. It cannot be defeated.
Waluigi, from Super Mario: Stomp on opponents to immobilize them, then finish them off with a racket or kick. To the "joy" of fans who want him in Smash, it is with him that Masahiro Sakurai in a presentation demonstrated that the Assistants they can be defeated.
Capsula del Dr. Wily, from Mega Man: The final boss of Mega Man 7 hits opponents with elemental bullets. It can be defeated, but it doesn't disappear before begging for mercy like in the games it came from.
Yuri Kozukata, from Fatal Frame: Once his ghostly camera is unsheathed, he will target one of the opponents. If photographed, the player finds himself immobilized. It cannot be defeated.
Zero, from Mega Man X: The free-willed Reploid hits opponents with his Z-Saber and uses stolen powers from the evil Mavericks. It can be defeated.
Now it is up to you to tell us yours: did our guide to the Assistants help you? Let us know below, and as always don't forget to stay on Holygamerz for all the most important news for gamers and more. For your purely gaming needs, you can instead find the best discounts in digital format on Instant Gaming.