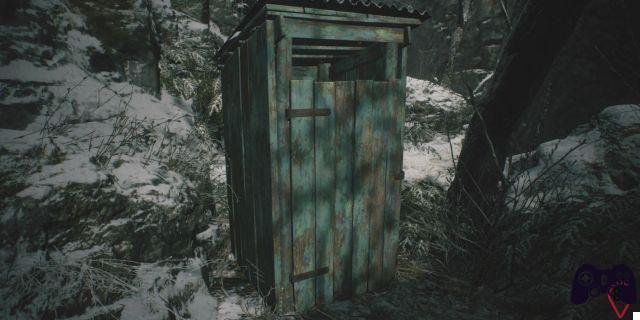 Among the many collectibles of the recent R Evil Village weblog Capcom, at this link our review, there are also some bizarre Latrine, which we want to help you find in this dedicated guide. The game contains a total of 10 and you'll have to open them all to get the dedicated trophy.
You will not find in the following guide any spoilers related to the plot of Resident Evil Village, but you may run into some advances relating to the locations where the Latrines are present.
Here is the guide to finding all 10 Resident Evil Village Latrines
Resort
Latrine 1
Village 1F, west old town - After reaching the Village for the first time, continue through the door of the house and exit to the right, it is in the courtyard. There will also be one closed, but it does not count for the Trophy.
Latrine 2
Village 1F, Luiza's house - Enter the door and you will meet a man and a woman. Go up the wall, the Latrine is on the right.
Second visit to the Village
Latrine 3
Village 1F - Behind the house with the typewriter.
Latrine 4
Village 1F - In the back of the house to the right of the War Maiden.
Latrine 5
Village 1F - To continue you will need to move a bookcase, there will be a Lycan in front of it.
Latrine 6
Village 1F, West Old Town - After using the handle on the tractor and passing it, close to the new enemy.
Latrine 7
Village 1F, west old town - Do not go through the gate after the last one, turn around and go near the sign where it says that the owners are missing, break the lock to enter.
Latrine 8
Village 1F, West Old Town - Climb the yellow ladder and launch into the next courtyard where there are chickens.
Returning from Beneviento
Latrine 9
Village 1F, garden - On the way back, you can go up to the gardener's house. Turn left to find it.
Moreau area
Latrine 10
Shutter Control - After leaving the building turn right to find the last latrine.
We would like to thank the PowerPyx channel for the video on the cover of the article, and we take the opportunity to refer you to our Resident Evil Village game page, with lots of new content. If you still have help with the game, we refer you to our Resident Evil Village total guide instead.