Let's find out how to get all the 4 Stars linked to Tangrowth, in our guide dedicated to New Pokémon Snap
Although it may appear scary, Tangrowth it is one of the kindest and most joyful encounters that it is possible to have within New Pokémon Snap. He generally does not interact with others, spending his time doing his own business. It is a generally calm being, living in the forest, but its nature should not be misleading, as it is a very powerful creature, capable of causing a huge amount of damage to anyone who tries to disturb it.
This characteristic is highlighted very well within the game in question, since its movements and reactions show exactly what has just been said. If you want, therefore, to capture all its behaviors, here we explain what to do to succeed get the coveted 4 stars by photograting Tangrowth in New Pokémon Snap
New Pokémon Snap: 4 stelle per Tangrowth!
If you want to get it all 4 Stars linked to Tangrowth in New Pokémon Snap, you will have to observe some small tricks, but do not despair, since we are here to give you all the necessary tips. In fact, below you will find explained all the tricks necessary to complete the activities dedicated to him in a flash.
1 Star: take a picture as soon as you meet him, without interacting with him.
2 Stars: in Floreo Natural Park (one of the levels present in the game), during the day, you can find Tangrowth on the left side of the road, roughly halfway through the stage. If you try to throw gods Fluffruits a little beyond his position, he will stretch his arm in an attempt to pick them up. If it succeeds, it will eat it and then start jumping - this is where you need to take the picture. He may also become happy for no particular reason, even during the night, so always keep an eye on him.
3 Stars: hit Tangrowth with Fluffruit, so as to annoy him and push him to get mad at you, and move his arms and body: take a picture as soon as it happens.
4 Stars: during the night, inside the Floreo Natural Park, a Tangrowth asleep on the right side of the road, right next to some Bouffalant dormant. Throw a Illumina Orb to scare him, so as to wake him up and extend his arms forward, to make a leap to a nearby hill: at this point take a picture. It will also be possible to trigger the reaction with a Fluffruit.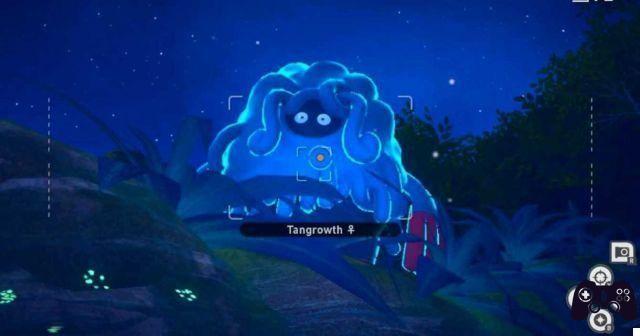 Remember that as you increase yours Research level in each stage, you may encounter different gods behaviors Pokémon present in the game. Therefore, if you are unable to find what you are looking for, it could be for this reason. So, our advice is to keep taking photos inside the various stages, so as to unlock each Research level and thus succeed in complete the Photodex.
Before saying goodbye and inviting you to stay with us on the pages of Holygamerz, we remind you that New Pokémon Snap is currently available for Nintendo Switch. If you are looking for other games at a discounted price, our advice is to visit.