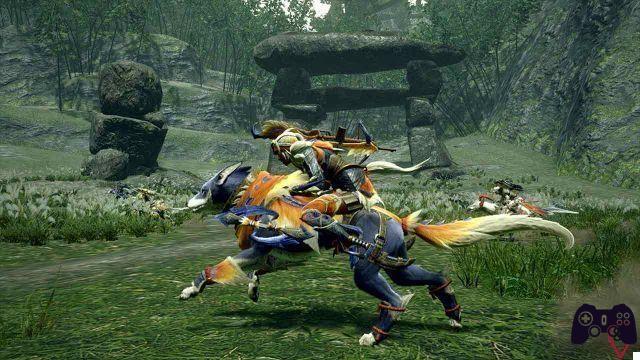 In this guide dedicated to Monster hunter rise we will help you to find out the exact location of theRhenoplos egg, food that will help you complete one secondary mission which will give you a lot of satisfaction. Inside the Kamura village it may happen that you will be approached by some inhabitants for specific requests. These side missions are worth paying attention to, as some will unlock items for you to help develop your hunter.
A villager who will give you frequent chores will be Yomogi, or the chef of Bunny Dango. As with any Monster Hunter, there will be recipes to unlock, each with specific perks and bonuses, such as an attack buff or increased speed. Not long after discovering the third area of ​​the game, Yomogi will offer you a quest called "Bunny Dango - With Eggs!", asking you to track down a rare Rhenoplos egg.
Before continuing with this guide, we remind you that the text may contain major or minor spoilers on Monster Hunter Rise. We therefore advise you to proceed carefully to avoid undermining, even partially, your gaming experience.
Where to find the Rhenoplos egg?
The best place to find the Rhenoplos egg is the sandy floors, that is the third zone of the game, more precisely in area 11. The egg nest is located right in the center of this portion of the map, and is surrounded by a group of small monsters, flanked by a rocky wall.
Retrieving eggs or other items can be risky, as if you are hit it will break automatically, forcing you to go back and get another one. Fortunately, Capcom has made this mechanic leaner than in the past and, as in Monster Hunter World, the egg will not be damaged if you step off a ledge or if you use the insectophile. As soon as you get the egg, go straight to your camp and put it in the item box.
Back in the village, Yomogi will have a new recipe available. Thanks to the Rhenoplos egg you will unlock Dizzy Bloom, a dish that it will allow you to stun monsters very easilywhich makes it perfectly suitable for anyone who uses a hammer or heavy weapon. If you combine this dish with a set of equipment that relies on stunning, you will have no problem with the monsters in the game.
That was all there was to know about the guide dedicated to finding the Rhenoplos egg in Monster Hunter Rise; if you want more information on the branded game Capcom, we refer you to its dedicated sheet.