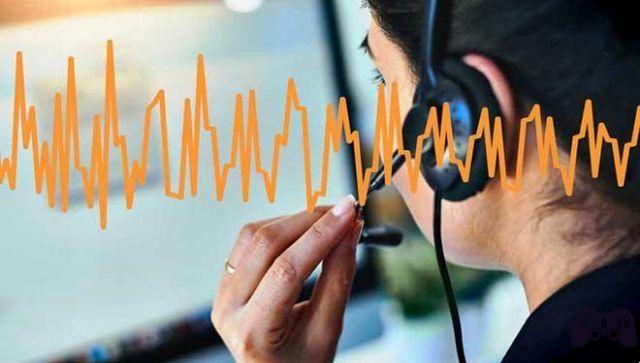 "Hello! Please don't hang up… just for today the T .. offers at a great price…? It's a call center, another call center… Today, call centers account for 50 percent of all phone calls. In 2018 alone, call centers spammed us with 26,3 billion calls. And it will only get worse: call centers will become more and more in the coming years.
The moment you hear that voice, everything stops. Your pulse speeds up; your blood pressure rises. It doesn't matter what you were doing before. Maybe you were laughing at a joke. Maybe you were enjoying your lunch. Maybe you were watching your favorite team's game.
None of this matters now. You took that call and you will regret it. You want to shout: don't call me anymore. I don't care who you are. Go away! Your words would have fallen unheard. They will continue to call anyway.
It is time to put an end to these call centers forever. Fortunately, you have a whole arsenal of smartphone tools at your disposal. You block numbers, turn on Do Not Disturb mode, use your carrier's tools or use third-party apps to end this phone pestilence.
Here are our tips for minimizing or eliminating these unwanted calls.
1. Automatically reject anonymous calls
Many call centers show "anonymous" on your caller ID, while some companies present themselves as identifiable phone numbers. So let's see how to reject anonymous calls on Android and iPhone.
Android
Launch the phone application.
Click on the Menu button on your phone, which is usually located at the bottom left and choose the Call Settings item.
Go to Call Reject.
Now press on Auto Reject List and then tick the box next to the Unknown label. Done!
iPhone
Press the Settings icon and then choose Do Not Disturb from the screen that opens.
Choose Manual mode to immediately activate call barring.
Now click on Allow calls from and choose all contacts. Thus, all and only the contacts in your address book will be able to call you.
Landline phone
TIM, the caller number display service is called Who is it and costs € 3 / month.
Vodafone, Calling number display is enabled by default and does not incur additional charges.
Wind/Infostrada, the calling number display function is called InVista and, for most of the active offers, costs € 2 / month. Other tariff plans, on the other hand, include the service free of charge.
Fastweb, the caller number display option is called Who Call. On the most recent offers it is activated for free by default. For some old tariff plans, however, it is identified with the Chi Chiama service and costs 1 € / month.
2. Register in the Register of oppositions
Millions of people rejoiced when the Opposition Register was created - and in a perfect world, enrollment would have prevented call centers from calling you. Technically, it's illegal for call centers to call you if you're on this list.
But the world isn't perfect. Scammers don't follow the rules, nor do they care about this list. It's always good to register your number as an extra layer of protection against unwanted calls. Just visit the Opposition Register site and enter the desired landline or mobile number in the list.
You can also call 800.265.265. That's all you need to do and your number stays on the list until you ask for it to be removed.
3. Use the best apps to block call centers
Another way to stop annoying calls on your smartphone is via call blocker app. These apps are able to identify who is calling you and block unwanted calls that appear in a spam and call center list.
Here are the best call blocking apps:
Nomorobo
Nomorobo is an app for iOS and Android that offers real-time protection from a growing list of call centers and phone scammers. Nomorobo rings the phone once, then tries to identify the caller. If the number is in the spam or call center numbers list, the app will automatically block the call.
Nomorobo is free for 30 days, then costs roughly € 2 per month or € 20 for a whole year. To sign up, you will need to provide Nomorobo with information. List the type of phone you have - wireless or landline - and select your carrier.
TrueCaller
The Truecaller app for iOS and Android allows you to find out who is behind that unknown number. Copy and paste the number into the app's search bar. TrueCaller will search for the unknown number to find out who it is. With a community-based spam list of over 250 million users, it's a great resource to avoid responding to an unwanted call center.
Another great feature of Truecaller is its ability to block spam calls. When an annoying call center calls, there will be a large red alert, telling you it's a spam call. Just swipe up when that happens to automatically block that caller and add them to your spam list.
The Truecaller app is free for both download and use. However, there is a professional version that can be purchased as an in-app purchase for $ 1,99 per month.
Hiya: Block and Caller ID
The Hiya - Caller ID & Block app is perfect for identifying the calls you want to accept and block the calls and messages you want to avoid. The Hiya app is available for free on ad-free Apple and Android gadgets and is simple to use. If you had to pick one, this is the best choice, in my opinion.
It allows you to block calls, blacklist unwanted phone numbers and text messages, reverse phone search for incoming call information, and receive spam alerts. The app is powered by a database of hundreds of millions of phone numbers confirmed as spam by other users.
Call Control - Call Blocker
Call Control - Call Blocker automatically blocks spam calls and calls from other numbers you don't want to hear from. You can block entire area codes (like 888) if you get tons of unwanted calls from a certain location. The Call Control app is free and available for Apple and Android.
Are you worried about missing important calls? Call Control - Call Blocker offers you your own personal whitelist and contact protection to make sure people you know can call. Users of the app actively report their spammers so that its list is always up to date.
4. Some phones automatically lock robots
Did you know that some smartphones already have built-in anti-spam and call center protection? Samsung's flagship Galaxy and Note smartphones have a native feature called Smart Call that allows you to automatically screen and tag suspicious numbers.
Google's Android smartphones like the Pixel and the old Nexus and Android One have built-in protection for spam calls. With this feature, users with Caller ID enabled will receive an alert if they receive a suspicious spam call or call from a call center.
In addition to ignoring the call, the user has the option to block the number or whitelist it if the spam report is considered an error. Any blocked number can be unblocked at any time. There is an option to report the call to Google.
No reply: it's the only thing you can do to stop call centers.
Then there are also devices that block unknown calls or calls from call centers.
5. Common sense prevails
If you receive a call from an unknown number or that caller ID is not displayed, do not answer. If it's an important call, the person will leave a message and can get back to you or you can get back to them.
Let's deepen the topic:
How to block unwanted calls [2022]
Block anonymous calls on iPhone | Simple guide
How to block calls on Android
5 apps to block spam calls on Android
Further Reading:
How to backup calls on Android
How to forward calls
How to record a phone call on iPhone
How to record a call on Android
The best apps to block calls on Android