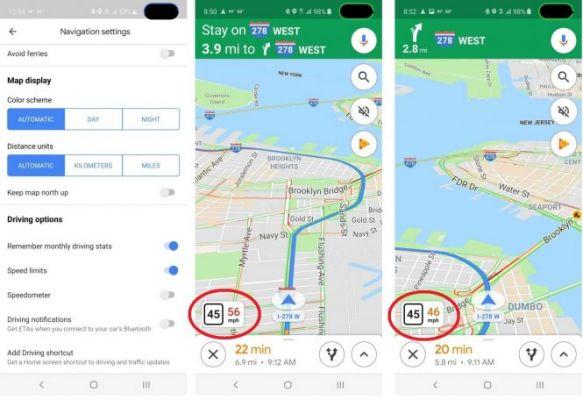 We will explain how to activate google maps speedometer, so you know at what speed you are moving and respect the speed limits of the road you are on. After a slightly longer wait than we would have liked, Google Maps for Android finally includes a speedometer.
Until now it was a unique feature of other navigation apps, which weren't based on Google's mapping tool, something that even led some third-party developers to create their own navigation solutions, has now finally become a reality, and platform users can already see at what speed they are going in real time, as well as the speed limit of the road they are on.
It is possible, however, that despite having installed one of the latest versions of Google Maps for Android, the speedometer does not appear during a trip despite using Maps navigation. It is because, by default, the option is disabled.
Google Maps will tell you the speed at which you are going and the speed limit of the road: this activates the speedometer
The function in question was released on Google Maps starting from version 10.18 of the application, for activate the speedometer on Google Maps we need to make sure we have the same or higher version installed.
Download Google Maps on ANDROID
Download Google Maps on APPLE iOS
So, all you need to do is activate the corresponding option in the application settings. To do this, just follow these steps:
Expand the menu on the left of the app and go to "Settings".
Go to the "Navigation Settings" section.
In the "Driving options" section, activate the "Speedometer" option.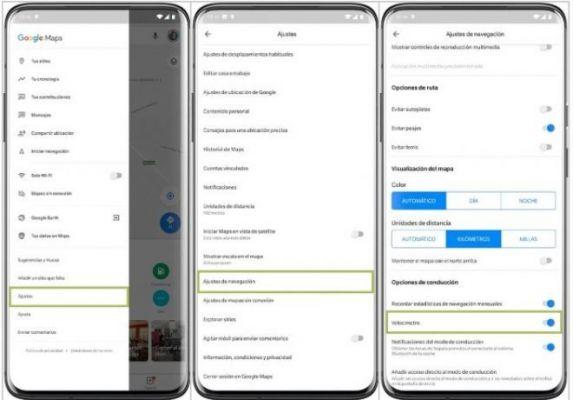 This way, the next time we take a road trip, Google Maps will show a bubble at the bottom left of the screen that it shows us the speed in real time and, if possible, it will be displayed next to it the maximum speed allowed on the road.
Another important thing is that of the travel speed, which is present in another box on the right. The two different boxes have different colors. The one relating to the limits has no color while the other is green or red depending on whether the driver is inside or outside the limits.
Please note that this utility does not work when using the app for walking, cycling or any other means other than your car.
Read also: How to use Google Maps offline [Android]
Further Reading:
Here's how to listen to Spotify, Apple Music or Google Play Music along with Google Maps
How to change the voice of Google Maps
How to know your current position on Google Maps
Google Maps is already testing incognito mode on Android
How to set or change your address on Google Maps