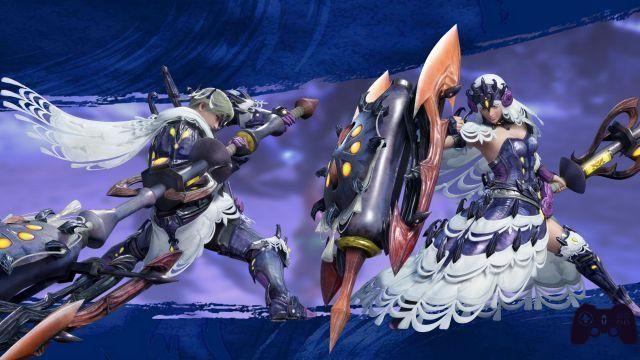 With the beginning of your experience on Monster Hunter Rise you will immediately have to make a very important choice, which is to understand which weapon you will want to use for the next hours of gameplay. In all there will be 14 different classes at your disposal, each with its strengths, weaknesses and particularities in general.
In this guide, in particular, we will talk about the Loaded Blade, specifying their various basic moves, combos, silkworm attacks and trading skills, along with some general tips on how to use them.
Furthermore, if the guide is not enough for you and you want the weapon in action, I refer you directly to Edivad video tutorial, one of the contributors from the facebook page La Taverna del Cacciatore:
Basic commands
Combo
Attacks with basic silk silk
Exchange skill
Basic commands
La Loaded Blade it is one of the most difficult weapons to master, but also the one that could give you great satisfaction. Similarly to the Spadascia, it will have two modes, that one Sword is that Ax, although in this case the first will have a shield together and the second will be a double ax.
In Sword mode the weapon is similar to the Sword and Shield, also allowing you to parry the attacks of monsters. This mode is mainly used to charge energy, which is stored in the vials of the shield. Once you have accumulated enough energy you can drain it to release powerful explosive attacks in Ax mode.
The Ax mode should be remembered that it is undoubtedly slower than the Sword, at the expense of the great offensive power.
Combo
Ax, elemental whirlwind combo: Left Stick + X (Ax: Air Slam Forward) -> A (Ax: Elemental Blast II) -> A (Ax: Elemental Whirlwind)
Ax, Ax to Elemental Rush combo: X (Ax: Upright) -> A (Ax: Elemental Blast II) -> X (Ax: Upright) -> A (Ax: Elemental Blast II)
Sword, basic combo: X + A (Sword: thrust) -> X (Sword: return slash) -> X (Sword: whirling slash)
Elemental Whirlwind Combo: Hold and release A (Sword: double charged slash) -> X + A (Sword: shield strike) -> X + A (Ax: elemental whirlwind) -> ZR (Ax: spinning slash element bonus.)
Sword, powered combo: Hold and release A (Sword: double charged slash) -> ZR + A (While charging) -> Hold and release X (Sword: elemental slash)
Attacks with basic silk silk
Also the Loaded Blade can have 2 different Silkweave Attacks from the beginning, both with different cost and use.
Transformant Feed (ZL + X)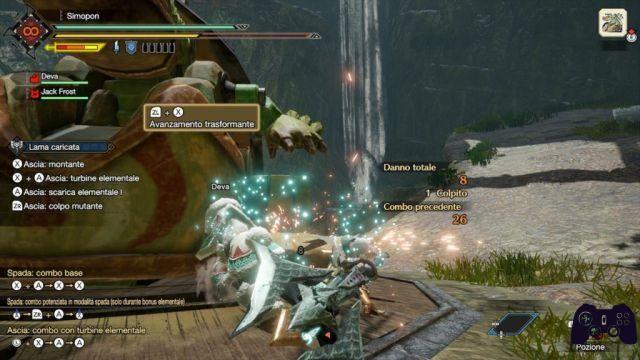 A silkworm attack that can be activated with ZL e X. Throw it forward with a wire bug and yours loaded blade becomes an ax. While executing you will dodge any damage that comes to you, and it will require a single silkworm charge.
Counter-echo of the peaks (ZL + A)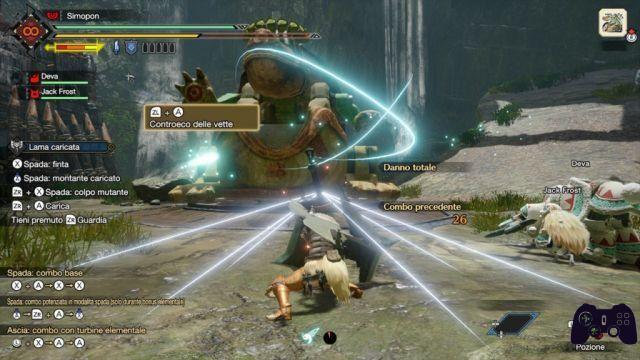 A silkworm attack that can be activated with ZL e A. If you take a hit while preparing the weapon, your bottles will come filled to the maximum. It will require the use of a silkworm charge, and by taking a hit you can immediately charge the sword by pressing X or perform an Elemental Whirlwind / Elemental Storm by pressing X + A.
Exchange skill
As with any weapon category, the Loaded Blade will be able to make use of Exchange skill, or interchangeable attacks that you will unlock with specific missions after you have used it enough.
Two of these will go to replace basic attacks, while one can replace an Attack with silk silk. However, keep in mind that each can only substitute for some specific attacks, modifying the resulting move but keeping the buttons to press to perform it identical.
Transforming Counter Slash (replaces Transforming Slash)
It can be done with X + A. A transforming attack that focuses on defense, with a prolonged blocking effect. The weapon can block attacks both when it is changing into Ax and Sword. If an attack is successfully parried, the damage of the next elemental whirlwind comes increased.
Spinning Slash (replaces Elemental Slash)
Activate Element Regeneration while charging. The shield starts spinning as if it were a saw. This technique transforms the weapon into Ax Mode, allowing it to strike multiple times while it is active. Prolonged hits in Ax Mode turn energy into vials.
Cavallettascia (replaces Controeco delle pette)
It can be activated with ZL e A. High slash with the ax with recoil and iron silk to catapult the hunter into the air. As you go up, you can throw one powerful elemental charge.