New week on Fortnite means new challenges. In particular, this week's one asks us to visit three gas stations in a single match. Luckily for you, we at Holygamerz have the right guide
This challenge is quite difficult. Visiting the three petrol stations is not that demanding in itself. The difficulty lies in not being killed by the enemies we might encounter during our outing.
The good news is that there are tons of gas stations featured on the Fortnite map. As you may have already noticed, there are stations at Pacific Park, Borgo bislacco, Greasy Grove e Tomato Town even if these places are located quite far from each other. So let's see how to complete the mission.
Fortnite: where to find gas stations (map)
Here is one map of the places where you can find the various service stations.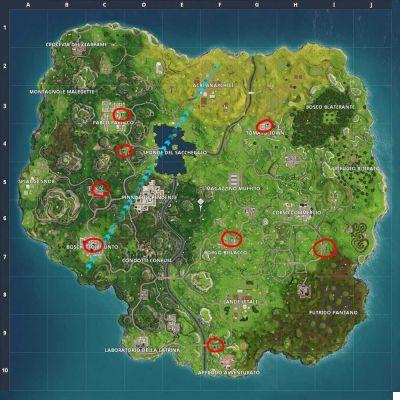 You can also find stations at too east of Snob Beaches (one near the covered field and the other continuing towards Parco Pacifico), one a north of Approdo Avventurato and one a southeast of Corso Commercio. In case of doubt it is always necessary to keep in mind that the stations are used to refuel the vehicles (not usable here on Fortnite) and that therefore they will always be found or in an inhabited center o along the roads that connect them.
As can be seen from the map, to complete the mission in one game and visit the three service stations, just drop into Boschetto Bisunto and go north or fall at Parco Pacifico and roll south. The fact remains that you can also "split" the map from east to west depending on your tactics and your style.
It should also be remembered that to complete the challenge the game will have to be finished. In fact, the challenge will not be considered completed if the player leaves the game just after the completion of the challenge. It will therefore be necessary to end the game by winning, which I wish you, or by perishing under the blows of the enemies.
The challenges of the previous weeks are still active and will remain so for some time, so if you haven't completed them yet, you still have time to do so. For those who are still beginners and want to fully understand how to choose a place to land and know which are the best, you can read our guide on 12 best places to land su Fortnite.
Fortnite: where to find gas stations
And have you already found the Fortnite service stations or was this guide helpful? To not miss any news on the game of the moment, keep following the pages of Holygamerz!