Fortnite offers us the new challenges of week 2 of Season 5: let's find out together how to overcome them in our guide!
Second week, second list of challenges for Fortnite. There 5 season it has just arrived but we don't have to sit on our laurels for that. In this 2 week, we have 7 challenges to face (three of which are free and four are only available to Battle Pass holders).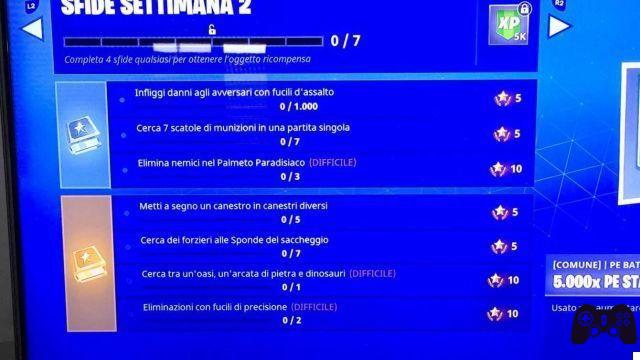 Fortnite week 2: we overcome the new free challenges of season 5 | Guide
But now it's time to see how to overcome them in our guide.
Inflict damage to enemies with Assault Rifles (1000 damage)
One of the simplest challenges. Assault rifles are among the most common and easy to use weapons in Fortnite so, skilled or not, it will take you a few games to reach the goal of a thousand damage. You can use all kinds of assault rifles, both three-shot and automatic-fire ones. Of course, there are no rarity restrictions.
Search 7 ammo boxes in a single match
Exactly as the challenge goes, we are required to find seven boxes of ammo in a single match. A not too complex objective, but as you know it also depends on the area in which you decide to land. Our advice is to aim for Snobby Beaches and to be the fastest of the bunch: with a little precision and a little luck, you should do it.
Eliminate enemies in Paradise Palm Grove (HARD) (3 kills)
It's the turn of a Hard challenge, focused on the new map area added this season. In the Paradise Palm Grove we will have to perform three kills. This is not too complex a challenge: moreover, it is it could be the right occasion to take advantage of a sniper rifle and complete one of the next challenges in one go, if you have the Battle Pass; otherwise, you can use assault rifles.
Fortnite week 2: let's see how to overcome the new challenges of the Battle Pass of season 5 | Guide
But now let's move on to the challenges that can only be faced by the owners of the Battle Pass. Let's see how to win them together.
Score 3 points in different basketball substitutions by making a basket (5 courts)
A fun challenge, but one that will make you travel from one part of the map to the other to do a three-point field goal in five basketball courts. We leave you a map where you can see the various fields available.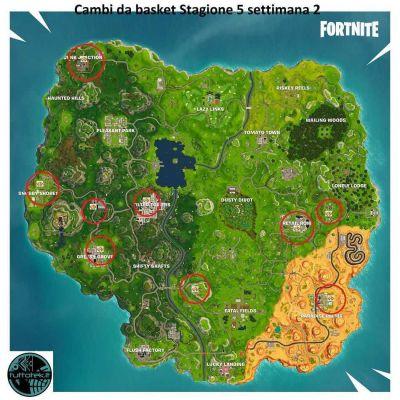 Search for chests in Loot Shores (7 chests)
Again, you shouldn't have too many problems: we leave you a map that you can look at to find the chests. Remember that not all chests appear at the same time.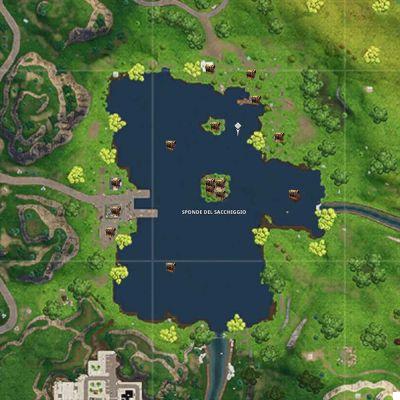 Search among an oasis, a rock arch and dinosaurs (HARD)
This week's star is in the new zone, south of Palmeto Paradisiaco. In the image below we have indicated where you can find it.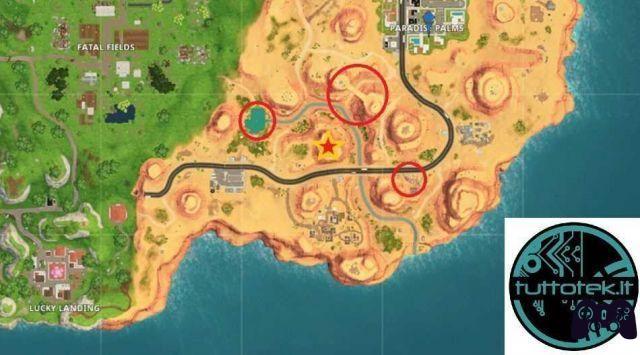 Eliminations with Sniper Rifles (HARD) (2 kills)
Here we are at the last challenge of the week. As we had anticipated, you could consider the idea of ​​executing these two kills in Palmeto Paradisiaco, so as to complete two challenges in one. We also remind you that, to complete the challenge, it is enough to take down the enemies and not take them down completely.
That's all for this week 2 too: what do you think? Are they challenging enough for you, or do you think this time will be a breeze? Let us know in the comments and stay on the Holygamerz pages to stay up to date on the latest news and Fortnite guides, at this address.