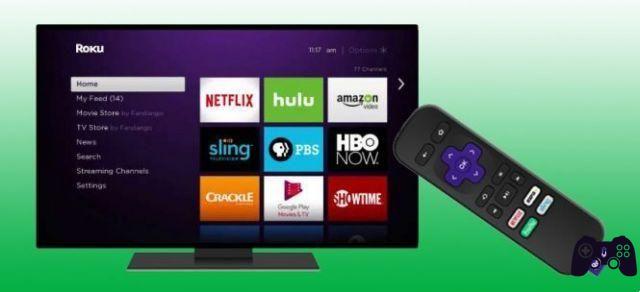 Audio is out of sync with video. If the audio is out of sync with the video, it usually indicates a problem with the title you are trying to watch or a problem with the device. Follow the steps below to fix the problem with the video and audio out of sync on Roku.
If you are using a Roku TV or a Roku Streaming Stick, you are not desync proof. This happens with any streaming service, receiver and operating system. Here are a couple of things that might help you fix the problem before saying Roku isn't working well.
CHANGE ROKU AUDIO SETTINGS
Roku devices have a very annoying default feature that can sometimes cause audio delays. It is called the automatic detection function. This feature supposedly detects the audio decoding capabilities of the device and any soundbar or AVR setting you may have. But, more often than not, it doesn't work as it should.
Go to the Roku Home screen.
Select Settings
Go to Audio.
Select a different setting such as HDMI or Stereo.
Also check the PCM function, if available.
DESYNC AUDIO VIDEO NETFLIX COMUNE
Sometimes, you may experience audio lag only on certain streaming platforms like Netflix. Here is what you can do to fix the problem with the video and audio out of sync.
Launch the Netflix channel.
Start a video.
Select the Audio and Subtitle menu.
Select Spagnano 5.1 from the list.
This is something you can try to do on other platforms as well. But this fix will only work if the platform you're using can override the device's audio settings. Netflix does it.
CHECK THE CONNECTION
Are you trying to watch something in 4K but still having problems with audio-video desynchronization? This can happen if you are not using a high quality cable. Buy a good cable to ensure the integrity of the signal transfer.
Note that if you're using a Roku Streaming Stick +, you won't need a cable. Just make sure your TV is capable of supporting HDMI 2.0 or HDCP 2.2 connections.
WHAT HAPPENS IF YOU USE A SOUND BAR OR AVR?
If you're using anything other than TV to listen to audio, you'll also need to make sure your soundbar or audio system is also compatible with HDMI 2.0. Any inconsistencies in this setup could result in audio delay, no audio, or worse still, crap audio.
FOR NON-ROKU TV USERS
Audio delay can occur even if you're not using a dedicated Roku smart TV. Say you're using a regular Sony, LG, or Samsung smart TV. How can I fix the audio delay problem? - Tinker with the settings on your device.
Changing Roku's audio settings is one thing. But if your TV isn't properly calibrated, any changes to Roku's audio settings could be done in vain. Check your device's audio or sound mode settings and see if everything aligns with what you're using.
For example, if you are listening to a sound bar with an optical connection, make sure the sound mode is set to an optical setting. If you are using TV speakers, make sure you select the TV speaker or Internal TV speaker option.
Note that sometimes a firmware update on a smart TV can restore the device's default settings. Sometimes the audio delay comes out of nowhere.
COULD YOUR BANDWIDTH BE RESPONSIBLE FOR AUDIO DELAY?
Some bandwidth is always needed, especially when streaming in high resolution. If you are thinking about 2k or 4K streaming, it is best to have a bandwidth of at least 25 Mpbs.
But, even with lower bandwidth, you can always start a movie or episode, pause it, and let it load for a while before you start watching.
When you don't have enough bandwidth, what usually happens is that your video will load very slowly. However, both the audio and the video load at the same time. You shouldn't try anything along the lines of seeing a video with delayed audio or vice versa. Don't be too quick to yell at your provider because of the audio delay.
BONUS TIPS AND HOW TO LIMIT THE PROBLEM
One thing to keep in mind is that the problem is not always caused by the user. Audio sync problems can come from the host. For example, if you can watch thirty channels in flawless quality and only one of them causes you the problem with the video and audio out of sync, then the problem is unlikely to be caused by your Roku device or any setting. Again, read how to fix audio lag with Netflix mentioned earlier.
If you're using a receiver or sound bar and are constantly experiencing audio or video delay, try removing the sound bar from the equation and set the device to internal speakers. If it disappears, your sound bar may in fact be incompatible with your Roku device.
Try putting the TV into game mode or try watching something in a lower resolution. The game mode is designed to reduce image quality and improve visual response times.
If either of those two things solved the problem, the problem isn't with your Roku streaming stick but rather the TV's inability to process high-resolution video and decode high-quality audio signals.
CONCLUSION
As you can see, there are many reasons why your audio, video, or both may go out of sync when watching something on a Roku-enabled device. Sometimes rewinding, fast-forwarding, pausing and playing on the remote can be enough to fix things. But even if that's not enough, there are many problems you can solve on your own.
Have you had trouble syncing audio video on Roku smart TVs or other TVs with a Roku stick connected? Have you noticed some channels other than Netflix constantly showing signs of incompatibility with Roku? Let us know in the comments section below.
How to watch DAZN on Roku
Further Reading:
How to enable HDR on Roku TV
How to enable Roku developer mode
How to download the YouTube app on Roku
What is Roku? How Roku Streaming Devices Work
How to remove the writing on the top left Netflix?