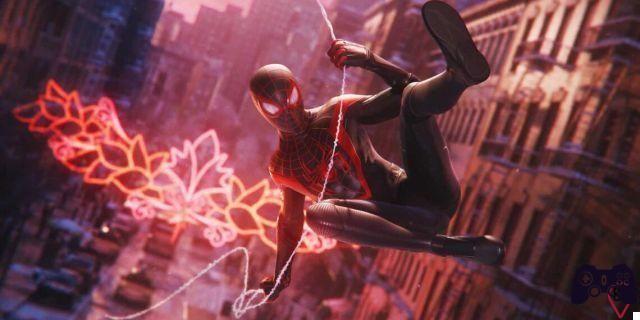 Marvel's Spider-Man: Miles Morales is finally available, the game by Insomniac Games starring the young Miles Morales, is preparing to collect the legacy of the previous adventure of Peter Parker.
If you have played the first Marvel's Spider-Man, you will remember how easy it is to platinum, this spin-off is no exception. In the following guide we will help you to get all the trophies, so as to allow you to platinum the title.
We also remind you that in case you need other advice we refer you to the guides section of our site, always updated with the titles of the moment.
ATTENTION: Before leaving you to our guide, we remind you that the guide contains major and minor spoilers on Marvel's Spider-Man: Miles Morales. In several cases these concern details on the game script, but also more or less advanced playful insights. In case you have not finished the experience and do not want to incur any kind of advances, we advise you not to continue reading.
Bronze Trophies
Aerial Dance - Get Spectacular or higher in a Spider-Training Mobility Challenge.
Violent Pixels - Get Spectacular or higher in a spider-training combat challenge.
Invisible - Get Spectacular or higher in a Spider-Training Stealth Challenge.
Spider-Training: Completed - Complete all spider training challenges at least once.
Pete's first enemy - Complete the final test. First you have to complete all the training challenges. Once this is done you will unlock a secondary mission called "Final Trial". Upon its fully unlocking the trophy.
Fai da te kit - Craft 10 upgrades. You will automatically reach him during the story.
Rodeo con Rhino - Trophy linked to history.
Hanging by a thread - Trophy linked to history.
Straight to the Core - Trophy linked to history.
The deception - Trophy linked to history.
Harlem Express - Trophy linked to history.
Fast-skates - Trophy linked to history.
Shared History - Trophy linked to history.
Explosive Bulldozer - Defeat Story-Related Trophy.
Quarrel in the family - Trophy linked to history.
Extreme Sacrifice - Trophy linked to history.
Danger from Above - Perform 25 eliminations from the ceiling.
Vertical Ascent - Perform 25 wall eliminations.
Invisible Spider - Defeat 50 enemies while cloaked.
Overload - Defeat 100 enemies with venom attacks.
Higher and higher - Perform a Venom Jump, which is a venom dash against an enemy.
Strike - Use venom dash to throw an enemy at a group of three or more opponents.
Eat a rhinoceros in glassware - Beat 15 obstacles while riding Rhino in the mall
Competitive spirit - Beat Phin in the rocket minigame. During one of the last missions in the game, you will experience a flashback with Phin. In this phase of the game you will unlock the ability to play a minigame, come out winners to get the trophy.
Best fries in town - On the Upper West Side there is a bronze statue that is easily identifiable by radar. Come closer and interact with it.
JJJ would be proud - Apply a sticker and change the lighting in photo mode.
Trapped - Defeat 50 enemies using the ranged mine gadget.
Five star review - Complete all ASMQ app requests.
Modified Costume - Create a costume modification.
Feast your eyes - Create a modification for the viewer.
Never give up - Pay your respects at Jefferson Davin's grave in Harlem.
A gift from Pete - Trophy linked to history.
Master of Crime - Complete all the bonus objectives of each type of crime.
No escape - Perform 100 stealth takedowns.
A spider in a boat - Get on the run-down boat south of Chinatown.
Socially accepted - Scroll through the entire social feed at the end of the story.
More and more - Complete the game in a New Game +.
Argento Trophies
Urban Archeology - Obtain all time capsules.
Journey into Memory - Get all the postcards.
Recycling - Open all the underground supplies.
From under the nose - Free all Roxxon labs.
Fine dell'Underground - Clear all underground lairs.
Ready for everything - Purchase all the costumes.
Bow to You - Save Harlem from a criminal conspiracy.
Ghost mission - Liberate an enemy base without being detected.
Combo x100! - Perform a x100 combo.
Family traces - Get all the audio samples and put the Davis brothers' mix back together.
Platinum Trophy
Be yourself - Get all trophies.