Week 1 of season 4 for Fortnite battle pass holders is already a very exciting challenge. Surely one of the most challenging missions (at the research level) could be to find the FORTNITE letters. Let's see together how to solve it through our guide
The longest challenge, or at least the one that will surely make us spin the most on the map of Fortnite for this 1 week of the 4 season, is definitely that of find the letters of the word FORTNITE. In fact, these are scattered throughout the various points of the map and today we of Holygamerz we will help you find them thanks to our guide. Let's see where to find the various letters.
Fortnite season 4: here's where to find the letters to complete the week 1 challenge | Guide
First of all it is necessary to make a premise. The places you will see listed here they are the ones in which we found the letters and completed the Fortnite Week 1 Challenge. The fact remains that there are other places where you can find them, even if they will not be mentioned and therefore will not be indicated on the map for a matter of "visual cleanliness". Having said that, here are the places where you will have to look:
On top of the trellis east of the Magazzino Ammuffito crater - F
On top of the containers between Tomato Town and Corso Commercio - O
South of Rapide Rischiose - R
On the watchtower east of Borgo Bislacco - T
On the top of the tower of Pinnacoli Pendenti - N
On the building in the center of Parco Pacifico - I
On top of the bat-shaped statue of Montagnole Maledette - T
On the factory in the north-east agglomeration of Laboratorio della Latrina - E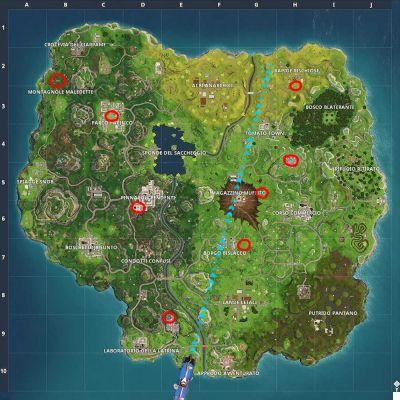 These you see in the image above are all 8 of the aforementioned places where you can find the letters of the word Fortnite that you will need to complete the challenge of week 1. Remember that the letters can also be found in other places other than those where we found them. Everyone can choose their own path as they wish. Recall that the challenges of week 1 they will be active throughout the course of season 4 of Fortnite and you can find them in our article, simply by clicking here.
We also remember that a leak has already revealed the challenges of week 2. If you liked this guide on the challenge of the first week and in order not to miss further news regarding the Epic Games game, keep following the pages of Holygamerz!