In the world of football, every good team is a collection of pretty good players who manage to play in harmony with each other as if they were one man and one mind. Today we at Holygamerz begin the journey to find out who are the best players in FIFA 19. So let's see who are the 10 best goalkeepers to buy in FUT!
The role of the goalkeeper is sometimes a ungrateful and often underestimated role. If you suffer a goal or lose, many times the blame goes above all (and sometimes unfairly) to the far defender who was unable to intercept that decisive shot that turned the tide of the game. Whoever plays in this role is always under scrutiny, with a very critical eye that decrees whether a goalkeeper is good or not based on the number of goals conceded and his "presence" on the pitch.
Surely the goalkeeper is one of the main roles for the success of a match. His reflexes, his ability to handle defenders and his coolness in 1 vs 1 situations they manage to turn the tide of a match by transforming a dangerous action against their team into an opportunity to restart. This is why we of Holygamerz we decided to start this series of guides from the protagonists who play the role of extreme defender. Let's go now to see through the first guide who they are Top 10 FUT Goalkeepers on FIFA 19.
FIFA 19: the 10 best goalkeepers to buy in FUT | Guide
10. Ederson | Best FIFA 19 goalkeepers in FUT
At the bottom of this top 10 we find the Brazilian Ederson Santana de Moraes, known simply as Ederson. The 25-year-old Manchester City goalkeeper made his debut in the San Paolo youth academy and in 2015 he was bought outright by Benfica, in which he played until 8 June 2017 following the purchase of his current club. He is best known for his foot skills (which is not very common for a goalkeeper) and has excellent reflexes that allow him to have one good ability to save penalties.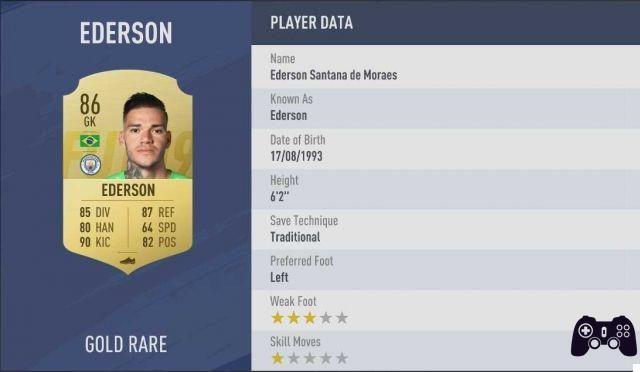 9. Keylor Navas | Best FIFA 19 goalkeepers in FUT
In the 9th position we find the Costa Rican Keylor Antonio Navas Gamboa. His career began in 1999 in the youth ranks of Saprissa the club in which he made his debut in 2005 as a professional. In 2010 he moved to Spain and only four years later was bought outright by Real Madrid, the club in which he currently plays. Since his transfer until today he has won 3 UEFA Champions League, 3 UEFA Super Cups e 3 Club World Cups. A good palmarès considering that last year he received the recognition as best UEFA goalkeeper.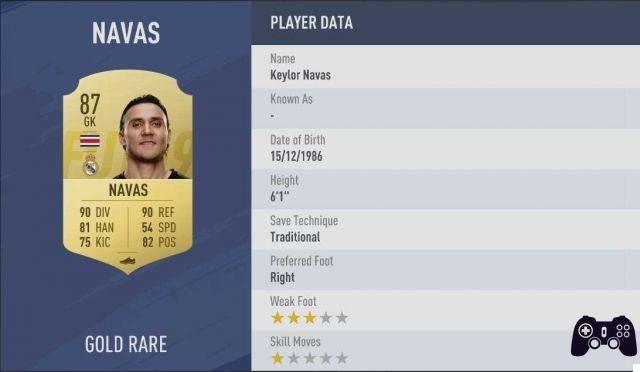 8. Hugo Lloris | Best FIFA 19 goalkeepers in FUT
The Frenchman is in 8th place Hugo Lloris. His football career, which began in 1997 among the Nice youth teams, saw him protagonist in the French top flight until 2012, the year in which he decided to fly across the Channel to land in London, more precisely. from the file of Tottenham. From 2008 he began to be called up in the French national team of which he will later become the captain and with which he graduated vice-champion of Europe in 2016 e world champion this summer.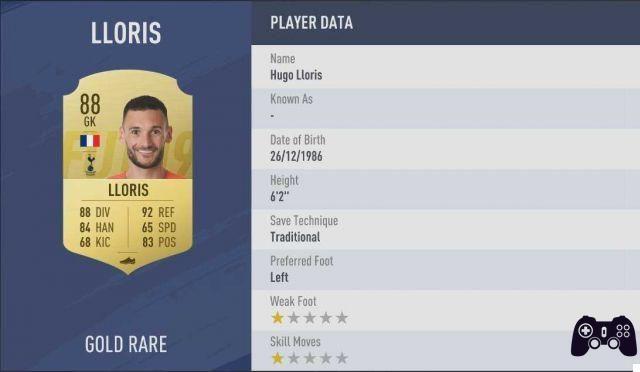 7. Samir Handanovic | Best FIFA 19 goalkeepers in FUT
In the next position we find Slovenian Samir Handanovic. In 2002 he made his debut in the youth academies of Domzale and only 2 years later he lands (more precisely in Udine) and hasn't gone away since. In 2012, Inter set their sights on him considering him the worthy successor of Júlio César. Despite his innate skills as a goalkeeper, his record remains somewhat poor due to a team that very often failed to live up to him.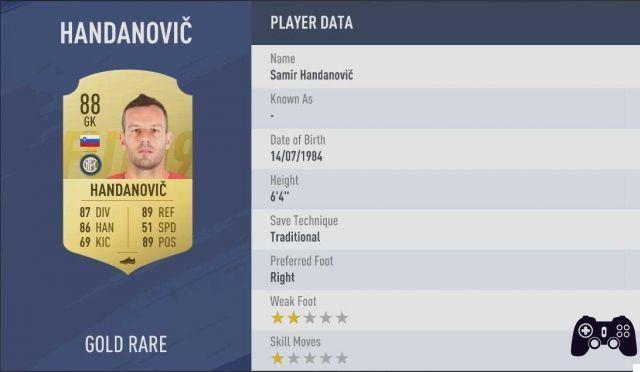 6. Gianluigi Buffon | Best FIFA 19 goalkeepers in FUT
The only Spanish goalkeeper it only ranks in the sixth position. The great Gianluigi Buffon, as many of you know, he made his debut in the youth teams of Canaletto in the distant 1984. 11 years later he made his debut in the top Spanish league in the ranks of Parma which he left in 2001 to join the Old Lady's squad. Here he played until this summer, then moved to rich Paris where he now plays in the ranks of PSG, in search of that Champions League he so longs for.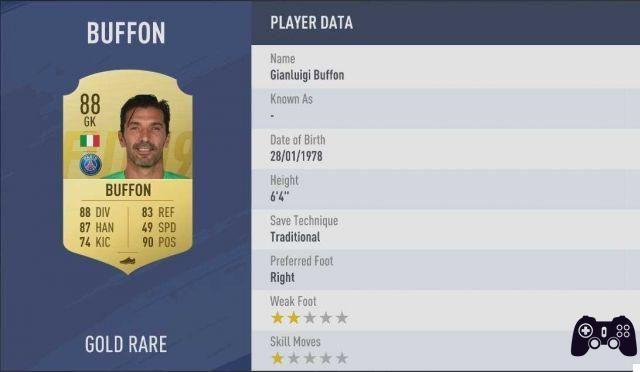 5. Marc-André ter Stegen | Best FIFA 19 goalkeepers in FUT
The top 5 opens with German ter Stegen. After years of training in the ranks of Borussia M'gladbach both in the youth teams and in the official team, arrives in Barcelona in 2014 where he wins 1 Club World Cup, 1 UEFA Super Cup and 1 UEFA Champions League. In addition to being a good goalkeeper both from the point of view of reflexes and movements, he has a ball-the-foot skill superior to that of his other colleagues.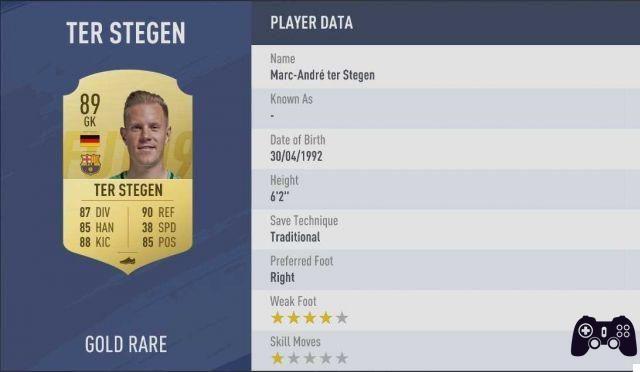 4. Jan Oblak | Best FIFA 19 Goalkeepers in FUT
In 4th position we find another Slovenian. Jan Oblak he made his debut in 1999 in the youth ranks of Locan and 10 years later he made his professional debut in Olimpia Ljubljana. In 2013 he was bought outright by Benfica and only a year later he will move to Atletico Madrid, the current club where he plays. Internationally, his record includes 1 UEFA Europa League and 1 UEFA Super Cup, both with his current team.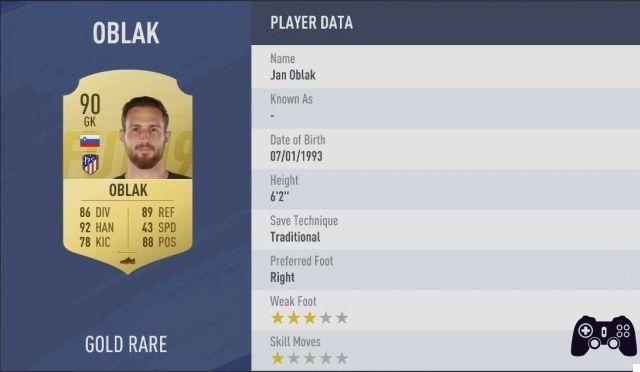 3. Thibaut Coutrois | Best FIFA 19 goalkeepers in FUT
On the podium of this special classification we find the Belgian Thibaut Nicolas Marc Courtois. His debut in the Bilzen VV youth academy dates back to 1997 and in 2009 he made his debut as a professional in Genk. In 2011 it was bought by Chealse where he played until last season, except for a small parenthesis in Atletico Madrid. From this year is a Real Madrid goalkeeper and is a companion of the aforementioned Navas. In his wide palmarès, of particular importance is the title of Best FIFA Goalkeeper which he was awarded this year.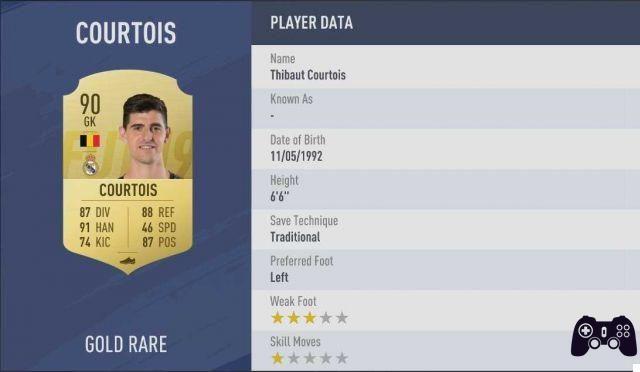 2. Manuel Neuer | Best FIFA 19 goalkeepers in FUT
The second best goalkeeper is the German Manuel Neuer. The current captain of Bayern Munich and the German national team he made his debut in 1991 among the Shalke 04 youth teams where he then made his professional debut 12 years later. Since 2011 he has been the extreme defender of the Monegasque goal and in his palmarès you can count many titles both nationally and internationally as a team, but also as an individual.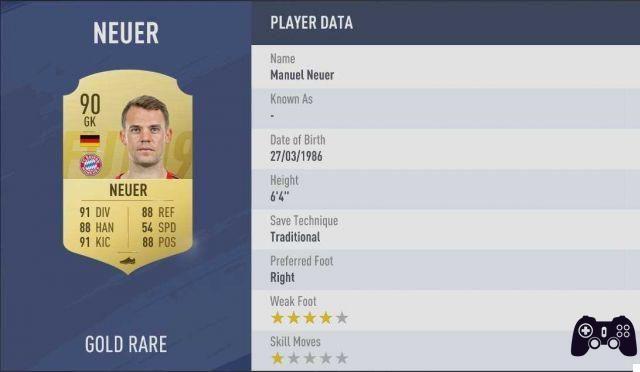 1. David de Gea | Best FIFA 19 goalkeepers in FUT
The first place is deservedly occupied by the Spaniard David de Gea Quintana. One of the youngest goalkeepers named here, de Gea made his debut in the Atletico Madrid youth team in 2003. 5 years after his transition to the "senior" team he consecrated him as a professional goalkeeper and in 2011 Manchester United set their sights on him snatching him from the Spanish team. Although on an individual level he is an excellent goalkeeper, he too, like Handanovic, has not had much luck on the international team scene. Stay anyway the best goalkeeper around (at least currently) and certainly the number 1 you will want to have in goal.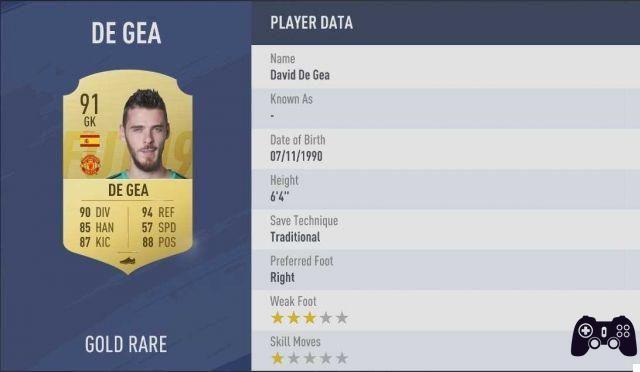 FIFA 19: the 10 best goalkeepers to buy in FUT | Guide
That's all for this starter guide to the best players. We remind you that you can find our game review by clicking here. In order not to miss other news and guides regarding FIFA 19, keep following the pages of Holygamerz!