On Dark Souls III there are really many weapons of all kinds. Some of these, however, are exploited to the maximum only with certain builds. Here are some examples of weapons on which to build a special build
In this guide we will list the best weapons present in Dark Souls III net of DLCs, including the latest The Ringed City.
The Dark Souls III add-ons have deeply altered the balance of the original game and above all they added new weapons very fun to use and at the same time valid.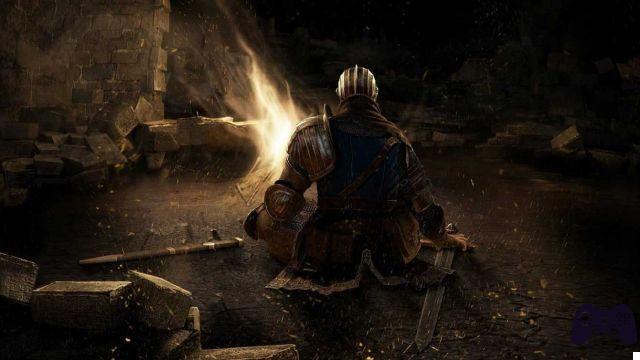 Dark Souls III, the best weapons for PvP and PvE
Let's find out together which are the best weapons to equip based on your style of play and the type of challenge.
Brave Heart
Weapon that can be obtained in the DLC Ashes of Ariandel after defeating one of the two bosses.
The main features of this weapon are speed and a distinctly offensive moveset. This weapon also offers constant protection against opponent attacks as they unleash their combos. The skills of the weapon that are able to give excellent ideas both in PvP and in PvE are useful.
Build: Strength-Dexterity and lots of Stamina.
Old Onice
Weapon obtained in the DLC Ashed of Ariandel.
Moveset taken from the Claymore but with ability that adds a Darkfire buff that greatly increases damage. Great in PvP and PvE.
Buid: Pyromancer, Intelligence-Faith
Raven claws
It is found in the DLC Ashes of Ariandel.
Weapon exclusively (or almost) PvP. It has the typical Fist moveset accompanied by a very insidious skill in PvP.
Build: Bleeding, Strength-Dexterity
Falce peace
Weapon derived from the final boss of the DLC Ashes of Ariandel.
An apparently common scythe that hides a secret: ice. In fact, it inflicts Freezing and is equipped with a very fast moveset, which allows combos in succession and offers an area attack. Good in PvP and comfortable in PvE.
Build: Dexterity-Faith
Greatswords of the Knights of the Rings
It can be found in the DLC The Ringed City.
Probably a disproportionate weapon: devastating LB combo, to say the least. Stagghera the opponent and reduces his life points to zero without them being able to do anything. The only discriminating factor is to enter the combo. Great for PvP, difficult to manage in PvE.
Build: Strength-Dexterity with priority over Strength
Greatsword of Gael
It can be found in the DLC The Ringed City.
Moveset from Claymore but with devastating PvP ability. This makes it very balanced: using it normally you can have an excellent PvE weapon, using its skills will be excellent in PvP.
Build: Strength-Dexterity with priority over Strength
Crucifix of the Mad King
It can be found in the DLC The Ringed City.
Excellent in PvP due to its particular ability and the moveset it is equipped with. Insipid in PvE, where it can often be awkward to use.
Build: Force-Faith
Sword of the Sun
Once upon a time there was the Dark Blade…. and now after the last patch, and with Faith scaling added, here's the replacement. Classic "RB smash" weapon that offers a very high amount of damage and excellent speed. Great in PvP and PvE.
Build: Faith with Strength-Dexterity
Demonic Scar
Obtained from a DLC boss The Ringed City.
The ultimate weapon of the Pyromancer. Very fast moveset and the possibility of launching pyromancy with damage not too dissimilar to the Flame of Pyromancy. Very useful in PvP, to be avoided in PvE against fire resistant enemies.
Build: Pyromancer, Intelligence-Faith
Onikiri and Ubadachi
Double katana with very "swang" ability. Leap forward and attack with combo to follow, in addition to bleed damage. Good in PvP. In my opinion it does not perform as well in PvE, where it is often uncomfortable to use.
Buid: Bleeding-Dexterity
Lama Consumata
DLC weapon The Ringed City, obtainable with the Soul of the Secret Boss.
Very performing in PvP due to its speed and ability (which allows both to create quick combos and to attack from a distance with an excellent area of ​​effect). In PvE she behaves fairly, she is a classic katana if her ability is not used.
Buid: Bleeding-Dexterity
Morne's Hammer
Heavy hammer. This weapon apparently is a common giant hammer but hides the ability "Wrath of Morne" (similar to Wrath of the Gods) which in PvP literally "shoots". You have to learn how to use them and calculate the action times well. Thanks to its ability it becomes excellent in PvE especially against the hordes of enemies.
Build: Force-Faith
Farron's Greatsword
The weapon for Artorias fans. Moveset built to be beautiful to look at but also to get around enemies with very insidious side attacks. In PvP it is often devastating, while in PvP it is comfortable… but dangerous (especially in areas where you can fall). Also with his ability allows the Parry.
Build: Strength-Dexterity
Dark Souls III, equipping the best weapon is not enough!
However, I feel obliged to point out that the fact that the weapons are strong does not necessarily mean guaranteed victory, on the contrary, one must always choose. the weapon that best suits our style of play which is completely unique and personal.
Frequently asked questions and answers
The Lothric Knight Sword is the most versatile weapon you will find in Dark Sous three.
You can upgrade it up to +10 and it scales really well with Strength, but especially with Ability.
Also, any infusion is useful, so this sword fits really well with many builds.

What is the highest damage weapon in DS3? With one hundred and eighty physical attacks and sixty-nine fire attacks, the huge hammer of the old king stands as the most powerful weapon in Dark Souls three.

The best sword in Dark Souls three is The Ultra Sword of Smoke To wield the Ultra Sword of Smoke you must have a strength of fifty and it has a very specific moveset.
If you want a lighter and more manageable alternative option you have the Sword of Astora in the Cathedral of Darkness, although this one scales rather to skill.
10 Jan two thousand eighteen
The knight is the best option.
The knight with shield and club is the best for the pve.
Knight is the safest class.
Good armor, good shield and a very versatile sword.

Compilation of frequently asked questions that our users have sent us and that our experts have answered.