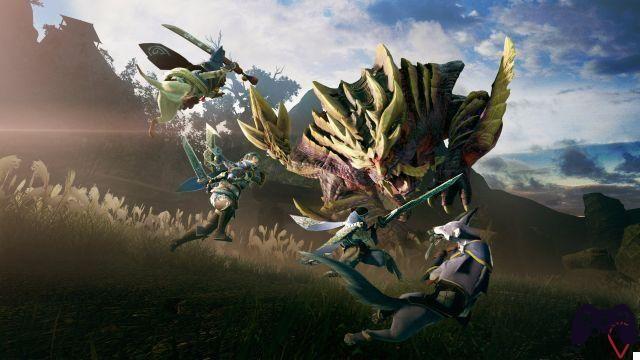 Monster hunter rise has now landed on the last home console Nintendo, Nintendo Switch, and brought with it a multitude of activities and a truly incredible amount of action. Precisely for this reason, and especially because the first steps in the game proved to be rather difficult for new players, we have decided to delight you with a short but useful guide with ten tricks and tips to proceed in the best possible way in Monster Hunter Rise, without neglecting anything. on your long and winding path to become great monster hunters.
ATTENTION: Since there will be some details about the game and the plot of Monster Hunter Rise, know that below you will also find spoilers about the game, so we invite you to proceed with the reading only if you are aware of this.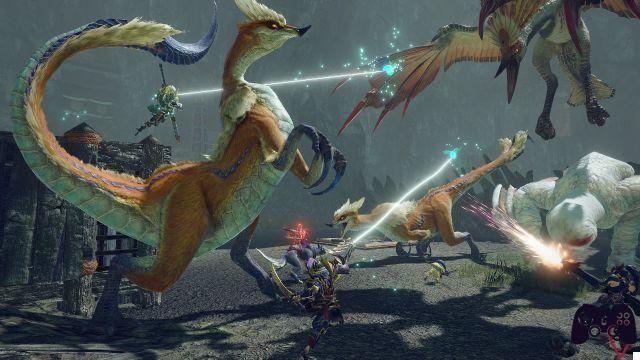 So let's go see what the ten best tips to progress quickly and efficiently on Monster hunter rise:
1 - Four-legged friend
The tips start with using one of the biggest and most interesting introductions of Monster hunter rise: the Palamutes. These canine companions accompany you on missions and when they don't help take down monsters, they can get you across the map quickly used as mounts. They know how to get past the toughest terrains, jumping, climbing walls and even drifting for a small speed boost using the ZL button.
2 - A cat at your side
Don't forget your trusted companion's email. While they can't be used to be ridden like a Palamute, they are still incredibly useful in Monster Hunter Rise. Each companion will have randomly assigned attributes, which fall into categories such as attacker, scavenger, healer, or bomber. Choose the one that suits your particular hunting needs and visit the Buddy Plaza to recruit a variety of companions useful to your needs.
3 - Help the village and you will be helped
Every time you come back to kamura after a hunt, there will likely be villagers who will want to chat, some of whom will give you optional side quests. These can vary in terms of requirements, although we recommend clearing them as they can unlock useful features like fast travel subfields and recipes Bunny Dango.
4 - Have a feast before the mission
About Bunny Dango, make sure you always visit Yomogi or the canteen of the collection center for a pre-mission meal. You can select three ingredients from the menu, each of which has the ability to grant useful bonuses such as elemental resistance and better loot.
5 - Train to learn the ins and outs of weapons
Whether you are an experienced hunter, an expired fan or a completely new Monster Hunter series, head to the training area adjacent to the Buddy Plaza. Here you can learn the ins and outs of each type of weapon by practicing on the dummies. On-screen controls will show useful information such as weapon combinations and how to perform special attacks.
6 - Take advantage of the Spiribirds
Memorize the best routes Spiribird on every Monster Hunter Rise map. Think about Spiribird like power-ups (or "permabuffs") that extend your maximum health and stamina bars, as well as your attack and defense depending on their color. They are scattered throughout every biome and can even be found in bushes if you attack them.
7 - Take advantage of the Wire Insects
Another great innovation introduced in Monster Hunter Rise are the brand new ones Insects Wire. This tool can be used to snap to walls and other surfaces, allowing hunters to pull themselves up in a wall run. The Insects Wire they also add at least two attacks to each weapon Silkbind, expanding their existing move sets. By pressing ZL and B you can also recover after being rejected immediately, shooting in the direction the camera is facing.
8 - Jump high!
Each map is populated by some Jewel Lillies: using Great Wirebugs (which is provided to you by the Maestro Utsushi while completing its side missions) you can turn them into jump pads capable of catapulting you into the air. Try to remember where they are located or just look for them on the map.
9 - Immediately customize the radial menu
Using the custom radial menu is something you should start mastering right away. The default item wheel is useful although it won't be long before you have to enter Mega Potions, Demondrugs, Tranq Bombs, and Pitfall Traps. Note that you can also assign shortcuts such as viewing a full-size map of the area.
10 – Tips for beginners
Make sure you also learn what your special skills are Silkbind. Compared to previous games, Rise isn't quite as punishing, although you'll still have to grasp advanced mechanics like endemic life, the wyvern, and how to catch monsters without killing them. Remember to visit the forge often kamura and be sure to craft weapons and armor that align with the different elements of the game.
That's all for this guide, but we remind you to stay with us and visit our guides section if you need help with Monster hunter rise or other titles.